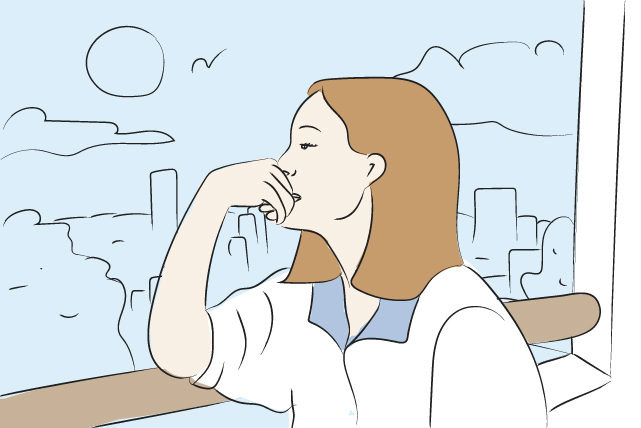 Here at Preen, we're fully aware that adult life doesn't always go as smoothly (and look as beautiful) as curated Instagram feeds. We all face challenges amidst all the good things. Meet Mikka Wee, a former food editor-turned-working gal in Singapore, who's about to share all the ups and downs that come with adulting and living. Welcome to Bless This Mess! 
I'm writing this on the 7th of January 2018. On Wednesday, the 10th, I'll be married to the love of my life, Andre Chanco. You may know him as the coffee guy behind Yardstick, but here he is right now, attempting to cook a Tinola Risotto for our dinner. We just finished hanging the laundry, washing the dishes, and delivering our wedding collaterals to the venue.
I can't help but feel a little bit emotional as I write this piece because in a few days, I will be closing one very important season of my life, and I will be entering an equally important season—one that I will no longer go through alone, but hand-in-hand with my husband.
Marriage. Husband. Sometimes it still feels a bit too surreal. I've never been the type to see myself walking down the aisle and seeing a ring on my finger, but here I am today. Life certainly has all these little surprises around every corner.
Today I'd like to take a trip down memory lane and recount some of the best lessons I learned as a single lady, before I embark on this whole new journey called marriage. I used to think marriage was something that would limit me, but now I see that the right kind of love is actually quite freeing.
1. Don't let the hurt define you
No family is perfect, and in mine, I guess I just didn't have the kind of relationship others would have with their families, especially their dads. Because of that, I was closer to my mother growing up, and I didn't think that I needed a man to complete me because I did most things by myself. But then, I fell in love.
Before I met Andre, I was in a couple of long-term relationships. I've made my mistakes, and I was also treated unfairly in one of them. I carried a hopeful heart, only for it to be broken. And after almost five years of being in serious relationships, I surrendered and raised my white flag. I decided that I just wanted to be single for the rest of my life because I didn't want to get hurt. Sure, I dated, but nothing more than that.
Pain is what it is—it hurts. And it takes weeks, months, even years to get over a heartbreaking experience, but don't carry it with you. Don't let it take hold of your life and control it. Talk to your friends, go out, and find a new hobby to pour all your energy in. Then heal, grow, and love yourself more. It was only when I learned to love myself that I was able to finally be ready to let someone in and love him again.
2. Traveling solo is one of the best ways to know yourself
Let me jump on the millennial bandwagon and give a thumbs-up to traveling solo. I always love writing about my solo trips and backpacking adventures because it allowed me to know myself better. It pushed my limits sometimes, but it really forced me to take care of myself and trust that things would work out.
But most of the time, I enjoyed traveling alone because it allowed me to discover new things on my own. It felt great to unplug and explore a foreign city while being anonymous at the same time. I loved writing in my journals, writing postcards to my friends, and simply being in a reflective mood, while immersing myself in new experiences.
3.  There are things you can control and things you cannot—know the difference and know how to respond
Life is made up of two basic things: things we can control and things we cannot. I used to not want to take responsibility over things and simply "blame the world," but what I learned was that there are things that are simply out of my control, but what I can control is how I respond to them. My mistake during my earlier years was that I would always react immediately and not really think through the situation—this caused me to be in a lot of fights with my ex-boyfriends. So when I was single, I took it as a lesson to always pause and think if the situation is something I can control or not, and how to best respond to it. This may seem like a lot of work, and I still slip every now and then, but trust me, it'll save you a lot of unnecessary drama.
4. Be present and make each moment count
When we take a look at life, we remember the little moments where we experienced a surge of excitement or a huge wave of happiness. One of the things I wish I did more was to spend time with my family. I moved to Singapore mostly for my future with Andre, but now that I think about it, I wish I spent more time with my mom and my cousins—especially my pet Rocket. Make each and every moment count and build as many memories as possible with your friends and family.
5. It's not really about being the best person for the "right one;" it's about being the best person for yourself
After my breakups, I used to think that there was something wrong with me. Maybe I was too "uncool," or maybe it was because I wasn't thin enough, or I looked funny because I didn't dress a certain way. So I tried to change for the people I loved, and even if I felt validation from them, I was very unhappy with myself. I just felt like I was being dishonest and untrue.
I know a lot of people out there will tell you to fit into this type of personality, walk this kind of walk, and talk this type of talk, but I hope that you will gather enough resolve to stay true to who you are. Don't try to change yourself because you feel you aren't enough. People who love you will accept you no matter what, and that's something I learned the hard way. Never compromise and be the best person for no one else but you.
Life turns out differently for each one of us; we create our own fate, but of course, there are things that just fall onto our laps by chance. Despite me being anti-marriage for the longest time, marriage sure came as a surprise. But one thing that I'm glad to be when I met Andre was that I knew I was most myself than ever before—I felt like I wasn't trying to be cool or fit into an impossible mold. Of course, I'm not being complacent, but I guess, it's nice to know that even if I am a work in progress, I am more comfortable in my own skin than I was ever before. Andre just makes me want to be a better person each day, and I'm really grateful for that.
Singlehood is an amazing journey—cherish each and every moment of it. The grass may always seem greener on the other side, but I think it's just about finding things to be thankful for, whatever situation you're in. This is it!
Disclaimer: The views expressed here are solely those of the author in her private capacity and do not in any way represent the views of Preen.ph, or any other entity of the Inquirer Group of Companies.
Art by Lara Intong
Follow Preen on Facebook, Instagram, Twitter, Snapchat, and Viber
Related stories:
What I Learned About Traveling Solo 2.0
5 Tips on Surviving the Jungle of Adulthood
Why Singapore and Manila Are the Places I Call Home
7 Books that Created a Positive Impact on My Twenties