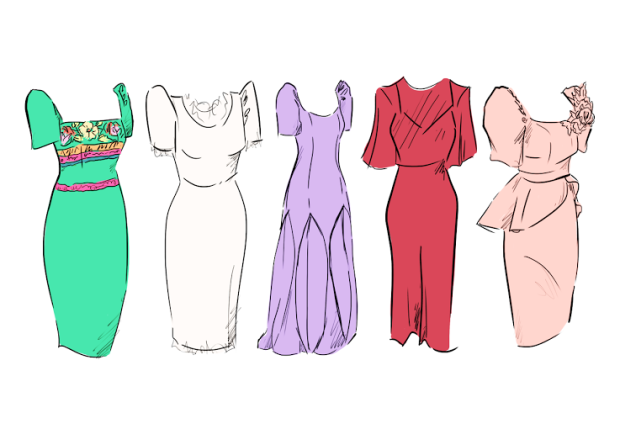 Just like the previous SONAs, the ladies showed up in their best fashion looks for President Rodrigo Duterte's first address. However, this year, a downplayed dress code was implemented.
"It will be business attire but you have the option of wearing Filipiniana as long as, for the ladies, it will not be more than knee length," finance spokesperson Paola Alvarez said days before the event.
That said, we scoured through social media to find who followed the dress code and who broke it (by a few inches, that is). See who we spotted below.
#1 Vice-President Leni Robredo and family
Keeping with their simple motifs, Vice-President Leni Robredo and her daughters donned Filipiniana-inspired outfits paired with lace and soft pastels.          
#2 Tootsy Angara
Sticking to the traditional Filipiniana style, Tootsy showed up in a green Rajo Laurel creation, decorated with some simple embroidery highlighting Filipino artisans from Lumban, Laguna, and Marawi.
#3 Heart Evangelista
Heart didn't waste any time changing into two outfits for the SONA. She was first spotted wearing a white Filipiniana-inspired dress by Ivar Aseron and paired with a clutch she designed. Later in the day, she changed into a chic pants and blazer ensemble from Massimo Dutti with an Hermés clutch.
#4 Sen. Loren Legarda
Senator Loren opted for some slacks and paired it with an embroidered pink tunic by Len Cabili and chunky accessories.        
#5 Gabrielle Lopez
Gabrielle wore a long pastel blue skirt and sheer lace top combo designed by Kim Gan―a fun interpretation of business attire. She also accessorized with jewels from Ann Ong.
#6 Clara Aseniero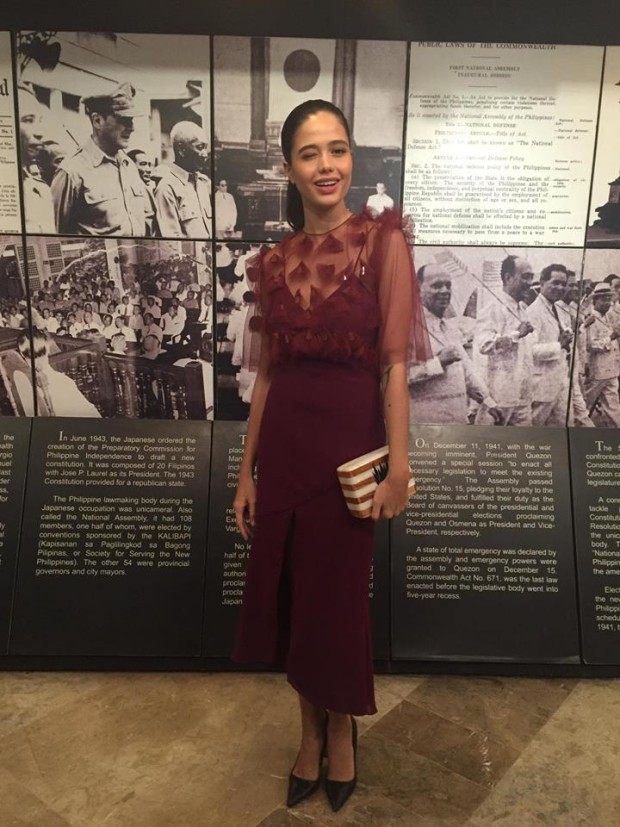 Model Clara Aseniero sported a custom Stacy Rodriguez dress that we'd totally cop. A few inches longer though and she might've broken the dress code.
#7 Rhea Aquino
Wearing a modernized Filipiniana by Mary Ty, Rhea Aquino managed to combine simple and chic with the dress' black details and her neutral accessories.      
#8 Jinkee Pacquiao
Jinkee's lavender gown was made by Inno Sotto. Sadly, her gown isn't exactly business attire-appropriate. But later in the day, she changed into a simpler Gucci dress which, at least, followed the code length-wise. Good save!  
#9 Hon. Yedda Marie Romualdez
Congresswoman Yedda Romualdez's definition of business attire involved a large pink rose on on her shoulder. Her pencil skirt passed the dress code, but the rose may have been too much?
#10 Ria Fariñas
Designer Chris Diaz kept it simple with Ria's blue dress by keeping the skirt tailored and putting soft terno sleeves. She also accessorized with a printed clutch and some jewels.  
#11 Audrey Tan-Zubiri
Audrey paired a sleeveless terno blouse with a patterned skirt reminiscent of indigenous tribes.
#12 Bataan First District Rep. Geraldine Roman
Bataan congresswoman Geraldine Roman showed up in a green Paul Cabral terno gown. She may have broken the dress code, but the gown certainly looked flattering on her.  
#13 Sen. Grace Poe
Sen. Grace Poe kept it simple with a white embroidered dress. Plus, she gave up her signature ponytail this time.
#14 Gretchen Barretto
Also wearing Inno Sotto was Gretchen Barretto with a long-sleeved blouse and ankle-length skirt. Too bad that skirt went past the desired length.  
#15 Rep. Vilma Santos
Batangas Sixth District Representative Vilma Santos was spotted wearing a cream blouse and skirt ensemble upon entering the House of Representatives. By the looks of it, the material is similar to that of a barong.
#16 Sen. Nancy Binay
Despite being seen in a rule-breaking gown earlier in the day, Sen. Nancy Binay later changed into a black knee-length Randy Ortiz dress.  
#17 Batangas First District Rep. Eileen Ermita-Buhain
Congresswoman Eileen Buhain was seen wearing a two-piece custom Sofia Borromeo creation—a pique bell-sleeved top and brocade column skirt that went past her ankles as bit. She also accessorized with a chunky necklace and gold clutch.
#18 Yasmine Espiritu-Vargas
Yasmine walked the red carpet with husband Alfred Vargas wearing a blue traditional terno-style dress by Stephanie Tan.  
#19 Sen. Pia Cayetano
Sen. Pia showed up in a blazer and knee-length ensemble. Definitely taking the business attire code very seriously.
#20 Stella Quimbo
Academician Stella Quimbo strutted in the House of Representatives in a pantsuit made from a repurposed terno.
#21 Yanee Alvarez
Yanee went for a simple Patty Ang LBD with a cape. A flattering silhouette for the mom-to-be.
#22 Sen. Risa Hontiveros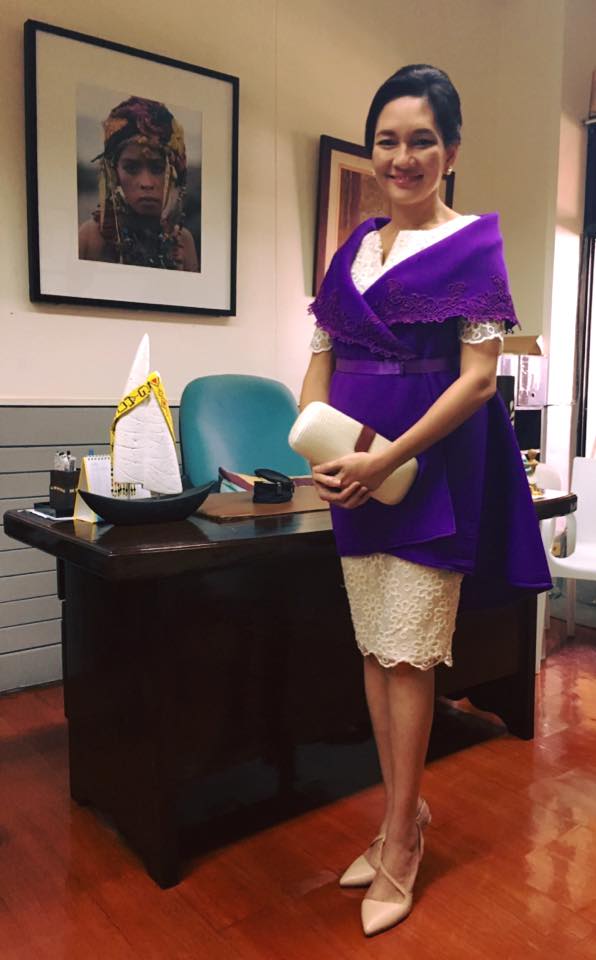 Sen. Risa Hontiveros went for a regal purple wrap over her lace dress—both made by Joel Acebuche. She also completed the look with Marikina-made nude heels.
Art by Dorothy Guya
Follow Preen on Facebook, Instagram, Twitter, Snapchat, and Viber
How do you make the ever-traditional terno feel new again?
At last night's launch of the book Fashionable Filipinas: An Evolution of the Philippine National Dress in Photographs 1860-1960, guests came in wearing what was seemingly the best show of modern-day national costumes.
The book is published by retail and lifestyle giant Bench and written and curated by Gino Gonzales, a scenographer and lecturer at Ateneo de Manila University, and Mark Lewis Higgins, a visual artist and co-director of Slim's Fashion & Arts School. It traces the history and evolution of the terno until the 1960, and is packed with previously unpublished essays and photographs.
But the changes in the traditional garb go well beyond what the book's breadth of coverage. Fast forward to last night, and there were embellished ternos with metallic sequins, oversized butterfly sleeves, and the piece broken down into separates. Really, the various reinterpretations of the traditional piece were endless.
So how do you fully update a piece like the terno, then? Magazine editor in chief and model Sarah Meier says, "What is crucial to the terno are the sleeves. I think anything else you do with your outfit can be completely flexible. It can oscillate between materials, texture, and prints. The true signature of a woman [who is] able to modernize something so traditional and classic is to be able to take any trend at any given time and find a way to make the two mesh together." But model and host Tweetie de Leon-Gonzalez looks beyond the signature sleeves. For her, it's "attitude and outlook" that does the trick.
Click through the slideshow above to see more personalities and celebrities wearing their own takes on the terno and barong!
Photos by Acushla Obusan
You've already seen how Lesley Mobo didn't hold back on the runway in this year's Red Charity Gala. Off the runway, however, the guests also didn't shy away from putting on a show. From celebrities to designers and other notable personalities in between, they caught our eye with their choice of classic, solid colors.
Pristine whites, velvet blues, and, of course, a few shades of red were seen among the crowd. These hues were updated with modern details like flowing sleeves, deep necklines, and crystal embellishments. It was already quite a show seeing them walk around the lobby and head to the ballroom.
Looks like we've got ourselves a new style formula as last night's guests proved there is nothing wrong with tweaking with the classics by adding something new every time.
Click through our slideshow to see our favorites from last night's fashionable set!
Photos by Acushla Obusan
The Fashion & Design Council of the Philippines (FDCP) yet again showcased what they do best—a fashion fête that marries the old and the new, the traditional and the cutting edge. Samsung and the FDCP mounted an all-Filipino designers showcase that fused style and technology into an in interactive and digital show.
The show was an experience in itself. The viewers were taken into the heart of the designers' creative process by blasting their sketches onto the screen, showing how they built their creations from the ground up.
The night's takeaway though is that Filipino artistry and creativity is a not just a methodic process but a way of storytelling. Fashion designers Avel Bacudio, James Reyes, Ivarluski Aseron, Vic Barba, Joey Samson, and Anthony Nocom opened the show with all-white collections—a metaphor for the blank canvas.
Jerome Salaya Ang, Joel Escober, Ramon Esteban, Gerry Katigbak, Pablo Cabahug, Kristel Yulo, Ronaldo Arnaldo, Happy Andrada, Hindy Weber-Tantoco, and Noel Crisostomo brought that aforementioned blank canvas to life by reimagining it through metallic pieces of silver and gold. And to close, Dong Omaga-Diaz, Frederick Peralta, JC Buendia, Jojie Lloren, Randy Ortiz, and Albert Andrada took the traditional terno to a modern route by showing us how to wear it to today.
This, all in all, was an attempt on how technology can dabble with traditional Filipino fashion and vice versa. These hallmarks of the fashion industry were able to create something that feels new again.
Click the slideshow above for more photos of the show! 
Photos by Tammy David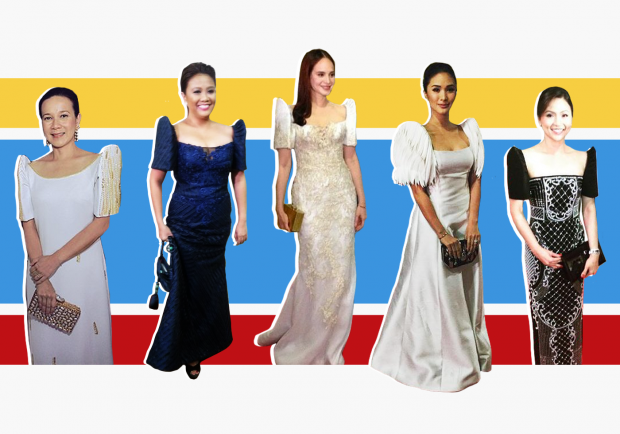 There is so much to talk about President Noynoy's last State of the Nation Address speech. But for the fashionable set, the rounds of talk less about what was said and more on what the politicians, celebrity-politicians, or celebrities-with-politicians wore and who designed what.
Truthfully, the congressional "red carpet" was made up of truly major moments: the rise of politicians' wives whom we've not heard of, the battle on who had the better (or bigger!) butterfly sleeves, and the presence of the truly pretty.
Just when we were expecting that we were in for more of the boring usual, local designers have gotten it right with these 10 women. We're grateful for pitching us a curveball, SONA!
Here are 10 women who made the terno an enviable success.
10. Nancy Binay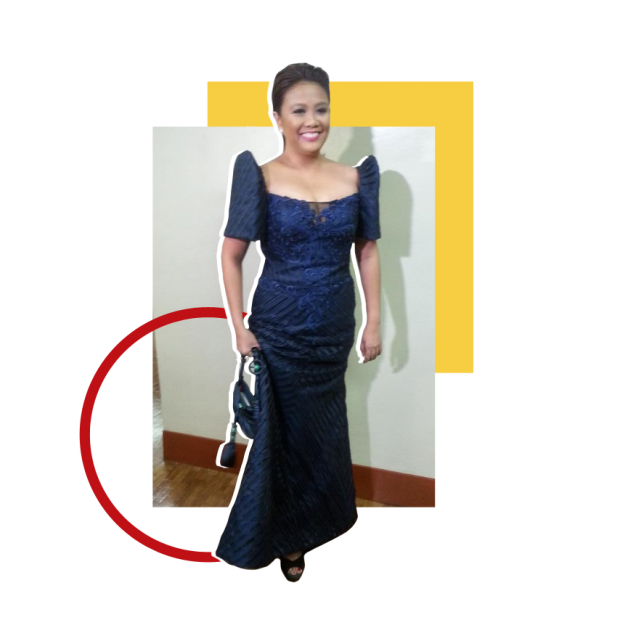 We didn't know how Senator Nancy Binay could make up for last year's fashion faux pas until she showed us her sapphire embroidered terno by the same designer Randy Ortiz. But even before anyone could make a comment, she preemptively went ahead saying, "'Di ba parang ang boring? Next time na 'yung panggulat ulit." (Doesn't this look boring? Next time, I will wear another shocker!)
And though she was likened to an X-Men character, really Senator Binay, we're not hating on this "boring" pared-down look.
9. Fille Cainglet-Cayetano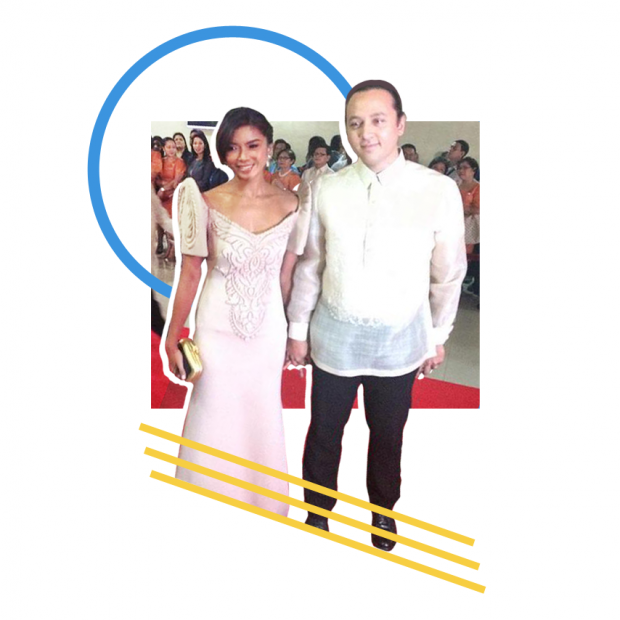 You would recognize a Cary Santiago dress even from afar. The 25-year-old volleyball player and wife of Rep. of Taguig Lino Cayetano went with the designer for a sleek and simple blush terno with his signature embossed detail on the bust. And to be dressed by Cary Santiago is, in itself, already a fulfillment.
8. Stella Quimbo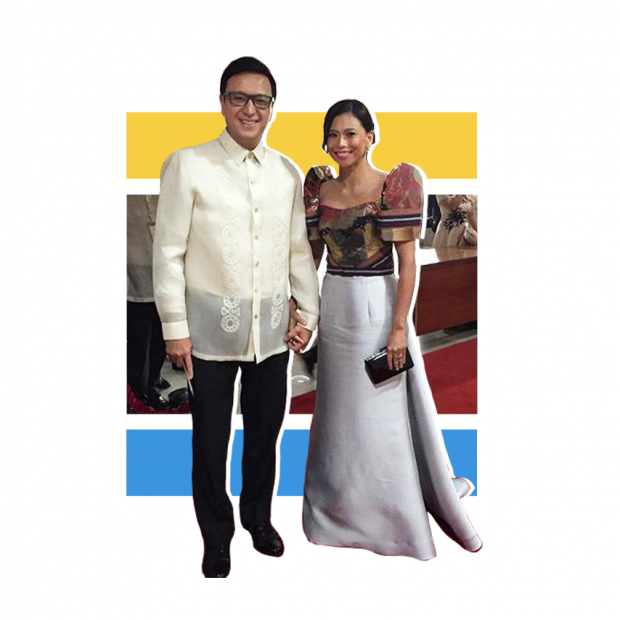 In narrowing our list down to the notables, we were sure to include wife of Marikina Rep. Miro Quimbo, Stella Quimbo, in her Jun Escario ethnic-tonedterno with a full floor-length silver skirt. We sure love a designer who goes for a truly modern take on a classic and even more the woman who's up to try it herself. And can we also talk about her glowing tan?
7. Dawn Zulueta-Lagdameo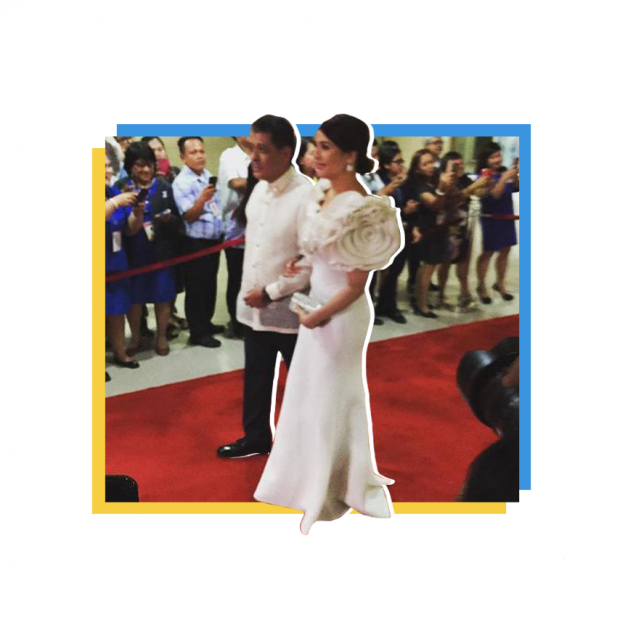 Designer Cary Santiago truly has a penchant for the romantic. And since he was dressing Dawn Zulueta-Lagdameo, we were not surprised he went justifiably overboard with this head-sized flower on her sleeves.
6. Grace Poe-Llamanzares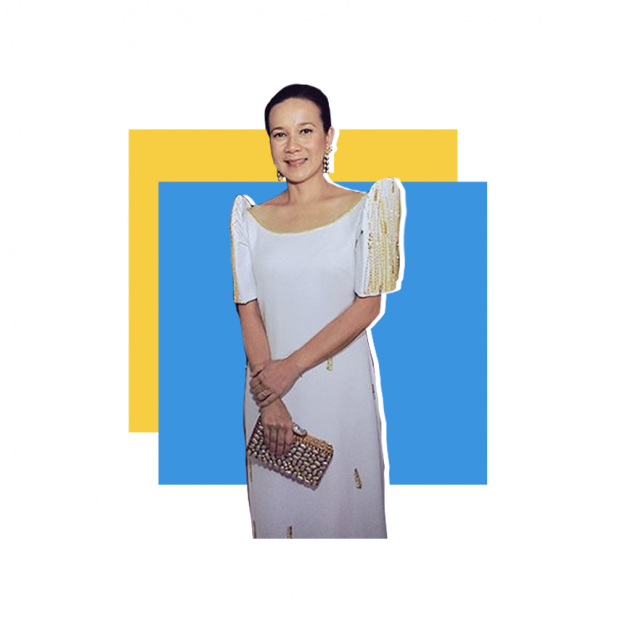 Rajo Laurel described Senator Grace Poe's outfit to be hand-painted with a palay motif topped with yellow and black beading when we asked him about it before yesterday. All we could imagine were endless rice fields and how magnificent it would be. So we were a bit confused when she first came out in a Paul Cabral number, which didn't have the best fit, by the way. Thankfully, she changed into the Rajo piece and yes, it was everything we imagined.
5. Heart Evangelista-Escudero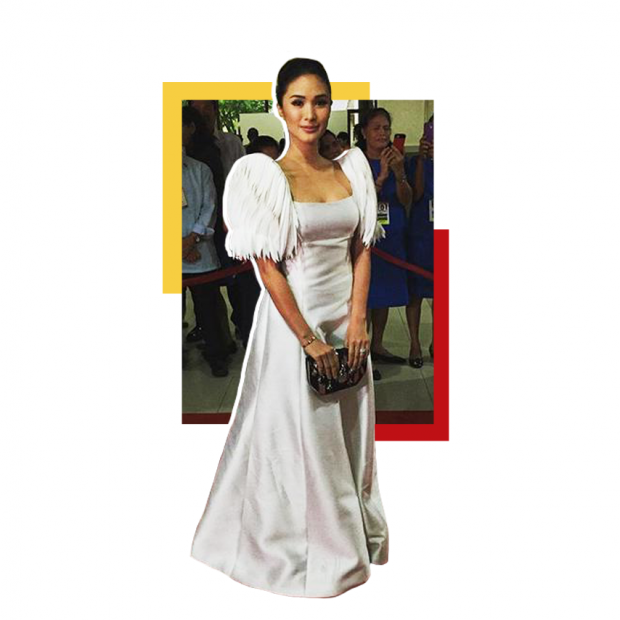 How do you top yourself when you raised the bar so high last year? Such is the case for Heart Evangelista-Escudero. Lighting up the halls of the Congress in her Inno Sotto white ensemble, she came in a feathered-sleeve ensemble, of course! She looked sublime as she always does. But all we can see still is last year's Joey Samson's white cage-sleeved dress. It's a fashion hangover, still.
4. Kris Aquino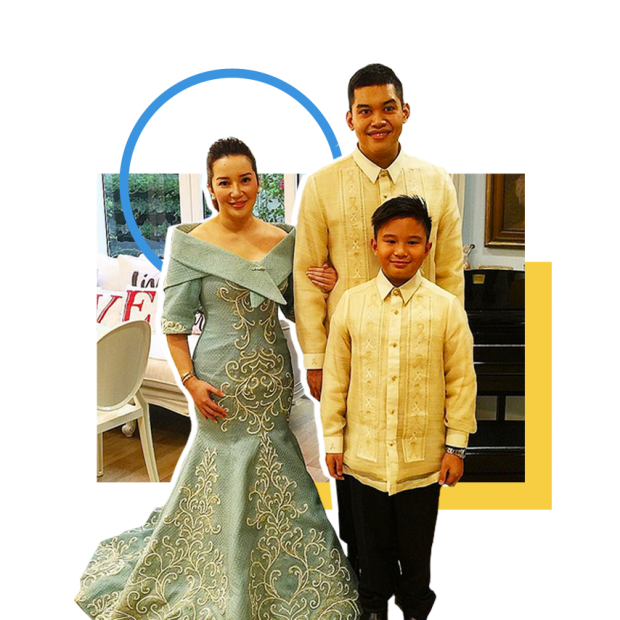 A long-time fan of Cary Santiago, Presidential sister Kris Aquino took a break from tradition and opted for young designer Michael Leyva this year. Kris looked regal in her Tiffany blue piña callado dress with embroidery done in Quezon. Interesting but right choice to switch, perhaps?
3. Cindy Ejercito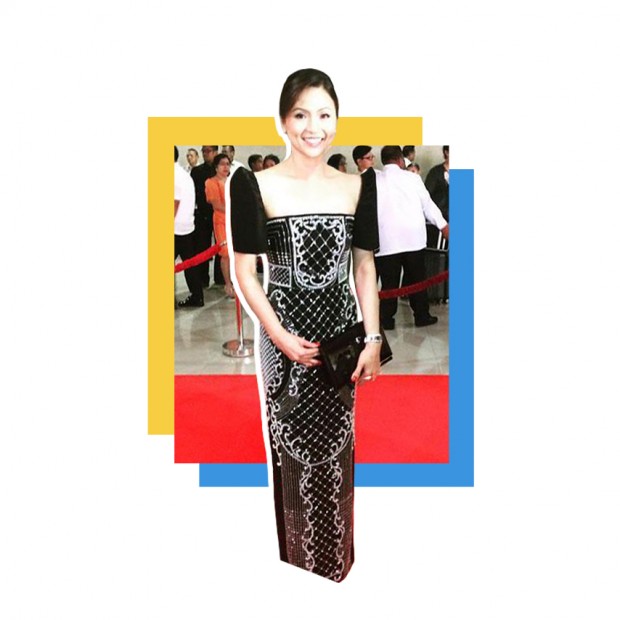 Designer Paul Cabral got it right with Senator JV Ejercito's wife, Cindy Ejercito. Who doesn't love a breath of fresh air on the red carpet? Cindy came in a simple, straight-cut, stark black beaded number with a sunny smile. If Cindy proved anything, it's that the best looks don't come in complicated packages. That was her strength—straight up, clean silhouette and innate radiance does the trick.
2. Lucy Torres-Gomez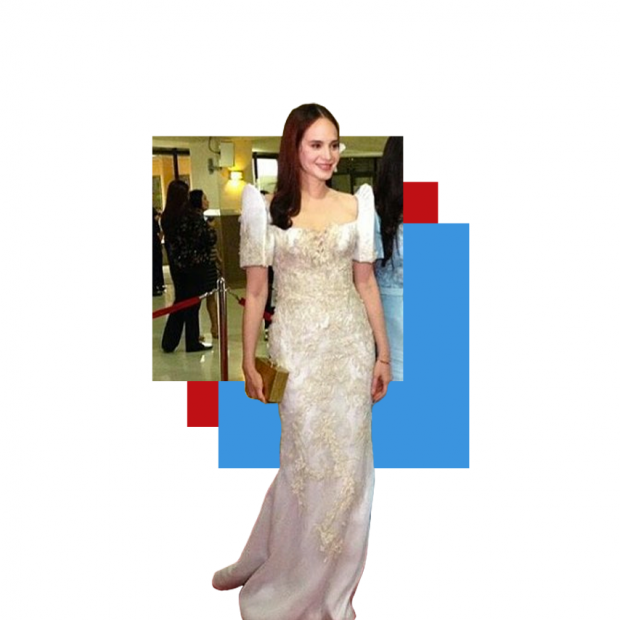 Maybe skewing towards a little bias here but when is Rep. Lucy Torres-Gomez not breathtaking? Though running a little late for the SONA, the Gomez family (with husband Richard Gomez and daughter Juliana) made it looking picture perfect. Fashionably late is forgivable when you come dressed in an understated white Randy Ortiz piece with gentle yet ornate embellishment. He has made her dresses for the last five years so this one's no miracle. Thanks for bringing us the immaculate Lucy Torres.
1. Tootsy Echauz-Angara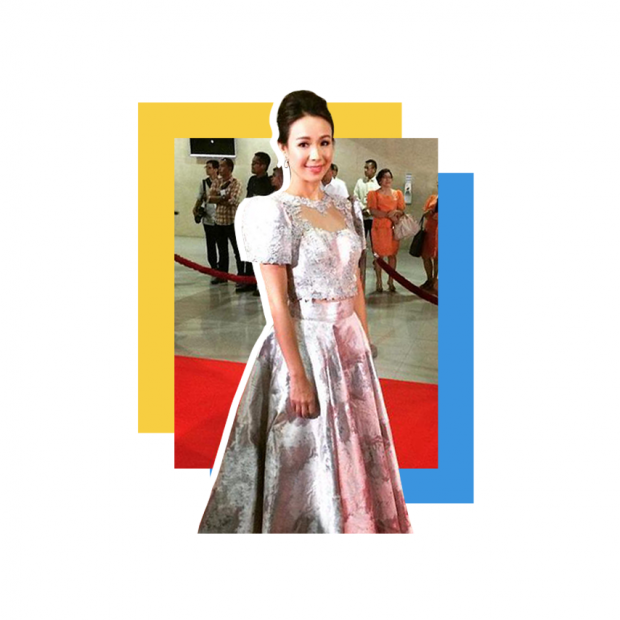 The wife of Senator Sonny Angara went from standing by the sidelines to actual red carpet superstar at lightning speed! Out of the 30 looks Rajo Laurel made for the SONA, this modern boxy, cropped top paired separately with a full pale dove-gray skirt is a runaway hit. It might be an ornate way of interpreting the ever-ubiquitous terno but what a way to modernize it. The pale pink and silver crystals could have been hated by Senator Miriam Defensor-Santiago (who wanted to pass a resolution in 2013 over people "obsessed with bling"). But maybe not this year, Senator, as all eyes are on Tootsy.
Art by Dorothy Guya