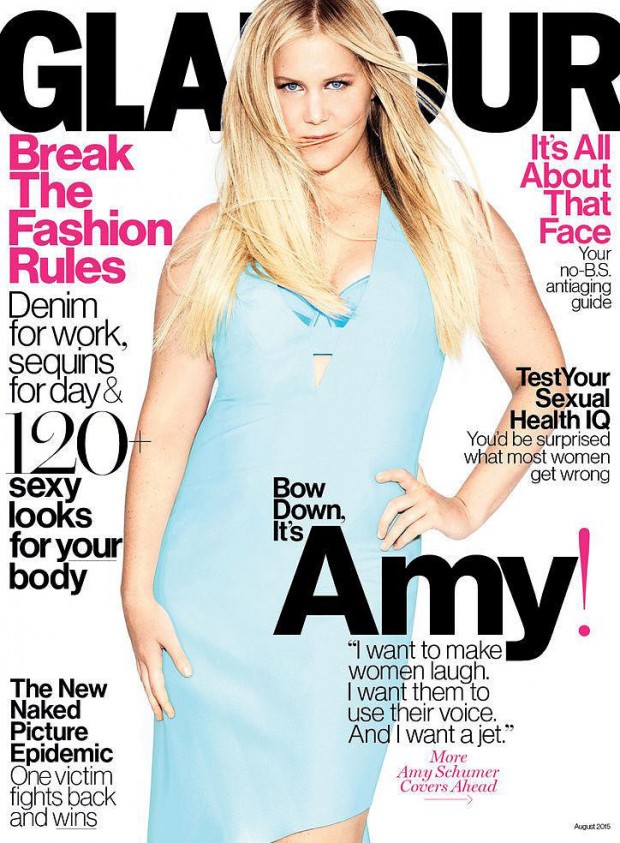 Amy Schumer joins the roster of A-list female celebrities who have landed their own Glamour covers. 
The comedian and actress fronts its August issue in a powder blue dress that's nothing short of stylish. Apart from her groundbreaking appearance, the issue is a treasure trove of thoughts on Amy's brand of feminism.
On her status as one of the movement's poster girls, Amy says, "It was very unexpected. I don't try to be feminist. I just am. It's innately inside me. I am no perfect feminist, but I do believe feminists are in good hands with me."
She also cites her personal encounters with sexism throughout her career. A few instances involve defaming doubters, who joke about Amy getting her job by bedding execs and giving blowjobs. But even after all those, she maintains a positive view. On image, she says:
"Appearance has so little to do with where we should get our confidence from. But everywhere we turn we're told we're supposed to look this certain way. Sometimes I don't know the difference between J.Lo or Beyoncé or Kim Kardashian, if I look quickly! I have looked at myself in the mirror and thought, This is how you look. Embrace that and move on."
If you're more used to Amy being funny, watch her reveal the rest of her thoughts on her "dream day" in this Glamour video.
Amy will be starring alongside Tilda Swinton and John Cena in the upcoming film Trainwreck, to be released in the US this month.
[
Glamour
]
Photo courtesy of Glamour