Ornate but not overflowing, Alicia Sy's house in a busy metropolis is an oasis where she and her husband Chris gathered their favorite pieces that showcase their fondness for the arts.
All around the house, paintings from current prodigies like Marina Cruz, Zean Cabangis, and Anton Mallari find themselves side by side with pieces by Arturo Luz, and Vicente Manansala. On the other hand, her downstairs powder room features walls hand-painted by surface designer Tats Manahan. "When there are holes and gaps in the wall, I just always try to cover them up," shares Alicia.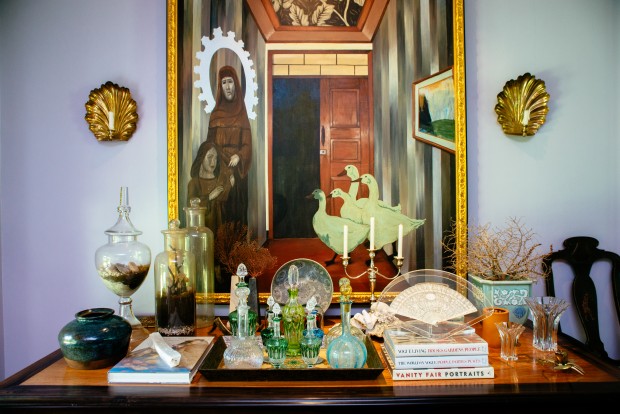 Tabletops are also not left wanting as curious finds like an encased antique ivory fan, a collection of wine decanters, a set of glass terrariums creates a tableau, mapping the owner's point blank sensibility. "I like things!" Alicia says.
Each and every room is filled with Alicia's self-imposed title when it comes to her interior aesthetics. "I'm very modern-minimalist, if you needed a catch statement—I've always liked old things. But I also want things to be fresh." As native artifacts by Isabel Tampinco are interspersed with Chinese lacquerware, we see what she means and just how valuable it can be. 
Having European herringbone floors and an old vintage aparador, Alicia Sy wants a house that reflects her own aesthetics and its own character. "Too many, too few—it's all about personal taste. When I'm done with this space, it will have a lot of layers."
Source: Angela Manuel Go for Red magazine, "Curious Case," July 2015.
Photos by Patrick Segovia