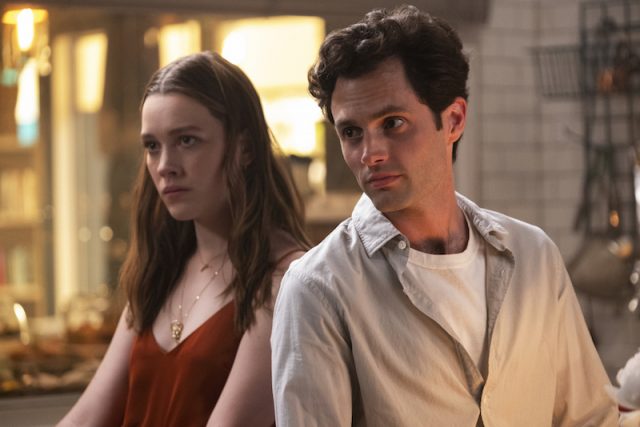 Warning: Spoilers ahead
The ending of "You" season two has left a lot of us a little confused. Throughout the series, we were made to believe that Joe Goldberg (Penn Badgley) would be a changed man who would finally have a normal family with his new love interest, Love Quinn (Victoria Pedretti).
But we know Joe and Love's relationship is far from normal. In the penultimate episode of season two, we see Love killing Joe's building manager Delilah Alves (Carmela Zumbado) and his ex Candace Stone (Ambyr Childers), and we also find out that she's just as manipulative as Joe. They basically manipulated each other—who says romance is dead? (Note the sarcasm.)
The madness doesn't stop there. In the last few minutes of the final episode, Joe moves to a new home and starts stalking his neighbor, hinting at the third season's premise.
Anything can happen in "You" season three at this point, but fans (including us) already have some theories.
Love's baby
When Love said she was pregnant with Joe's baby, at first I thought she was faking it to make Joe stay with her. But I was proved wrong when her baby bump eventually grew. That doesn't mean there's nothing shady about the baby though.
There's a possibility that it isn't Joe's baby. Fans are speculating that Love was knocked up by Milo, her late husband's best friend who she dated briefly after Joe. Fans think she only said it was Joe's baby to save herself from getting killed and make him stick around. 
If this is true, Joe might either break up with Love (but how?) or he'll go after Milo out of jealousy.
The neighbor isn't a love interest
Hear us out: Despite Joe's creepy "Hello, you" monologue while stalking his neighbor, fans are convinced that she's not a new girlfriend but is actually his estranged mom.
CAUTION "YOU" SPOILERS AHEAD

okay no joke y'all i have a theory on who this mystery neighbor is: it HAS to be joe's mom bc a) we don't know if she ever died and b) i doubt joe would cheat on love after ALL OF THAT. so now i ask your opinion, who do you think it is?

— ashley • ia-ish (@RCDSTREAK) December 28, 2019
This makes sense since "You" season two showed several flashbacks of young Joe and his mom, and how they lived in an abusive household. After young Joe shot his dad, he was moved to a community home for children. We don't hear much about the mom afterwards other than the fact that Joe's trauma and abandonment issues are rooted in his relationship with her.
Let's say the neighbor is his mom, how will this factor into the new season? Joe finally getting closure, I guess. But this is "You" we're talking about, so there's bound to be a dark twist here.
The Quinns covered up Delilah and Candace's deaths

Love didn't have a good relationship with her mom Dottie Quinn (Saffron Burrows) for most of season two. But in the ending, it seems like Dottie will be more present in her daughter's life now that she's getting a grandchild.
It's also possible that Dottie's keeping a close eye on Love (and maybe Joe) because she helped cover Delilah and Candace's deaths/disappearances. In season two, it was revealed that the Quinns covered up their au pair's death, who Love killed for sexually assaulting her twin brother. 
That's how powerful the Quinns are, so we wouldn't be surprised if Dottie is making sure that Love doesn't get into trouble again.
Forty's movie will be posthumously released
Forty Quinn (James Nicholas Scully) is Love's twin brother who worked with Joe to write the script for his movie adaptation of Guinevere Beck's book, "The Dark Face of Love." Yes, Beck, Joe's ex from season one, who wrote a fictional piece that hints at Joe's sociopathic behavior, but the blame was directed at Beck's therapist Dr. Nicky (John Stamos).
Throughout the series, Forty tries to get information for his script, even visiting therapist Dr. Nicky, who was blamed for Beck's murder, to get answers. He finds out that Joe murdered Beck and tries to warn Love. Unfortunately, Forty ended up getting shot by a police officer while he was confronting Joe and Love.
Forty might be dead but the film can still premiere. Our guess is that Ellie Alves (Jenna Ortega), Delilah's younger sister and Forty's co-scriptwriter, will head the project in some way. Last we heard from her is that Joe convinced her to move away after she found out that Delilah's dead.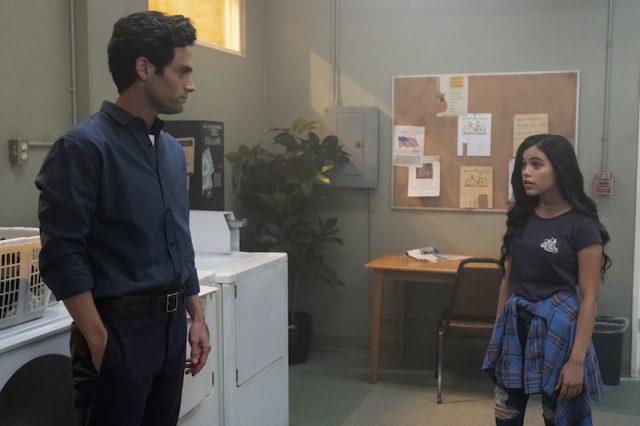 This also means that the film will expose Joe. But that can only happen if Forty left notes from his interview with Dr. Nicky. Either way, we're rooting for Ellie to save the day.
There's going to be a fourth season
"You" writer Caroline Kepnes is currently writing her third book and she already got a deal for a fourth book. You know what that means? A possible fourth season. So we'll have to wait and see what Joe is up to in season three and see how Love's role will be instrumental in future seasons.
Photos courtesy of Netflix
Follow Preen on Facebook, Instagram, Twitter, YouTube, and Viber
Related stories:
'You' season two is a redemption arc, but not really
Millie Bobby Brown defending Joe Goldberg is so wrong
This is why you can't get enough of 'You'
If you're in love with Joe Goldberg, then you missed the point of 'You'