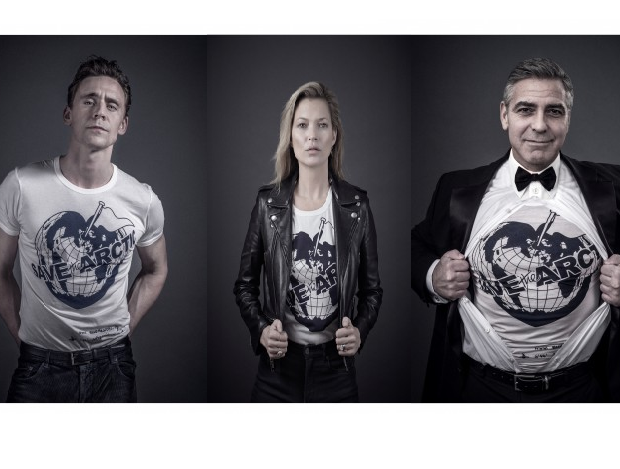 Designer and activist Vivienne Westwood is on a mission to save the planet with an army of models, celebrities, and musicians by her side. Dazed Digital reports on her Save The Arctic campaign, a collection of photographs that include supermodels Kate Moss, Naomi Campbell, and Georgia May Jagger, singers Jessie J, Chris Martin, and Rita Ora, and actors Tom Hiddleston, George Clooney, and Pierce Brosnan.
Shot by Andy Gotts, the seemingly candid photos capture the personalities sporting Westwood's Save the Arctic shirt. Proceeds earned from the sales of the organic, unbleached cotton shirt go to Greenpeace in support of their bid to protect the melting Arctic zone, which the oil and petroleum company Shell will drill this July.
60 personalities, in total and including Vivienne, figure in the campaign. It is currently being exhibited at the London Waterloo Underground station, which leads right up to the escalators of the Shell headquarters. How's that for not being subtle?
See the complete campaign photos here.
Photos courtesy of Vivienne Westwood