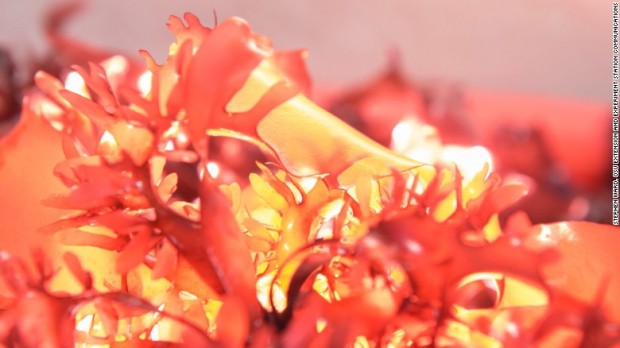 T
hese Oregon State University researchers found something better than a unicorn: bacon-tasting seaweed.
Misleading the public with a humorous claim that they discovered the mythical animal, the team at OSCU's Hatfield Marine Science Center wound up presenting the marine plant dulse instead. Grub Street reports it to be a strain of translucent red seaweed that, when fried right, tastes more like your favorite strip of pork.
This was the study's unintentional takeaway, of course. Researcher Chris Langdon and his team intend to make use of a patented strain of dulse, which they have been growing for the past 15 years. The goal was to create a superfood for abalone. However, the more relevant conclusion was dulse's benefits for humans.
"This strain, which looks like translucent red lettuce, is an excellent source of minerals, vitamins, and antioxidants—and it contains up to 16 percent protein in dry weight," says Chris. 
In short: it's healthier than kale. And when you fry it, you end up with a batch of this new super-food disguised as heart-clogging meat. Of course, you get more nutrients when it's raw—like how most vegetables are—so make sure you don't make it a habit to deep-fry every damn time when dulse becomes more available. 
Photo courtesy of CNN