Last year, when model Bianca Elizalde debuted as a restaurateur via The Wholesome Table, it brought her passion for both flavorful and healthy food to the forefront. "I have been trying to live an organic lifestyle for the past 20 years. Most people are not conscious about what they are eating and what goes into their everyday diet which is odd given that whatever you eat—good or bad—goes directly to your body and affects you immediately," explains Bianca.
One thing had frustrated Bianca, however. "In our BGC branch, we couldn't serve a breakfast menu because our contract with the mall we are in only allowed us to be open at 11 a.m."  Her frustration didn't stop her from still developing breakfast meals. And with the opening of the second branch in Salcedo Village, where they could open at 7 a.m., she was more than happy to present some of their new offerings so you can start the day on a healthy note.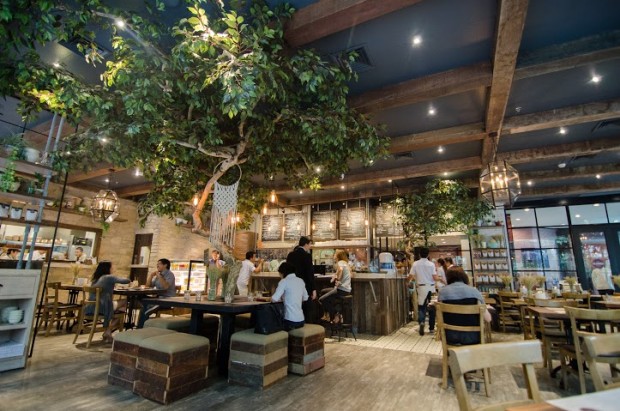 We  got to try four of the dishes under The Wholesome Table's breakfast menu. Here's our verdict on which dishes are worth waking up for.
Brazilian Bowl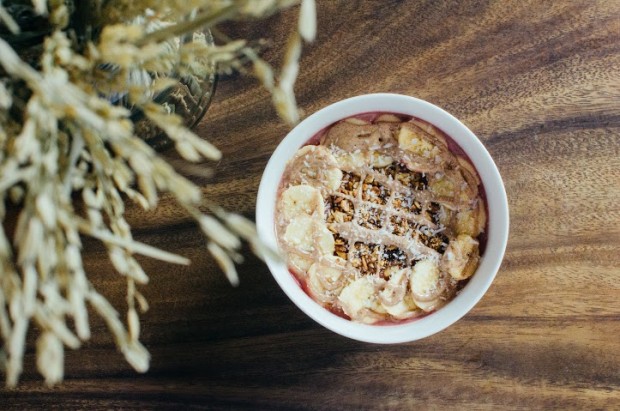 Think of this as a very thick smoothie of puréed Acai berries, almond butter, and bananas served in a bowl. Topped with almond drizzle, cacao nibs, and granola, it's something that could make you think you could commit to organic lifestyle as it was just like eating ice cream for breakfast. This is probably one of our favorites on the menu.
Gluten-free waffles and pancakes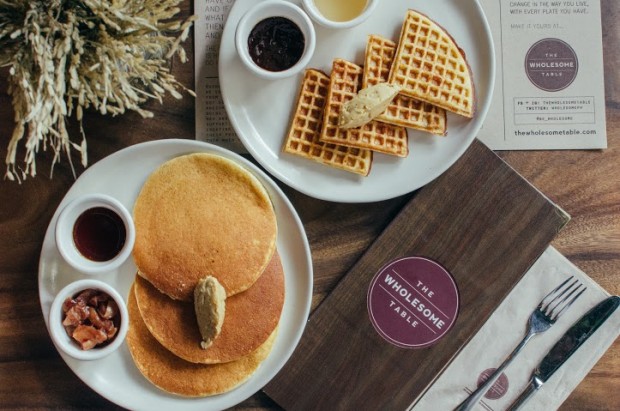 You may opt to choose from any of the following to go with it:  raw honey, honey cocoa nectar, and fruit compote—all of which are better than your usual corn syrup. Even with Ricotta yogurt and lemon batter, you wouldn't know the difference from regular pancakes and waffles. They were fluffy and golden brown, just how you remember them to be. They also didn't taste bad at all even when we ate them cold. (Completely our fault, we got carried away in taking photos.) It's difficult to resist eating the homemade vanilla-cocoa butter it comes with  on it's own. Given its sweet-salty taste and aroma, it instantly became the reason why we'd come back for the waffles and the pancakes.
Ultimate Grilled Cheese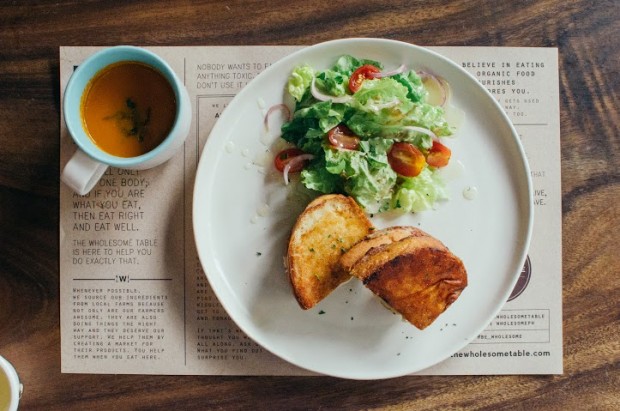 For something more filling, you may opt for this one immediately.  This grilled sandwich has what you want it to have: thick, chewy, Gruyere cheese gushing out between two thick slices of crisp bread. The cheese had that distinct tang of sourness that became more evident due to the grilling. My photographer had to finish the whole serving after I took a bite. We had he luxury of trying it with both the soup and the salad. Personally, I would prefer to have it with the tomato soup to clean the palette in between bites.
Bistek Tagalog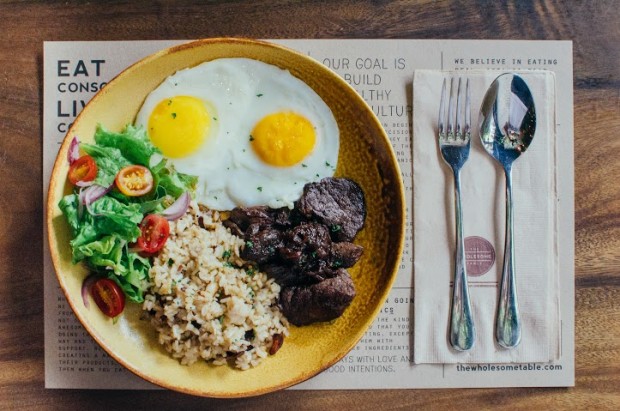 We tried this last, and perhaps, with good reason. There's nothing special about it, except for the fact that like all dishes at the restaurant, it's made from organic ingredients. The  grass-fed beef that's been marinated with the usual bistek ingredients is served with  organic rice, a breakfast salad, and two free-range eggs. Although there is that sense that you are eating something that's not laden with all the bad stuff, the taste isn't remarkable either. The beef was a bit tough (although, again it might be our fault since we took photographs first) and was what you know a bistek to be: a little salty from soy sauce, a little sour due to the vinegar. The organic, brown rice was well-cooked and had that distinct earthy flavor it always has.The eggs were not greasy and the salad provided a nice break from the richness of the protein in the meal.
Still, if you'd like to get started on being stricter about what goes inside your body and to change the way you look at organic food, The Wholesome Table' s breakfast menu will surely help you to do just that. The Wholesome Table breakfast menu  is available daily from 7 a.m. to 10 a.m.
The Wholesome Table. Infinity Tower,  106 H.V. De La Costa Street cor. Leviste Street, Salcedo Avenue, Makati City, open daily from 7 a.m. to 11 p.m.  For reservations, call 959-7292.
Photos by Javier Lobregat