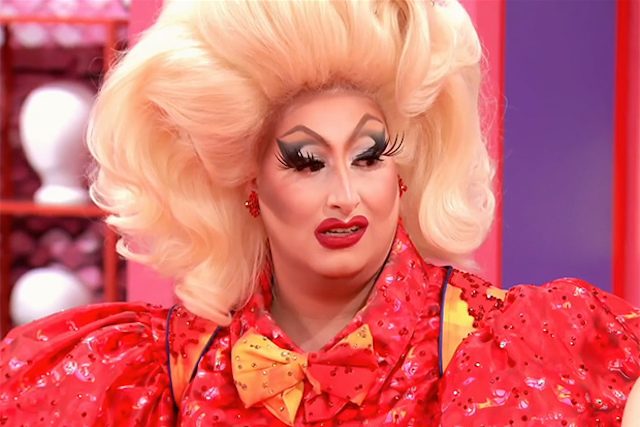 Spoilers ahead!
So… let's talk about the second episode of "RuPaul's Drag Race" season 12.
In case you haven't heard yet, Sherry Pie was disqualified after admitting to catfishing and sexual misconduct. Five men have accused her of these acts before the second episode aired. Her disqualification means that she won't be part of the finale as she's reportedly one of the top four finalists this season.
However, it means that we're going to see Sherry this whole season. When I watched the second episode, I was high-key hoping that Sherry wouldn't be a likeable contestant so it would be easier for me to ignore her. Fortunately, I didn't like her personality and her drag style didn't speak to me. But I'm also aware that some fans think Sherry's talented and that if she wasn't accused of sexual misconduct, they'd get behind her. RuPaul Charles and his co-judges seemed to like her in this episode as well.
That said, it is weird to watch this season now that we know what Sherry did. Instead of waiting for her to get eliminated, we're going to see her be safe or possibly win multiple challenges until she gets the top four spot. Even if Sherry does well in all the challenges, it's obviously going to be difficult to applaud her—and this is coming from someone who wasn't directly affected by her actions.
Imagine if you were one of the survivors who came forward with accusations against Sherry. Imagine if you were one of the eliminated drag queens who has to watch Sherry advance until the semi-finals. We all know this season isn't going to be an easy watch, especially since there are fans who feel like the editing for episode two puts Sherry in a positive light.
Yung edit kay Sherry Pie dito very winner's edit ahahahaha pota eh disqualified????

— Jaya Sa Pelikula (@MxNoelle) March 8, 2020
If that is the case, we can't blame the editors for it. No one knew about Sherry's past actions until someone came forward and the story went viral on social media before episode two aired. We doubt they'll have enough time to change the editing to every episode. We're going to guess that the most they can do is tweak the ones leading up to the semi-finals.
We're not discrediting "Drag Race" for acting accordingly once Sherry's misconduct came to light. The producers definitely did what they could. It's just sad that season 12 has been tainted, especially for fans who watch this show as a stress reliever. But all we can say is sh*t happens and at least Sherry won't have a chance to win the crown anymore.
Likewise, we hope "Drag Race" won't have similar controversies in the future.
Screengrab from "RuPaul's Drag Race"
Follow Preen on Facebook, Instagram, Twitter, YouTube, and Viber
Related Stories:
Sherry Pie is disqualified: What does this mean for 'Drag Race'?
Trend alert: Standout outfits from 'RuPaul's Drag Race' S12E1
This Vietnamese-Filipino drag queen just broke the "San Francisco curse" on 'RuPaul's Drag Race'
Friendly reminder: Drag has always been political, #periodt