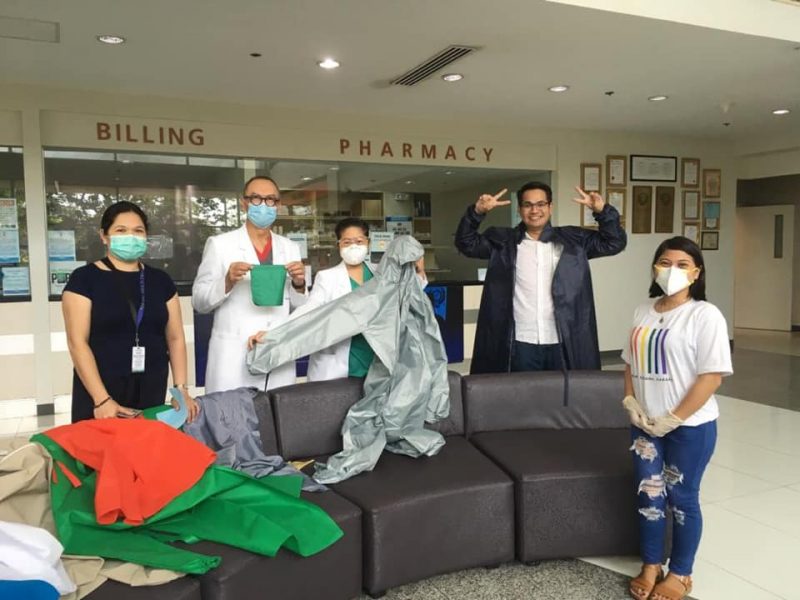 A week ago, we wrote about the Manila Protective Gear Sewing Club, a Facebook group started by Mitch Dulce to help create PPE suits for our frontliners, who are dangerously under-equipped with gear that would protect them from the COVID-19 virus. Dulce and the other members of the group created a pattern and techpack available online by "reverse-engineering" a suit that the office of the vice-president had given her.
[READ: This local sewing group is making PPEs for health workers]
On Mar. 29, Vice President Leni Robredo announced on her Facebook account that her office has received the go-ahead to mass-produce the suits based on the pattern that the sewing club had created. To ensure its safety, the pattern was "medically reviewed in Berkeley, California," and the first suit (made by sewing club member Joey Socco) was approved by The Medical City Sta Rosa Laguna's Infectious Diseases specialist and chief medical officer Dr. Jesus Julio Ancheta.
According to the Vice President, the mass-produced suits would be made using "Tafetta Silver Back Lining." It's the kind of fabric used for umbrellas, according to Dulce. "This can be reused and disinfected again and again."
For the technical testing, "the Taffeta SBL type was autoclaved under 134 C for 15 minutes, and after taking it out, it was completely dry in 4 minutes. This was done without the use of an autoclave pouch (with the pouch it will dry much faster). Existing evidence from IPC source for SARS was used for a basis for this, and the article says that 15 minutes autoclaving is effective to kill the virus," writes Dulce in a Facebook post.
Currently, the suit pattern comes in a large size but the sewing club will be rolling out smaller sizes soon. 
"The pattern is for everyone's consumption. We will be producing in bulk but you can all have your local mananahis make them for your own health frontliners, specially those in the provinces," says Robredo.
Featured photo courtesy of Leni Robredo's Facebook page
Follow Preen on Facebook, Instagram, Twitter, YouTube, and Viber
Related stories:
Piopio creates sewing kits to help their weavers
Local designers are producing protective gear for frontliners
These designers are donating retaso masks to frontliners
Why Mich Dulce could be the most important designer of her generation