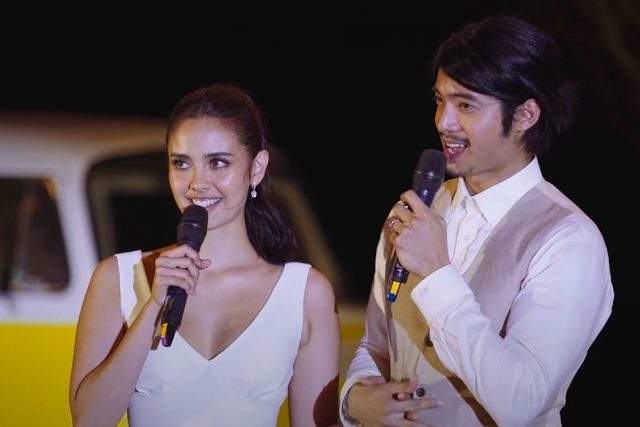 Last January, Megan Young and Mikael Daez surprised everyone when they announced that they got married. Apart from the fact that they had two intimate weddings, we don't know the ins and outs of their special day.
If you want a glimpse of the Young-Daez nuptials, Daez posted their official wedding video by filmmaker Bob Nicolas. Apart from snippets from their church wedding and reception, what caught our attention was the story of their pet names to each other, Bonez and Fofo.
During their reception speech, Daez talked about why he started calling his wife "Bonez" during their first year together. "Megan and I were hanging out in her house. She was still studying in Benilde and she had a PE homework where she had to see how many push-ups she could do."
"So, she was on the floor, she was wearing an athletic top and I could see her collarbones… I said, 'Hey, dude, I'm gonna call you Bonez from now on.' Of course, I was playing around and the name stuck," he shared.
Daez continued his storytelling with how he got the nickname "Fofo," which originally came from his brother. "Inaasar ko siya. Nahuli ko siya sa banyo, I don't remember what was happening," said Daez. "Sobrang nainis siya, hinabol niya ako around the house… Eventually, nakuha niya 'ko, pinned me up against the wall and wanted to curse me out and say, 'Mofo.' Pero Nicky, being him, nabulol siya and said, 'Fofo.'"
When Young heard the story, she started calling Daez "Fofo," which also stuck to this day.
The rest of the wedding video shows the couple's friends and family talk about how Young and Daez complement each other, as well as funny anecdotes about their worst traits and memories from trips.
If you want to watch the full video, you can check it out below:
Screenshot from YouTube
Follow Preen on Facebook, Instagram, Twitter, YouTube, and Viber
Related stories:
Megan Young and Mikael Daez just got hitched
Megan Young's daily makeup routine includes face oil and liquid lipstick
Check out Mica Javier's beach-appropriate wedding gown
Wedding gowns inspired by Cinderella and Ariel? Disney's doing it