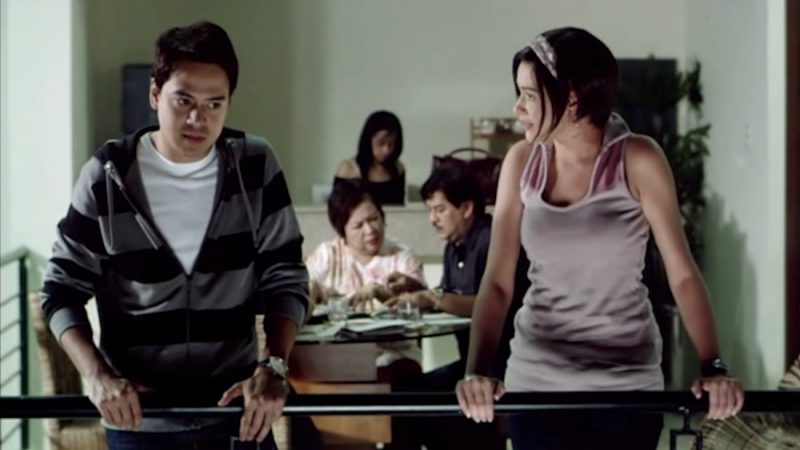 'Tis the season of celebrity reunions, I guess? Ever since the COVID-19 pandemic hit and a near-universal lockdown was put in place, more and more celebrities have been coming out of the woodwork to revive past projects and meet up with old cast mates. (As a person who still has one foot down in the 2000s, this is very good for me and my heart, and it's doing something to calm down my pandemic anxiety.)
One famous reel-life showbiz couple has decided to reunite: Bea Alonzo and John Lloyd Cruz. On Apr. 27, Alonzo went on IG Live to talk to her followers. "This is weird because I don't usually do lives," she starts the livestream, explaining that she ends up going in tangents.
I'm not going to lie, as someone who watched all 47 minutes of the two-part stream, I can say that it was a trip. Also, I think it may have been a work of fiction? More on that later.
In the second half of the stream, she invites in the other half of her old love team, Cruz. It starts with them semi-flirting (I think??? Or not??? Maybe I'm just so used to seeing them as lovers in movies???), with Alonzo reminding him of how much she knows him and challenging him to ask her questions about himself—all of which she gets right. (What's John Lloyd Cruz's favorite movie he's worked on with Alonzo? "My First Romance," apparently.)
The stream quickly takes a dark turn, with Cruz reflecting on the current state of the country and his own loneliness, as well as his fears of raising a child in the world that we live in. "Bilis na mamatay ngayon, bilis na pumatay," he says witheringly. 
The both of them also touch on the extreme privilege that they have as stars. "Parang nakakahiya na maswerte ka," Cruz remarks. "Doon naguumpisa yan, eh, kapag alam mong privilege ka. Pero the question is, what do you do with your privilege?" Alonzo says. 
The discussion becomes heated— "Wow," Alonzo snaps in exasperation at some point—so much so that when they've calmed down, Alonzo asks, "Nag-away ba tayo?" "Alam mo, pag 18 years na kayo magkilala, kahit magdiscussion kayo ng magtaas ng boses, tingin ko okey lang yon," says Cruz.
They start ruminating on their intertwined careers, Alonzo remarking at how she's known him since she was 13 years old. They also reenacted bits from their old movies, firing lines at each other at a rapid pace. "Niloloko mo sarili mo, Yuri. Hindi magiging tayo!" ("Kay Tagal Kitang Hinintay") "Sana kayo ko pang sabihin na masaya ako para sa yo." ("One More Chance") "She loved me at my worst—" "Ano ba yan, masyado kang predictable," Alonzo interjects. "—You had me at my best." ("One More Chance," again)
The line trade-off ends with Cruz saying, "Hindi ko alam kung ano tayo," and explaining all the times that Alonzo has been there for him. "Nandun ka non naghanap ako ng kaibigan. Nandun ka nun kailangang ko ng kausap." 
"Anong pelikula yan?" "Gusto ko lang sabihin."
It's at this point that I start wondering if maybe this is a stunt for their upcoming movie with Dan Villegas and Antoinette Jadaone—maybe? It's probably genuine, but it also felt like I was watching a movie? [READ: The real V-Day gift: A surprise John Lloyd-Bea reunion]
Adding to my conspiracy theory, JLC did mention a few weeks ago that he was going to "perform a work on fiction on Instagram," and that it would be a "love story and about the times." So maybe? Am I looking too much into this? Am I losing my mind? Alas, poor Yorick?
Near the end, Alonzo starts ruminating on her identity as an actress, "Ako ba si Bea, si Phylbert, si Tisay, si Basha? Alam mo yun? Sila ako pero hindi din sila ako." She notes that "lumaki tayo sa harap nila, lumaki tayo sa harap ng isa't-isa, sa harap ng camera."
The stream ends shortly after Cruz picks up a guitar and plays "You Are My Sunshine." "Na-miss kita," says Alonzo. "Nami-miss kita," replies Cruz. He eventually leaves to put his son to sleep.
I…kind of need to process all of this, help?
UPDATE: I was right.
Featured photo is a screen grab from the official "One More Chance" supercut on YouTube
Follow Preen on Facebook, Instagram, Twitter, YouTube, and Viber
Related stories:
Bea Alonzo confessed that Jericho Rosales was the reason she entered showbiz
This Is How Bea Alonzo Keeps Herself From Burning Out
The real V-Day gift: A surprise John Lloyd-Bea reunion
John Lloyd Cruz Is Taking a Break from Showbiz