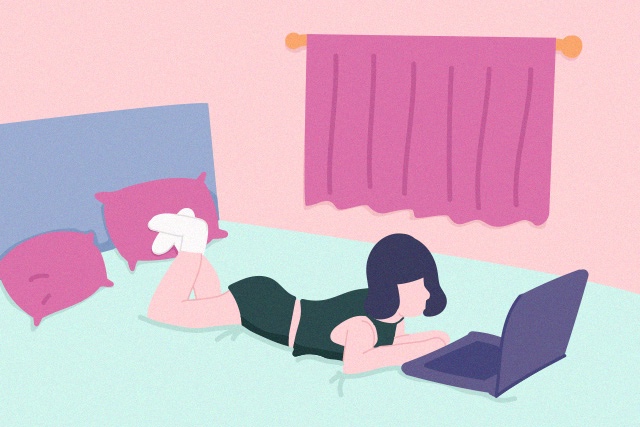 After being at home for more than a month, I feel like I've combed through my Netflix catalog and watched every single thing that will ever interest me. I've watched "Money Heist," "Itaewon Class" and "Love is Blind". The new season of "RuPaul's Drag Race Untucked" is no longer available on Netflix so that's one less thing to watch, and Lee Min Ho's new drama is only available on Fridays and Saturdays. I've also re-watched "Brooklyn 99" and "Modern Family" and I can finally confirm that Captain Holt and Gloria Pritchett are my favorite TV characters forever. I've also exhausted many of my email addresses in signing up for free trials in Amazon Prime Video and HBO Go, so at this point, I'm looking for new stuff to binge. 
Thankfully, YouTube hasn't run out of suggestions for me…yet. From weird mukbangs to informative niche videos, I have fallen into a strangely calming YouTube hole of bingeing on videos I normally would not have found if I weren't at home. 
As lucky as many of us are to be able to stay at home during a global pandemic, the quarantine presents many mental struggles that we have to now deal with, from loneliness, anxiety, and body dysmorphia, among others. Those working or studying from home can also feel burdened by the blurring of lines between home (which is your safe space and sanctuary) and workplace (which can be a cause of extreme stress). 
Going on these YouTube binges helps me step back from the stress I have been feeling from the uncertainties brought on by the pandemic. It also keeps me occupied during downtime at work or on weekends. It's strangely comforting to me to be able to explore YouTube content that I normally don't consume. It's also a weird way for me to relieve my stress—even though the future is vague and what will happen in the next few weeks, let alone tomorrow is unclear, it's comforting to know that I can still find small ways to enjoy what other human beings have created on the internet. 
So here's a list of relaxing channels that you can spend hours watching to help you relax and unwind. 
Peaceful Cuisine
Honestly, adding this channel to this list is a double-edged sword. On one hand, it makes me feel peaceful (as the channel name suggests); the cinematography and color grading is soothing. On the other hand, it's making me crave so many dishes of the non-essential kind. 
This channel by Ryoya Takashima produces different kinds of content—from travel and day in the life vlogs to plant-based meal plans. But the videos that take the cake are his recipe videos. Many recipes are Japanese specialties like takoyaki, Sakura cookies and miso ramen but there are a lot of other cuisines featured too. I find it extremely unique that his recipes are vegan and easy to follow. Takashima says that a vegan lifestyle is his passion, and is, in fact, one of the ways he hopes he can bring world peace and happiness to the world.
Never Too Small
Housing (and generally, the cost of living) is getting higher every year. While that's not a relaxing fact in itself, I find it comforting that this channel does not shy away from the fact that spaces can never be too small for both aesthetics and functionality. 
The channel features award-winning architects and interior designers and their tiny apartments, studios and projects. Some of the videos feature the architect's or designer's own tiny home, which is inspiring in that it makes me realize: architects, they're just like us (except better at math)!
The channel also highlights smart design and creative use of space. In many videos, they tackle urban overcrowding and how micro-homes can be a way to alleviate that problem. The channel also introduced me to Small Footprint Living, a way for people to minimize their ecological impact through their homes. 
HD Colors
When I was young, I loved changing the screensaver on our communal desktop computer. As my grandfather used up our dial-up credits, my only consolation was changing the screensaver and watching those lights, bubbles or shapes move around the screen. This channel reignited that pleasure. Watching these colors create shapes and move about for hours is a great way to space out or refocus (whatever you need). On truly stressful days, I have these on split-screen and I look at it when I need a mental break. The music's really calming too, not bad for when you're trying to accomplish a lot of tasks. 
Haebokka
I honestly love "making of" videos and this channel gives me all that, but so much cuter. The creator has a 3D pen which they use to create pen art and figures of popular characters. They go through the whole process and also provides tips on how to create figures and art if ever you want to try it out for yourself. They don't talk much but the captions are really witty and can elicit a laugh. The music makes me feel as if I'm in an 8-bit game, watching a master at work and to be quite honest, I can watch for hours. 
They currently have a Pokémon series, although so far they've just done starter Pokémon like Charmander and Bulbasaur but I'm tuning in to hopefully see Gyarados or Jigglypuff rendered using a 3D pen. 
Wakuneco
Another niche "making of" channel that calms me down and brings me to my happy place is Wakuneco. Literally translated to Frame Cats in English, it's a needle felting channel that creates framed cats out of melted wool. At first, the visuals were a bit unsettling to me because the cats in the frame looked too realistic, but seeing the whole process was mind-numbing and helped me unwind. Aside from process videos, the channel also has technique tutorial segments where one can learn how to create cat ears, use a hand carder and how to create gradation. The creator also uploads videos of their cats that join the needle felting process for added cuteness. 
Art by Dana Calvo
Follow Preen on Facebook, Instagram, Twitter, YouTube, and Viber
Related stories:
Watch your favorite YouTubers make quaranthemed videos
Underrated queer shows to stream during the lockdown
Grab your drinks: 'I'm Drunk, I Love You' is up on YouTube
YouTube 'reality TV' videos: What's real, what's not?