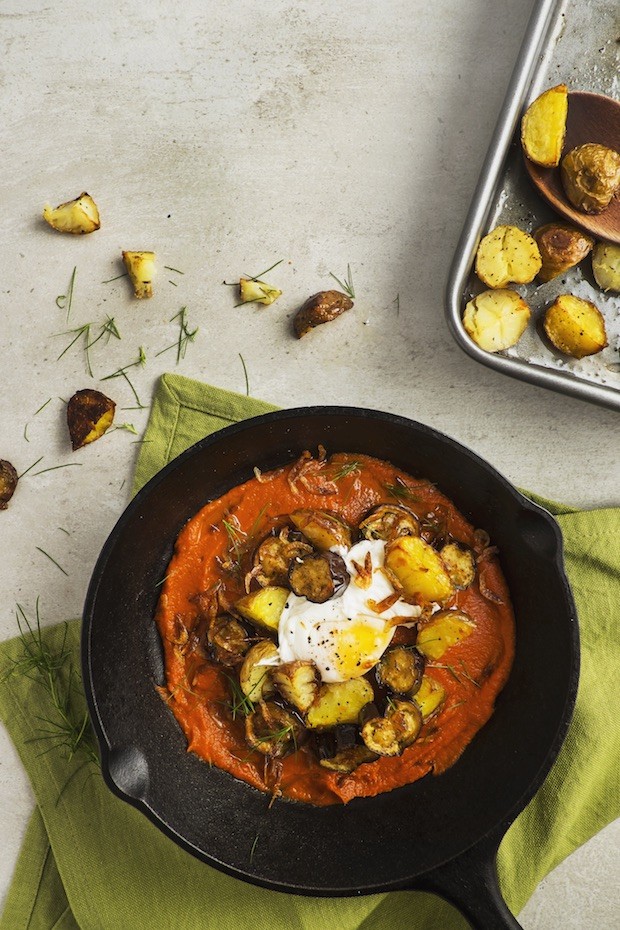 There's nothing sadder than an uninspired side dish served with a thoughtful main course. If you're planning your next dinner party, this hearty side dish could be the night's topic of conversation.
Ingredients
1 can peeled tomatoes
1/4 cup olive oil (we recommend the Monva olive oil from the Grand Cru collection by Oliviers & Co.)
1/2 tbsp onion, minced
1/2 tbsp garlic, minced
6 pcs marble potatoes
1 pc eggplant, cubed
1 pc egg
Dried alamang
Salt
Pepper
Sugar
Preparation
For the tomato sauce
1. Boil the tomatoes until skin starts to peel. Place the tomatoes in a bowl of cold water. When cool, gently remove the skin.
2. Purée the tomatoes in a blender.
3. In a pot, sauté garlic and onions in olive oil for five minutes.
4. Pour the puréed tomatoes.  Bring to a boil, then reduce heat.  Add sugar, salt, and pepper to taste.
For the poached egg
1. Crack an egg into a pot of boiling water with vinegar and salt.
2. With a slotted spoon, stir the water gently for three minutes to help the egg white wrap around the yolk.
3. Remove the egg from the pot with the slotted spoon.
For the main dish
1. Preheat the oven at 150° C. Prepare a pot of boiling water and put in the potatoes. Leave it boiling until the potatoes soften.
2. While the potatoes are boiling, fry the eggplant cubes and the dried alamangin olive oil and in separate pans.
3. Strain the cooked potatoes and cool. Cut in half. Place them in a baking pan and bake in the oven for eight minutes or until crispy.
4. Assemble the tomato sauce, eggplant, and marble potatoes in a skillet and bake it again in the oven for five minutes.
5. When done, add the poached egg and crispy alamang, then serve.
Photo by Gabby Cantero
Styling by Charlie Cabungco
Source: Charlie Cabungco for Southern Living, "Back to Nature," July 2015.
Oliviers & Co. 2/F Central Square, Bonifacio High Street Central, 5th Avenue corner 30th Street, Bonifacio Global City, Taguig City. 2/F Greenbelt 5, Ayala Center, Makati. For more information, visit their website.