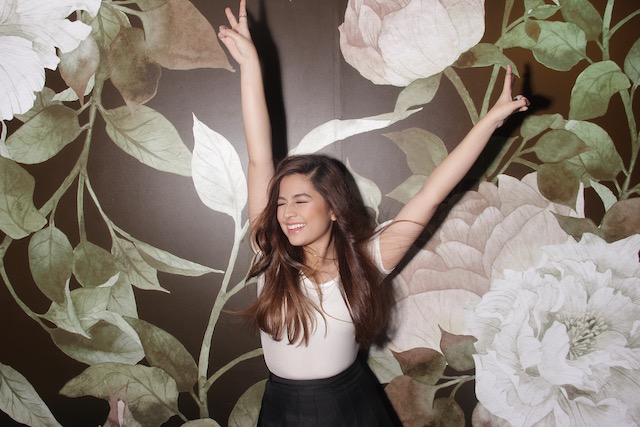 Alexa Ilacad is back with an original song and it's pretty different from her usual stuff.
Known for her acoustic pop-rock vibe from her debut album "To The Moon And Back" in 2016, the Filipino actress and singer flexes her insanely wide vocal range in her newest track "Love at First Sight" by taking on the dance-pop genre. Fans already knew that the singer could nail the new sound, what with her several covers of artists like Dua Lipa, Niki and Katy Perry up on her YouTube channel. 
Alexa's latest single is her first release since she joined the indie record label Off The Record, and it's been nonstop promotions since it dropped on Nov. 13.
View this post on Instagram
"While the lyrics may lean towards more romantic interpretations, the song itself is a celebration of the thrilling (and sometimes maddening) moment of falling in love—whether it's with a person, a moment, or virtually anything in life that brings joy," Off The Record wrote in its press release.
The song's release came at one of Alexa's busiest times of the year. She's in the upcoming teleserye "Init sa Magdamag," starring Gerald Anderson, Yam Concepcion and JM de Guzman. Her movie "Four Sisters Before the Wedding," a prequel to the iconic family favorite "Four Sisters and a Wedding," will also be coming out on Dec. 11. After dropping a high key relatable music video and a beat that I would definitely sing with (or perform to) in the shower, I had to ask the busy 20-year-old artist how she managed to put it all together. I went on Google Meet with Alexa and talked about her current musical influences, her pets and how much she misses live gigs.
Hi, Alexa! How have you been? What have you been up to lately?
I'm good. I hope you are, too. I've been busy promoting this single and promoting my movie "Four Sisters Before the Wedding." But before that I've been busy shooting and taping for the movie and a teleserye.
It looks like you've been pretty booked, but let's talk about the single. Can you take us through its creative process?
I really have a bad memory so I'll try to remember, shucks. *laughs* For the creative process, it was me and my team from Off The Record. We were conceptualizing what kind of sound I wanted for this new release. So, we had writers Brian B and Melissa Erpen, all the way from Malaysia, help me with the song "Love at First Sight," and the process of recording. I was just here at home by myself recording the song. It was also a very new thing to me, because you know hirap magrecord ngayon in this new normal. I had to do everything by myself like a one-woman team. It was a really fun experience though.
That's pretty cool. This is like your comeback single since your first EP, but you've been busy releasing covers on YouTube. How does it feel to release an original once again?
I'm actually really excited for this. It really does feel different when you're singing your song, promoting it, and making videos for it. Of course, it's more fun and it's more fulfilling because it's mine.
The song has a dance-pop vibe, which is markedly different from the acoustic rock sound that you had before. How does it feel to take on this new sound and what made you make that decision to change?
I guess it's because of my music influences over the last four years. My taste has really changed, but I still love rock, pop-rock and all the bands. I'm still a big fangirl over them. But for my sound, personally, I really enjoy singing these types of songs [more] so sabi ko, 'if ever I'm going to release my own, I want it to be something that I can dance to. I want it to be something that people can have fun with.' You know, [something] to just groove through the vibe with because I think that's what we need nowadays.
View this post on Instagram
How difficult is it to book live performances right now? Since most shows are now online, how different was it for you to adjust to that?
Actually, I have been shooting a lot more for live guestings, but the live gigs, I think that's a different thing. It hasn't been so different for me because I haven't really experienced gigging much. Of course, I've done live shows, but live gigs are different from mall shows. When you're at home, you have to be more chill. I think it would be weird for me to dance and just go crazy at home. I don't have a band with me, it's just the instrumental, my laptop and speakers. Online gigs are so different from seeing people enjoy your music personally. It takes away a lot of the feel of a live performance.
It's funny you said that you think you don't have that much experience with gigging, but I remember your set with Gracenote once at UP fair when I was in college, and I enjoyed it a lot. It felt like you belonged there.  
Really? Thank you. Yeah, they just bring me along sometimes and we jam to a few songs also with Moonstar88. I have a dream to perform in UP, but for my own set. I would love that. I really miss UP Fair.
I hope you book that too, that would be really fun. You mentioned that you're into a lot of rock bands so, right now, are there any musicians you're obsessed with or any inspirations that influenced your new song?
Well, for my new song actually, I leaned towards Dua Lipa. I have a playlist dedicated to what kind of sound I want for my own music—we have Alessia Cara, Dua Lipa, Sigrid, Carlie Hanson and many other indie artists. I'm trying to expand my knowledge with music and my taste with different genres, but for this sound, specifically, I really wanted to try dance-pop or electropop, something like that.
Let's talk about the music video. I saw that you not only starred in it, but you also directed and produced it yourself.
Alam mo yung isa mong groupmate na inako niya lahat? Parang ganun. *laughs* The reason why I had to do everything was because I was busy with shooting a movie and taping a teleserye that my schedule was too hectic for me to take a day off with my team. I really had plans for this video. I wanted a nice dance, production and all these pegs in mind. I wanted full-blown perfection, but I did not have the luxury to have that. I just had this one rest day which was the only day I could shoot the music video in time for me to send it to my team, so that they could edit it. 
It was really hard since I had no gadgets with me, no cameras, no lighting, no tripod, nothing. It was literally a challenge to shoot and siyempre kapag gumagabi na, wala ka nang araw so I was like, "Oh my God, how am I gonna do this?" And thank God I was able to do it. Knowing that I did everything gives me a sense of pride and fulfillment. At the end of the day, I'm happy and I'm thankful I have a good team right behind me. Bagay naman yung music video ngayon since everything is shot from the comforts of our home because we aren't allowed to go out. As much as my team wanted to give me the best video, this is all we could come up with, but we're happy with it.
The video turned out very cute and very relatable. I really liked the pancit canton part.
Exactly, it was purely me—this is the real Alexa. I was dancing around weirdly and you could see my sleeping pets who I have fallen in love with. *laughs* My dog is a maltese. Her name is Blush as in blush-on. I was obsessed with makeup that time, and her tummy was color blush. My cat's name naman is Chill because he's the chillest animal I've ever encountered. He sleeps in my lababo all day. Yung "Love at First Sight" ay para sa kanila talaga, and the pancit canton which is my favorite.
What's your favorite part of the music video? Personally, aside from the pets, I really liked the wind effect during your high note. 
Hay nako, *laughs* that was kind of hard to shoot cause my hair was going all over my face, but I think my favorite part was the pancit canton part because it gave me an excuse to eat. 
View this post on Instagram
That was definitely relatable. For now, you have a new song out and a movie coming up, and you also said a teleserye. Can you tell us how are you working on all of that right now and what we can look forward to in the next couple of months? Any news of an album or more music coming out?
Our movie "Four Sisters Before the Wedding" will be coming out on Dec. 11 so I'm really excited about that, and [I'll be in] teleserye "Init sa Magdamag," starring Gerald Anderson, Yam Concepcion and JM de Guzman. I'm not sure when we're going to be airing, but I think very soon because we're continuously taping. And, of course, "Love at First Sight" is out now. For an album, we haven't really quite talked a bit about it yet. We're focused on releasing more singles right now, but maybe in the near future, hopefully. 
I really hope I get to see you live soon. I'd love to see you perform again. What can you say to your fans and the future listeners of your single?
Thank you. Yes, hopefully, [you will see me perform] in UP Fair. *laughs* I hope you guys love the song and add it to your playlist and keep it on repeat. You can stream it on Spotify, Apple Music and YouTube Music. You can watch the music video on YouTube, just search "Love at First Sight" and "Alexa Ilacad." You can also find the lyric video if you guys want to study the song. By the way, I'll be uploading a TikTok dance for this song that I choreographed myself so please forgive my dancing. *laughs* Let's do this, guys. Sana gawin niyo lahat yung TikTok challenge, I want to see that. I will watch all the TikToks that people will make of my song. For more updates on the movie and promo, just follow me and I will show you the way.
You can follow Alexa on Instagram, Twitter, Facebook, YouTube and TikTok for new music and to know more about her upcoming projects. 
Photo courtesy of Off The Record
Follow Preen on Facebook, Instagram, Twitter, YouTube, and Viber

Related Stories:
A prequel to 'Four Sisters and A Wedding' is finally in the works
Maris Racal flexes her songwriting skills in "Not for Me"
Orange & Lemons is back with a song for your best ex
Your local faves are taking over 88rising's Philippine label