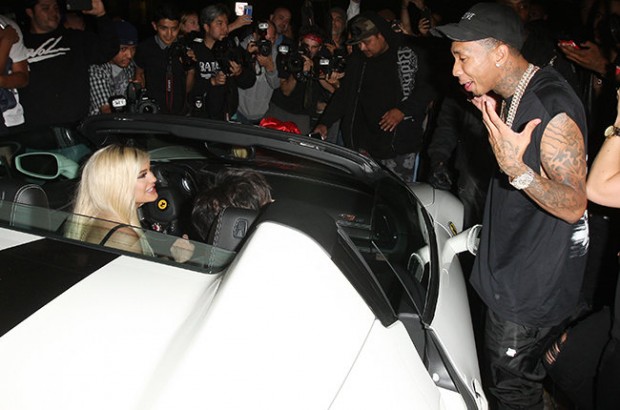 Now that Kylie Jenner is officially an adult, her alleged secret relationship with 25-year-old rapper Tyga is out in the most open way possible: Waiting for her right outside Hollywood club Bootsy Bellows was a white $320,000 Ferrari 458 Italia wrapped up in a giant bow from her beau.
Though the two have been rumored to be together for months now (sources say that Tyga left his then-girlfriend and baby momma Blac Chyna for her), they had to keep everything on the down-low because at the time, Kylie had just turned 17.
Before showing up at da club, Kylie's family spent an entire weekend celebrating her birthday, starting with dinner at Nobu in Malibu before moving the festivities to Los Angeles. On Sunday night, she threw a kla$$y dinner with friends at The Nice Guy wearing a sparkly Nicolas Jebran mini dress, before changing into a tight black number for Bootsy Bellows.
Among her A-list guests, which of course included her clan, and extended family member Kanye West, sisters Bella and Gigi Hadid were there, along with Joe Jonas (who was presumably there for Gigi), Noah Cyrus (Miley's 15-year-old sister), and surprise guest Zayn Malik! Half-brother Rob Kardashian, however, was curiously absent from the weekend-long celebrations.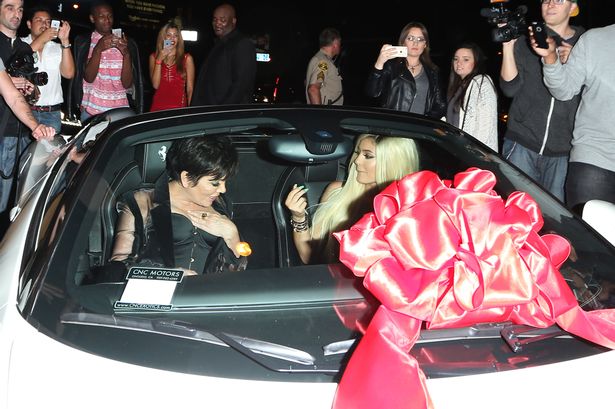 Other highlights of the night included a performance from Fetty Wrap, Kylie driving off in her new Ferrari with Kris Jenner (sorry, Tyga), and Kanye, poor Kanye, getting his snooze on.
Happy 18th, Kylie! We'd say don't grow up too fast, but, eh.
Photos courtesy of Billboard and Mirror Online