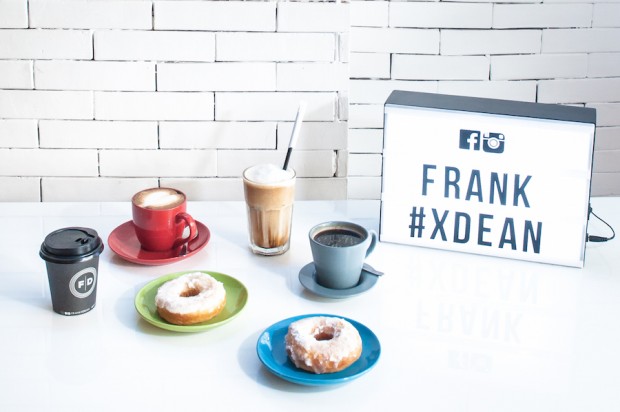 With an all-day breakfast menu, coffee served by Yardstick-trained baristas (roasting their in-house brand of beans), and a pretty memorable donut recipe as their ammo, the recently installed Frank & Dean could definitely make a dent in the wallets of the brunch-having BGC crowd.
However, the place also appears to have some crisis of faith because it isn't just a café—it runs a full-service kitchen with specialties like pizza and fried chicken. Not exactly ideal pairings with coffee, but this doesn't seem to bother the customers who've dropped in for a cuppa, and end up staying for lunch or coming back for dinner.
Food
"I wasn't sure what kind of pizza and chicken to do because they're so generic. Luckily, I got to travel a lot late last year, and I got to try a lot of pizza joints in New York. And there was one slice that was really life-changing, and I was like, 'This is the peg,'" co-owner Miguel Escueta recounts.
Though not a chef himself, he insists that his palate has a good memory. He worked with an experienced cook who went through 30 iterations before arriving at the final one. As I start sawing my knife into a slice of the Pepperoni (P399/12 inches), Miguel insists that I instead pick it up, and fold it, New York-style.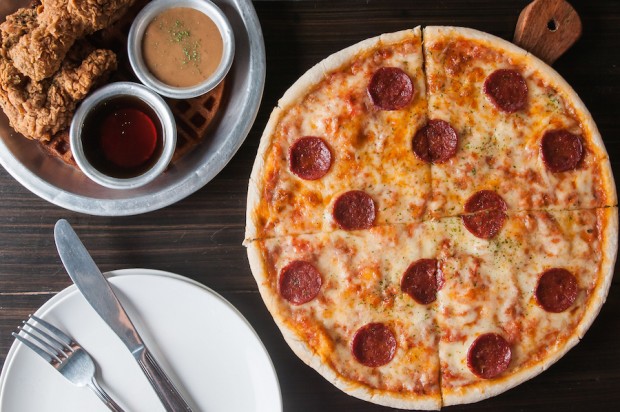 I take a bite and…it's a little underwhelming. The crust isn't crisp, but it isn't chewy either. In Filipino, we might call it makunat. To be fair, the pizza was reheated after it had gone cold while the photographer shot it. This very well could have affected its consistency. In any case, it's not the type of pizza you can enjoy cold—a trait few pizzas possess..
The Eggs Ben on Brioche (P360) looked promising. Worried that reheating it would overcook the eggs, I insisted on having them cold. However, the eggs were overcooked anyway—I don't know about you, but I prefer perfectly poached eggs that run like the wind when sliced, especially at that price point. Instead, the yolk inside mine had solidified, but my editorial assistant Olivia had better luck with hers. Otherwise, it works terrifically with the brioche. I would suggest having your eggs done again if the consistency isn't to your liking.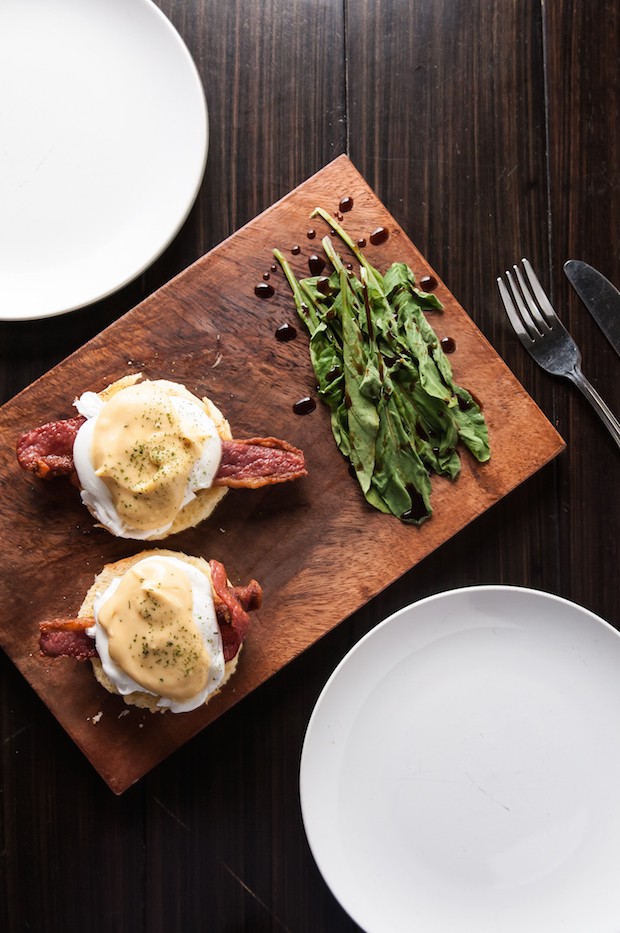 We had the two-piece Southern Fried Chicken with Waffles (P420) next, which fared a lot better than the other two dishes. "I also went to North Carolina, so I got to try legit southern fried chicken with waffles," Miguel shares. The waffles are cooked a little longer, so they're golden brown and crispy. The chicken's exterior is crunchy outside, tender inside, and is a perfect pairing with the waffles, drizzled with homemade syrup with maple extract.
Last item on the agenda was the Raclette Grilled Cheese (P355), which featured raclette, cheddar, and mozzarella sandwiched in between brioche. We had tragically left this dish to go cold as we enjoyed the chicken and waffles, but it was still a worthy dish. If we weren't stuffed, we'd have had more of it.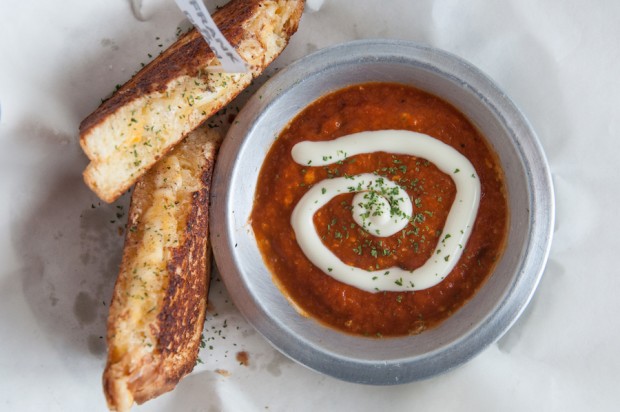 Ambience
Frank & Dean has an unintimidating vibe—actually, scratch that—the place exudes Labrador Retriever-levels of friendliness. It's well-lit, music by the Kings of Leon and their ilk softly blare on the speakers, and the acoustics were carefully considered, so the lunchtime chatter never gets too noisy. The crew felt so comfortable, we continued hanging out long after Miguel and his partner Mario Villamor left us to head to separate meetings.
Upstairs is the terribly hip Ocean's Telephone Company, a bar hidden behind a British-style telephone booth. Though the hidden speakeasy bar has become fashionable as of late, Miguel insists it is anything but: "It's not a speakeasy because it gets rowdy," he quickly clarifies.
Service
Food was served promptly, and when we had certain items reheated, they had done so without delay. If you have any special requests, the staff is attentive.
Price
Considering the restaurant is located at a particularly hip area of BGC, the price points are quite reasonable. The most expensive item on the menu is the Rib Eye Steak (P1,500). You can comfortably allot about P500 per person for pasta or an all-day breakfast item, plus a drink.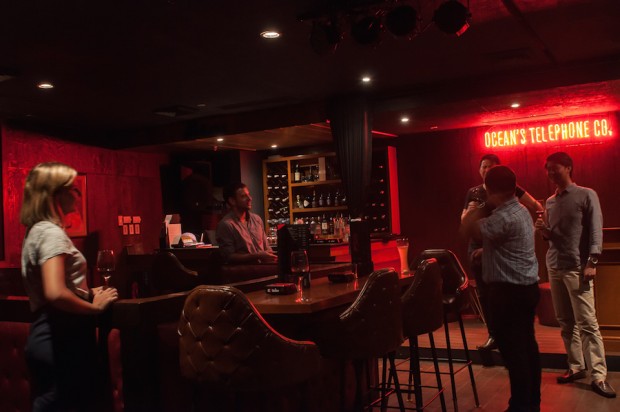 Problems
There are two reasons why people keep coming back to a restaurant: the food or the ambiance. In the case of Frank & Dean, there are definite misses in the menu, and some of their best-sellers are not universal crowd-pleasers, which to be fair, can be said of many other restaurants. However, they do exhibit one quality highly coveted among millennial diners: the place is chill AF.
Frank & Dean. G/F, Burgos Park at Forbes Town Center, Forbes Town Road corner 26th St. Bonifacio Global City, Taguig City. Open every day from 7:00 a.m. to 12:00 m.n., and until 2 a.m. on Fridays and Saturdays. For more information, visit their Facebook page.
Photos by Nico Nuyda