Heads up, stylish Armys: BTS will be part of Louis Vuitton's men's fashion show in Seoul tomorrow (July 7) at 7 p.m. KST. The show, with Virgil Abloh still at the helm, will be broadcasted on Twitter, YouTube, VLive, and on the French fashion house's website.
"High expectations," the brand wrote on Twitter. Honestly, same. 
High expectations. #LouisVuitton ambassadors @bts_bighit invite you to see @VirgilAbloh's #LVMenFW21 collection from Seoul. Watch the show live at 7 pm (GMT +9) on Wednesday, July 7th on Twitter or https://t.co/2i3c2rq839 https://t.co/85K20uEd95

— Louis Vuitton (@LouisVuitton) July 5, 2021
ICYDK, the brand announced in April that the boys were its latest ambassadors. I can't wait to see my biases strut the runway. The little snippet of it in the promo is already too good.
Now that that's out of the way, let me say my piece: Why does it seem like everybody is getting an invite but me? No, I'm not being facetious; just go on Twitter and look up the brand to see so many stans posting screenshots of the brand giving them invites. By invite, I mean the Louis Vuitton Twitter account will tag you in a tweet and set a reminder for the event. It's really more of a reminder than an actual invitation.
BTS's Twitter account mentioned that if you liked their tweet, you'll be setting a reminder for the show, so that may be the basis for getting it? I think??? I'm losing my mind.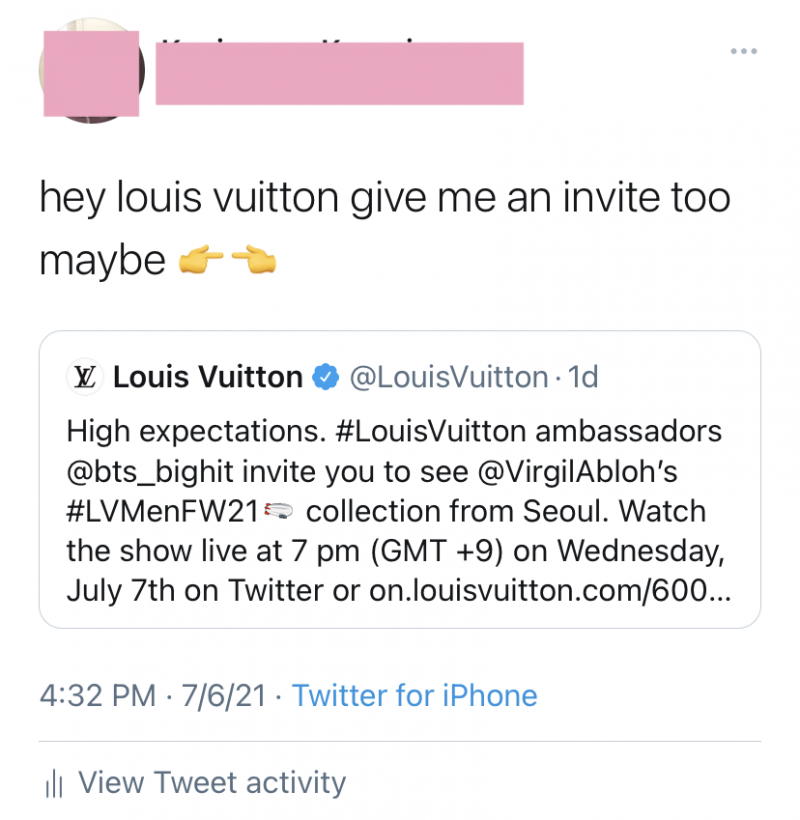 TBH, at this point I…can't tell if everyone's joking and I'm just not in on the joke. I even made sure to retweet and quote tweet Louis Vuitton and BTS's original announcement tweets on my personal account because I saw people saying that's how they got their invite, and still nothing. I'm getting FOMO from this and it's making me feel more than a li'l foolish!
Before you ask, no, you don't need the invite to watch the show. All you need to do is click the links I added above to see the streams! Still, I want to pretend that I, too, am a well-known fashion icon and celebrity especially handpicked by the fashion house itself to grace the frontrow. Let me feel my oats, live my fantasy.
Update, just minutes after publishing: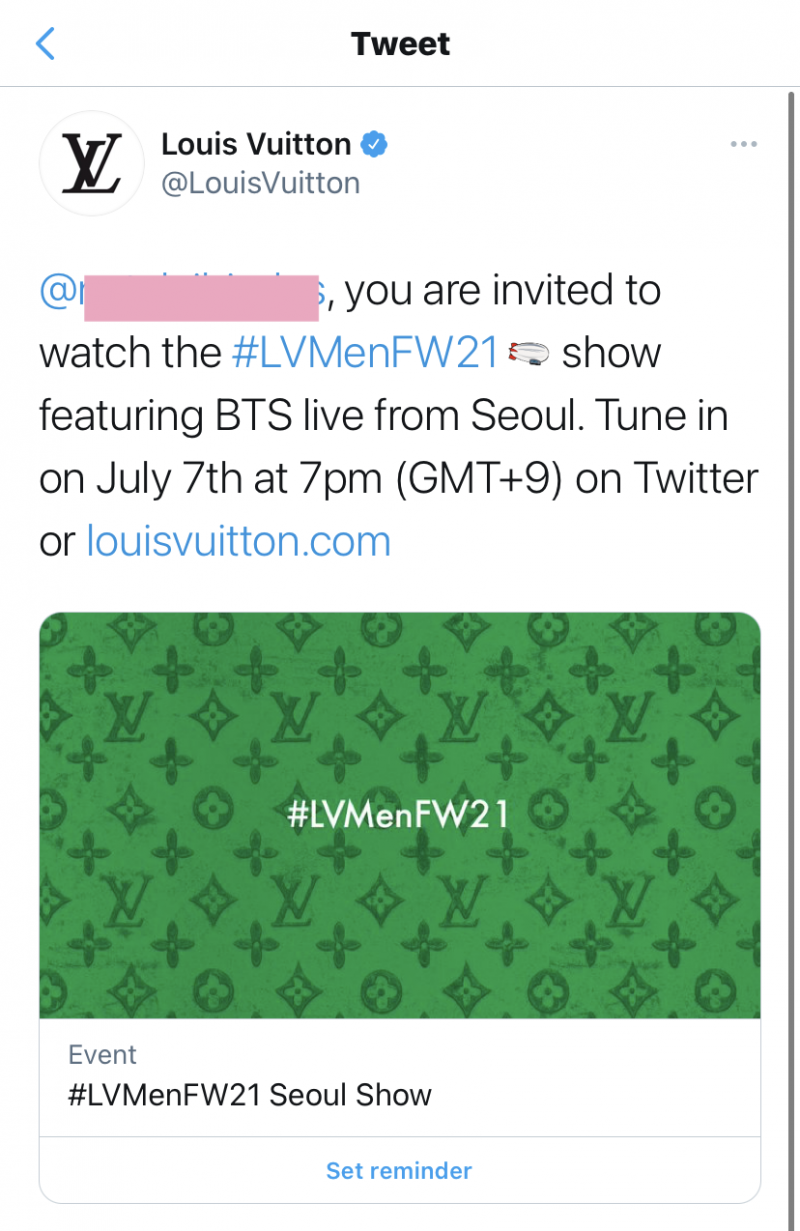 I am a fashion icon, a skinny legend, a connoisseur of taste. Louis Vuitton itself said so.
Featured photo courtesy of BTS's Instagram
Follow Preen on Facebook, Instagram, Twitter, YouTube and Viber