For over half a century, Maisen has established itself as one of the best tonkatsu restaurants in Japan—no easy feat in a country populated with picky eaters who are spoiled for choice. What sets their version apart from the others, first of all, is the quality of their pork, which is prepared in a factory next to their restaurant, and pounded to loosen tendons and ensure softness. Next is the original bread recipe they use for their breadcrumbs. After being coated, the tonkatsu is fried in sunflower oil.
Having just launched in Manila recently in Greenbelt 5, the first Maisen has been operating regularly for only a little over two weeks, which may explain a few kinks in their service. But before we get to that, let's start with the food.
Food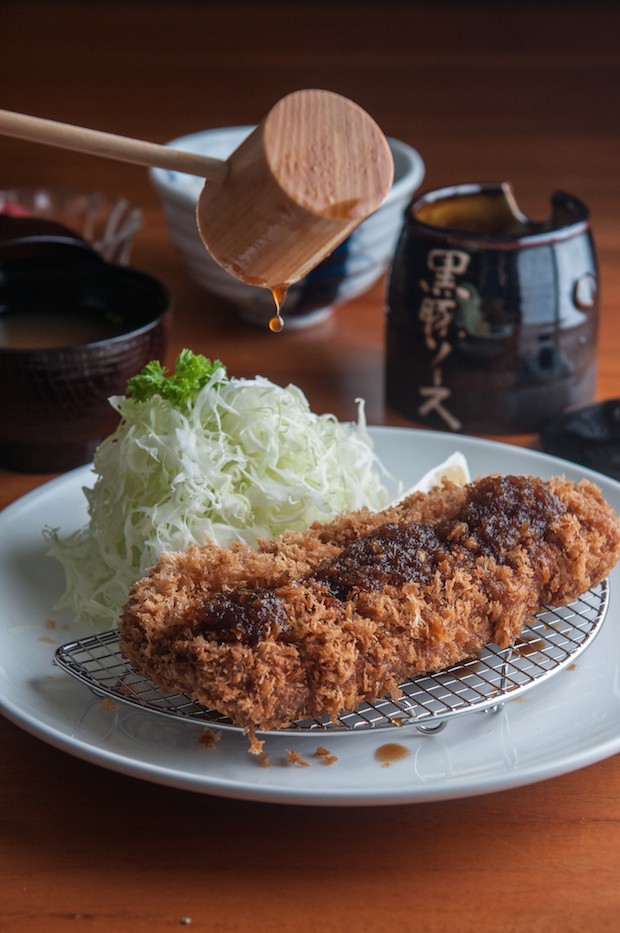 Without a doubt, if you want excellent tonkatsu, this is the place to head to. Their breading is light, crunchy, and surprisingly not oily. And unlike other katsu restaurants, it's not too thick. The pork is incredibly tender, as well. They don't pair their katsu with the regular tangy/sweet Bull-Dog sauce, and instead have their own special mix—the Amakuchi—which is a little more on the sweet side. They also have Karakuchi sauce, which is spicy.
I was served the Kurobuta Loin Katsu Set (P590) that came with unlimited rice, miso soup, cabbage, a pickle set, and sliced fruit. If you're looking for brown rice, though, you won't get it here, since the Japanese normally eat their meals with glutinous white rice. Save this for a cheat day if you must.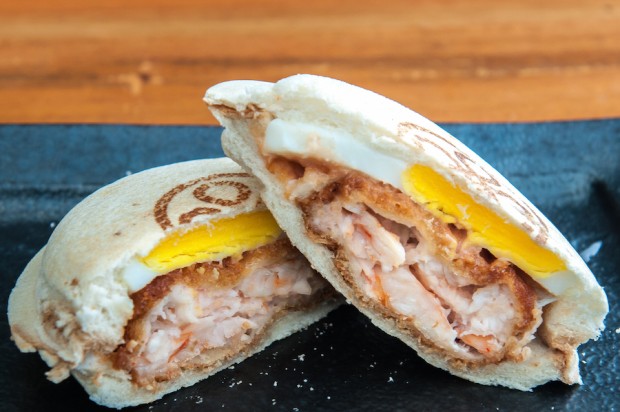 Next up is the Shrimp Katsu Pocket Sandwich Set (P310), which comes with an egg inside, and a serving of salad and fruits on the side. Perhaps it was because the sandwich had gone cold while the photographer shot it, but it was quite dry, and the waitress couldn't tell me exactly what was in their Ebi sauce. Also, the egg was slightly overcooked.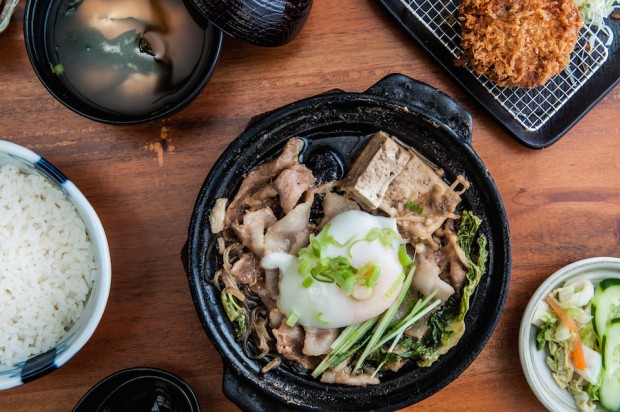 Admittedly, I am not a sukiyaki fan, and the Pork Sukiyaki Set (P520), served with unlimited rice, miso soup, a pickle set, and fruits, did not make me a convert. I could, however, still appreciate the softness of the tenderloin katsu and the delicate flavor of the soup. And I very much enjoyed the unlimited bite-sized tenderloin katsu that came with it.
The most novel item I had was the Katsumabushi Set (P390), which are cubed pieces of katsu served over rice. The set comes with a bowl where you can transfer some rice and katsu, sprinkle spring onions, sesame seeds, and wasabi, then pour the dashi (broth) and soft-boiled egg over it. However, this, to me, seemed to make a soggy waste of the katsu's wonderful breading. So after trying it the traditional way, I ate the rest dry.
Ambiance
The restaurant has a strange layout. On the left side are rows of tables—14 to be exact, which can seat two people each—and on the right is the open kitchen and entrance. Since the dining area is quite cramped, you can't help but hear entire conversations going on from four tables away, so this is not the place to seek privacy. I can imagine lunchtime can get quite crowded inside.
There are also tables outside (with a bar in case you'd like to order some of Japan's famous Suntory whiskey), but they're not the best option when it's hot. The restaurant also offers complimentary WiFi, but this didn't seem to work during my visit.
Last, the restaurant appears to have a fly problem as there were three flies hovering above my meal. For reference, my table was situated near the entrance.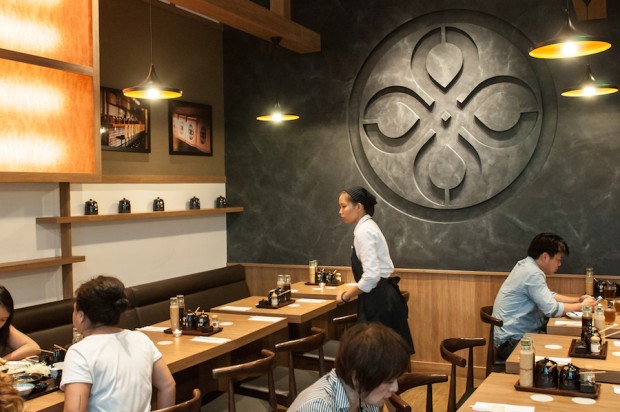 Service
Because the dining area is so cramped, the waiters have no choice but to hang out near the entrance, away from the diners. If you happen to be seated in the innermost part of the restaurant, you'll have trouble getting their attention. I would suggest adding service buttons to each table to alert the staff whenever you need something.
Since the restaurant is quite new, the waiters still seem to be tentative about service. Side dishes like rice, miso, pickle set, and fruits are supposed to have unlimited refills, but not once did the waiters take the initiative to refill any of them, much less inform me of which ones could be refilled.
Price
There is only one other major, top-of-mind restaurant in Manila that specializes in katsu, and that's Yabu. By comparison, they are roughly the same price, but I would say Maisen is better value because their katsu truly is superior to Yabu's. That being said, expect to pay roughly under P700 for a set meal with drinks.
Problems
While the katsu is excellent, the other dishes that did not involve katsu were so-so. The service obviously needs work, but that could improve over time. Overall, if you have a hankering for deep-fried breaded pork, Maisen could very likely be your go-to.
Maisen. G/F Greenbelt 5, Ayala Center, Makati City. Open daily from 11 a.m. to 11 p.m. For reservations, call (02) 777-7888.
Photos by Nico Nuyda