Remember how August was the month we would flaunt those cute, colorful, and festive ternos back in high school? Well, you're in luck, because Filipino fashion is constantly stepping up thanks to a number of talented designers. 
Local brands are bringing style and life back to our traditional outfits, giving a modern take on the Filipiniana. They're not just trendy, but they're also made with our culture in mind. Check out our round-up below for your next fashion find.
MARCOpilipino
View this post on Instagram
MARCOpilipino is all about promoting our national identity, women empowerment, and sustainability through handcrafted garments that can last until the next generation. Designer Marc Carcillar aims to show the empowered Binibini how to incorporate our national dress into everyday wear. From elegant and straightforward hand-embroidered ternos to colorful and unique patterned sleeves, MARCOpilipino has proven that our Philippine terno can be comfortable, chic, and easy to wear all at the same time. 
Lin-ay 
View this post on Instagram
Lin-ay clothing is a brand that offers bespoke casual and formal modern Filipiniana outfits while highlighting the beauty of locally woven fabrics like hablon, piña, inaul, and Yakan weaves. The brand features collaborations with indigenous embroidery artists from the Panay Bukidnon tribe, the T'boli tribe, and fabric painters from Iloilo and Aklan. It also showcases stylish Filipiniana fashion as wearable pieces for both casual and formal occasions.
Handwoven Beauty
View this post on Instagram
Handwoven Beauty brings us colorful and hand-crafted ternos from Abel Iloko, an Ilocano weaving heritage. The brand intends to keep the beautiful industry of handloom weaving alive. Blouses in various hues with intricate geometric patterns can be seen on their jackets, skirts, and Filipinianas. This Ilocos Sur-based brand told Preen that it wants to preserve the industry of weaving by making everyday outfits while also highlighting our heritage and culture. 
Ija Filipiniana by Liz Enriquez Designs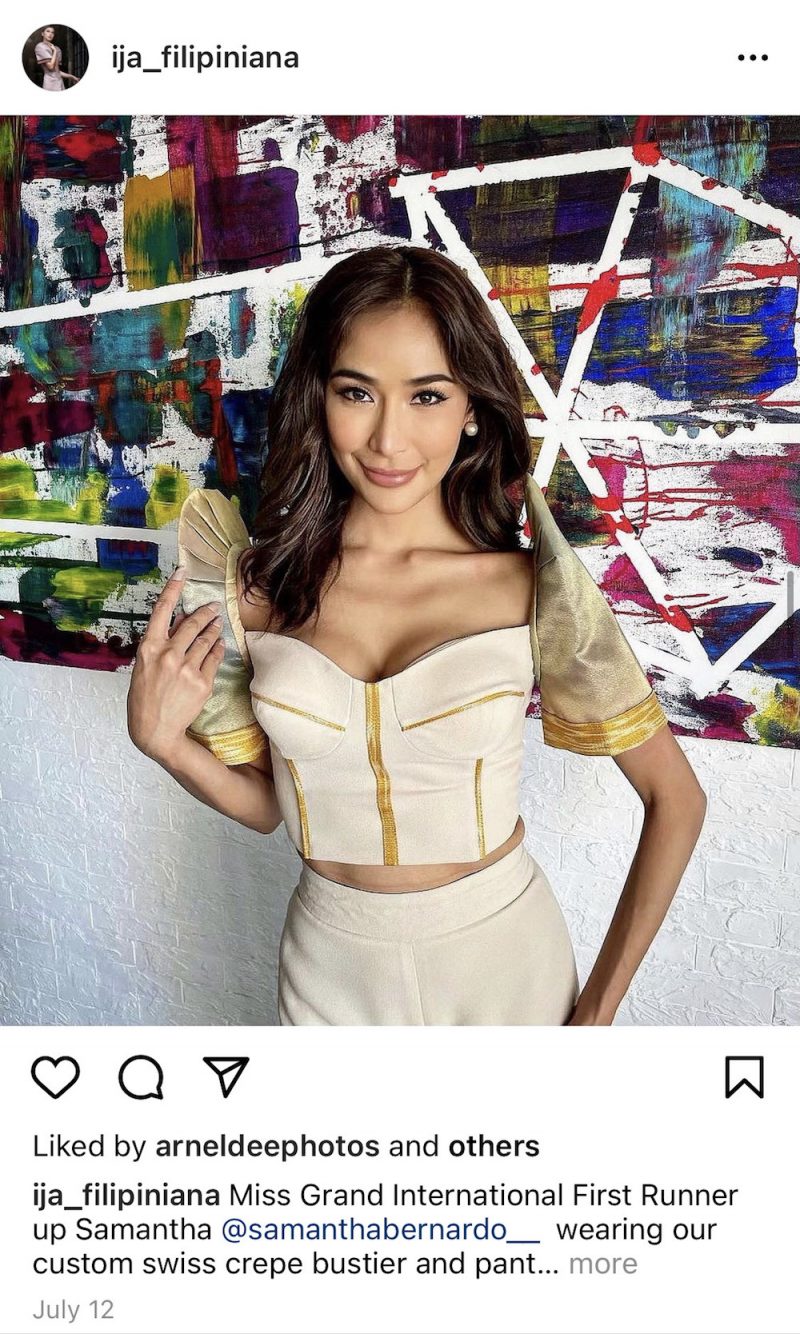 Ija Filipiniana is all about custom Filipiniana and native pieces. As told to Preen, it offers outfits"[tailor] fit for each individual, custom-designed for a specific personality." After the success of its weave face masks line, the brand ventured into creating modern Filipinianas using weave fabrics from Ilocos. These are made with the help of Cordillera weavers and T'boli "dream weavers" who are believed to make patterns seen in their dreams called the T'nalak. The fashion brand's aesthetic focuses on the weave patterns and designs from local weavers and features various terno gowns and custom-made Filipinianas and ensembles. With the brand's goal of supporting the works of local weavers from all over the Philippines, its success involves the continuous patronage of the crafts of the said tribes.  
Photo courtesy of MARCOpilipino's Instagram
Follow Preen on Facebook, Instagram, Twitter, YouTube and Viber