Chuu is officially being removed from Loona, the group's agency BlockBerryCreative announced today, according to Soompi. 
The reasons cited for her removal was her alleged "violent language and misuse of power toward our staff," the label revealed. "Agency representatives are apologizing and comforting staff, and we have decided to take responsibility for this and remove Chuu from Loona."
 "There have been lots of speculations about Loona's Chuu this past year, but the agency and the Loona members did not release any statements in order to not cause trouble with the group's growth or cause concern to fans," the label stated.
The popular member had been noticeably absent from the group's activities, causing many fans to speculate about her status in the group. Last February, the label announced that she was not joining the group's concert "LOOΠΔVERSE: FROM," that time citing health issues. In June, the label announced that she was not joining the group's first world tour.
The reason used for Chuu's expulsion comes as a shock to many but her being removed from the group itself is not that surprising. 
Last March, Korean media outlet WikiTree alleged that Chuu was filing a lawsuit against BlockberryCreative to suspend her contract. (If true, it would not be the first time it's attached to a lawsuit—in 2020 the label and its parent company Polaris Entertainment was embroiled in a case against investor Donuts.) 
In June, weeks after the announcement that she wasn't joining the tour, a report started circulating that she was planning to switch to a new entertainment company, BY4M Studio. The label responded by threatening legal action, stating, "We would like to inform you that we will respond strongly to malicious expanded interpretation or any actions that encourage it, malicious posts and comments beyond simple expression of opinion, with impunity."
In October, the label responded to a new report of Chuu allegedly starting her own agency, stating that they were not aware of it and would verify the facts while still explicitly denying that she was switching agencies. "The rumors of her transfer are groundless," it said.
It is certainly at least a little suspect that Chuu is being removed now, and for those reasons, when the agency has been so adamant in denying that she was leaving the group. The group's other members have also still been mentioning Chuu in their chats (seen on translated highlights posted online) as recently as three days ago, which makes the label's allegations more confusing.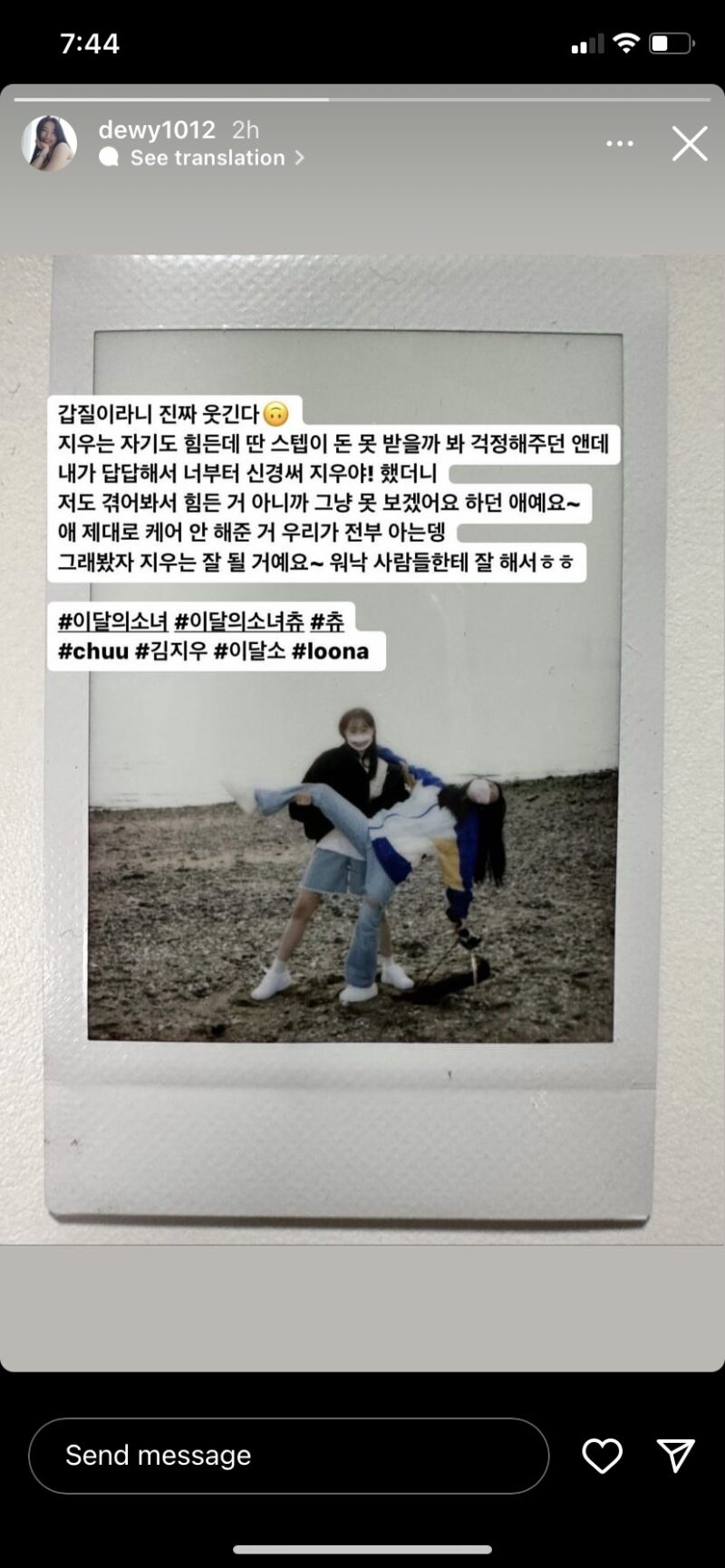 Hyunjin, another member, expressed her sadness and anger to the news on her chat. A former writer on "Chuu Can Do It" also responded to the label's allegations of power abuse on her Instagram story, stating that Chuu was actually the type to put the staff first.
This is likely not the last update we will be getting about this.
Featured photo screengrabbed from the "Heart Attack" music video on YouTube
Follow Preen on Facebook, Instagram, Twitter, TikTok, YouTube, and Viber