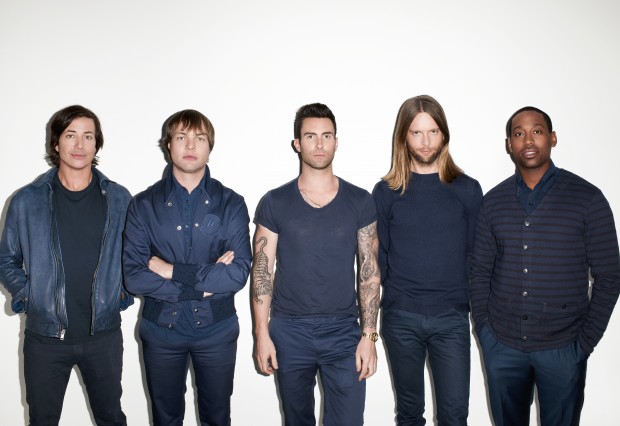 Here's a little pre-game ritual for you Maroon 5 fans out there. In anticipation of their concert at the SM Mall of Asia Arena this Sept. 17, we put together 14 songs we hope to hear during their 4th show in Manila. In a career that spans five studio albums, each with a unique sound that showcases Maroon 5's diversity as band, it was hard to choose. But it had to be done and so we picked out the singles that have stood out in our playlists and showcase the different phases Maroon 5 has gone through. From their ballads to their rock anthems and to their pop chart toppers, we chose what we think is the best of them all. Do you agree or disagree with our picks? We'd love to hear your thoughts in the comment section below. You never know, the guys might just hear us out!

#1  One More Night
Opening the night on a very high energy pop song would set the mood for the concert well. This cut is off their fourth album, Overexposed, where they explored mixing pop beats with rock undertones and dance rhythms.
#2 Stutter
Maroon 5's initial bread and butter were heartbreak songs and odes to painful experiences. So when that happy love song  "Stutter" came in, it was a breath of fresh air. This track stands out from their their album, Hands All Over, which melded the pop ballad abilities in Songs About Jane with the rock sensibilities in their second album, It Won't Be Soon Before Long.
#3  Animals
Their latest album V, may have received mixed reviews but they still manage to lock in their loyal fans and cash in on LSS-inducing beats. "Animals" is a great example of how they've put together all of their influences to produce a track that you'll find idly singing to yourself.
#4 Makes Me Wonder
One of the best things about Maroon 5 is how they mask dark lyrics under danceable themes. "Makes Me Wonder" is a good example of how they do just that with disco beats that  give way to a blunt chorus that goes, "Give me something to believe in/Cause I don't believe in you anymore/Anymore/I wonder if it even makes a difference to try/So this is good-bye."  It's also a good song to sing to when you're in that "give them hell" attitude.
#5 Out of Goodbyes
After getting all fired up with their loud anthems, it would be good to tone down. "Out of Goodbyes" is throwback to  Maroon 5's beginnings with ballads and heartfelt lyrics. The touch of country music (that was underscored with the vocals of Hillary Scott from Lady Antebellum) also demonstrated the wide range of musical know-how they possess to produce an undeniable hit.
#6 Must Get Out
It wouldn't be a Maroon 5 concert without a section dedicated to their first album, Songs About Jane. The album is the cornerstone of the band's lyrical genius, musical ability, and relatability to millenial sentiments. In "Must Get Out," the band offers up clever imagery with"I've been the needle and thread/Weaving figures eights and circles 'round your head" and frank confessions to today's problems, "The city's made us crazy and we must get out."
#7  She Will Be Loved
I won't linger on this very long. It must be played, and sang along to word-for-word, and then replayed on the drive back home.
#8 Harder to Breathe
People often forget that their band's first single off their debut studio album wasn't "This Love" or "She Will Be Loved" but it was this song that introduced a loud, blaring, and in-your-face attitude that showed off their ability to completely rock out.
#9 Moves Like Jagger

Why do we want to hear this song? Simple: We want to see Adam move like Jagger
#10 If I Never See Your Face Again
If you've had to let go of a few bad sentiments, do it with this song. Sing to the lyrics and dance it off. Plus: We are kind of hoping this is where they pull off a surprise and bring out Rihanna.
For their encore, I suggest and hope to dear God they sing these.
#11 Sugar
It would be hard not to hear their latest track. Just don't throw anymore condiments at Adam, please!
#12 Ain't No Sunshine
A sweet cover to remind us that Maroon 5 can put on their signature flair even to time-tested favorites.
#13 Sunday Morning
This has to happen. This goes out to every social media post put up on a Sunday morning when rain was falling.
#14 This Love
Because this song hasn't taken its toll on anyone.
Photo courtesy of My Chordbook