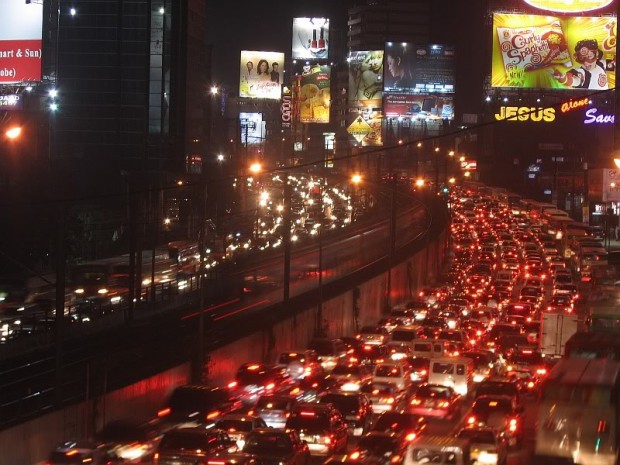 You think your ride home last night was bad? Actually, no. We're quite certain that it was bad. But wait till you hear about these five truly nightmarish situations people found themselves in during #carmaggedon.
Ranked in order from plainly inconvenient to the real FML deal, these stories involve surprise visits from Aunt Flo (a.k.a. your period) to some heavy airport drama.
Take a hike
"We took an Uber from Rockwell with my friend but we [ended up stuck in traffic] for two hours. We were stuck by Makati Avenue near Makati Shangri-La Hotel, using the WiFi of the hotel on the road [to keep us entertained.] When we got to Glorietta, we decided to walk going to South Forbes. [It was just] a 20-minute walk but we literally crossed EDSA on foot with a hundred other people."—Martin, designer
A bloody mess
"I booked my Uber in the Fort at 6 p.m. when I [suddenly got my period]. I stuffed my vagina with tissue right before getting in because I thought I'd arrive in Salcedo [soon enough] and get tampons [from my friend]. Mind you, I left the house earlier wearing khaki pants—and a thong! I was stuck for already an hour and a half in traffic and I wasn't anywhere near my destination. Stress! My Uber cost me around P530 from just Bonifacio Global City to Valero Street, Makati. I got there eventually (and salvaged my pants), but I stayed at my friend's place for two hours because the Uber surge was 4.4 at midnight! Imagine, P669 to get from Makati to Pasig!" —Anne Marie, writer
Last flight out 
"A friend of mine left the airport four hours before her flight. When she couldn't take the slow-moving traffic anymore, she got out and got a motorcycle ride from a good Samaritan to take her to the terminal. When she was close enough, she ran to the departure area in heels and she made it to the check-in counter. Small miracles: they upgraded her flight to business class! She was also able to get her luggage that followed in the car she was in while ground staff told her that she was lucky since the flight was delayed anyway—apparently the staff was also late due to the traffic."—Maan, producer
The long walk home
"I left my office in Kamuning around 9:45 p.m. and took the MRT but the train only went as far as Shaw Boulevard [because of a breakdown]. When I tried boarding a bus, I was denied by the conductors because they were already full, so I started walking from bus stop to bus stop. Next thing I knew, I had already passed Guadalupe station and was walking towards Magallanes. None of the buses were taking any passengers so I suddenly became really determined to walk to Ayala Triangle.
"I walked for two hours, passing by Jupiter Street and Kalayaan Avenue until I got to Makati Avenue. I met up with my friend and we got on a bus along Ayala Avenue going to the LRT station in Buendia, only to find that there were no longer [public transportation vehicles] going to Las Piñas. We resorted to asking jeepney drivers about their routes and if they could drop us off. Somehow, we found our way back home—by 4 a.m." —Wina, social media specialist
The waiting game
"My office is along Pasong Tamo and I left my office at around 7:15 p.m. It was flooded on my street but the traffic flow was alright. I got on the corner of Arnaiz and Pasong Tamo and [was] stuck there for 3 1/2 hours while the water was slowly rising. [Water was entering the sedan next to my car], but we couldn't move because everyone else was stuck [for about three hours.] I might've counted hundreds of people walking in knee-deep flood.
"I eventually made it to Makati Cinema Square and decided to park there for a bit because my car was out of gas.The traffic was still bad so I knew I wouldn't make it to the gas station. It was flooded so I stayed put in the McDonald's [near] there. After an hour I tried driving to the nearest gas station. One was closed and the other couldn't gas me up because water entered their tanks.
"By this time, it was already close to midnight and I was really out of gas. The traffic was still terrible. I decided to park again and walked about a kilometer to find a gas station with Coke bottles in hand. I bought gas and went back to my car. It was already 2 a.m. and I was still in Pasong Tamo. Eventually the roads cleared up and was able to reach home in Quezon City at 3 a.m."—Mano, artist
Photo courtesy of  Skyscraper City