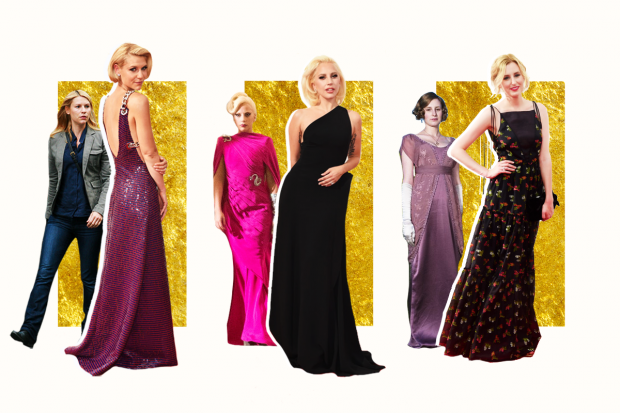 Only at the 67th Primetime Emmy Awards can you see characters as diverse as the actresses that play them. This diversity also applies to the fashion choices at the red carpet.
The Emmy's is where Khaleesi of Game of Thrones drops her huntress-like ensemble and platinum blonde locks to be Emilia Clarke herself—brunette and in a custom Donna Karan Atelier. That Orange is the New Black chick Taylor Schilling was in a custom Stella McCartney and not in her orange prison suit, too.
For this best dressed list special, we compare and contrast these girls' TV show costumes and how they've transformed—or, barely—into red carpet superstars.
Claire Danes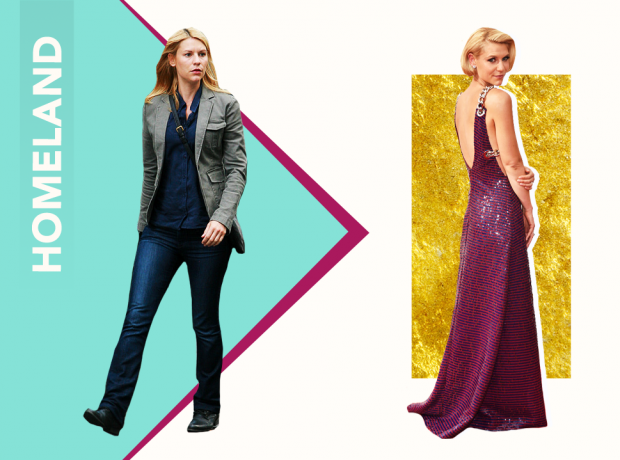 While Claire Danes is on a break saving America from a terrorist attack as Carrie Mathison in Homeland, she opts to put on a purple, sequined Prada dress with metal chain straps. Its low-lying back and plunging sides are a far cry from her blue jeans and wrinkly blazer. It's a total upgrade and a really good one!
Lady Gaga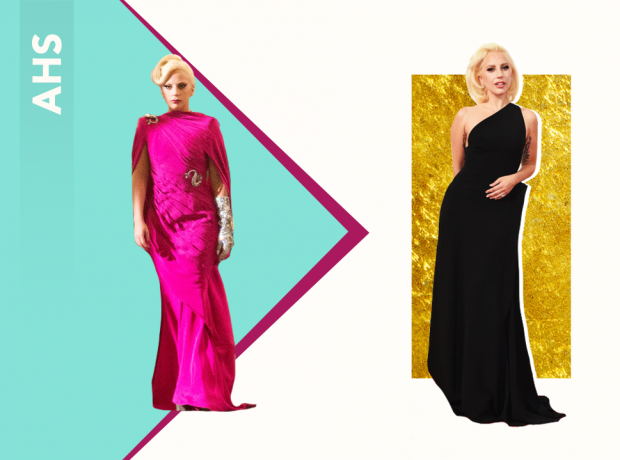 The American Horror Story: Hotel star Lady Gaga checks in the red carpet in a sharply cut Brandon Maxwell refined, black number. As glimpses of her show garb circulated the web last month (see above!), we now know that Elizabeth, "a very wealthy social doyenne who is consumed with art, fashion, and people," will also be wearing red carpet-worthy costumes in the show and yes, with a bedazzled silver claw, of course.
Emma Roberts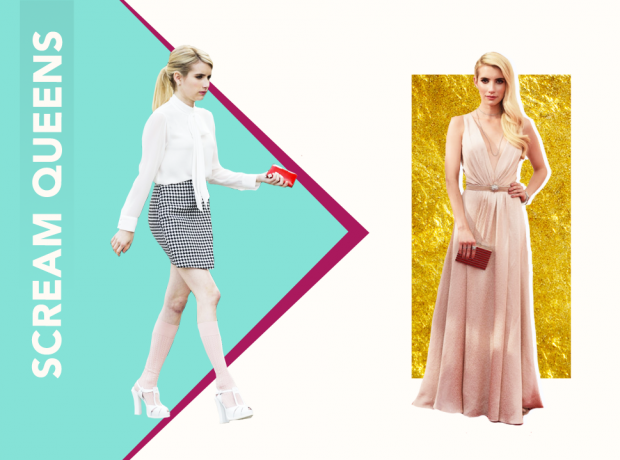 Emma Roberts in Scream Queens is your typical sorority girl: blonde, beautiful, and fashionable. And with megawatt co-stars with her (Arianna Grande and Lea Michele), expect this show to be filled with equal parts stylish garb and suspense. It makes sense then that come the Emmys, Emma chose a blush Jenny Packham number, merging her usual personal style and her sorority girl show persona.
Jaimie Alexander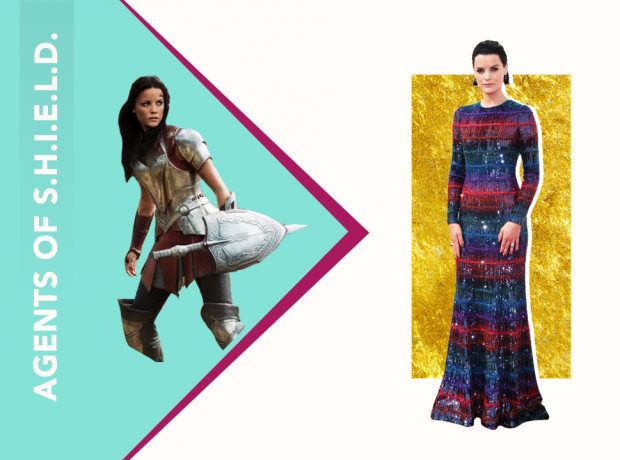 Jaimie Alexander has a penchant for all things shiny. From her Agents of S.H.I.E.L.D. metal armor as Lady Sif to her Armani Prive blue, red, and purple fully beaded number, her fashion choices on- and off-screen are equally badass.
Laura Carmichael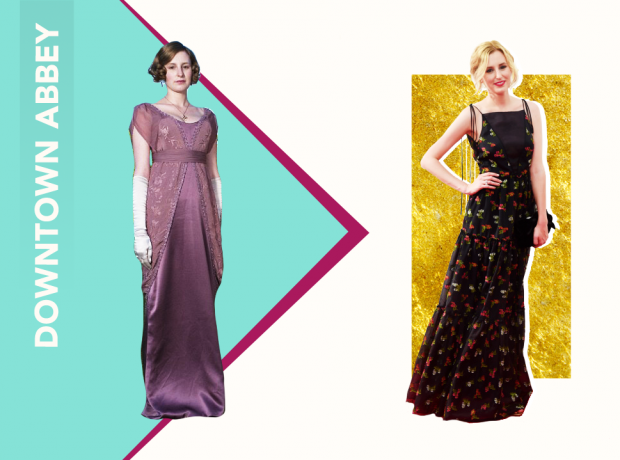 The setting: the 1910s. The era's garb: Edwardian. So when Laura Carmichael went out of her Downtown Abbey boudoir and came dressed in Erdem on the red carpet, everybody was just as transfixed. Captivating as she already is in her silk lampshade gowns as Lady Edith, modern day Laura manages to impress.
Sofia Vergara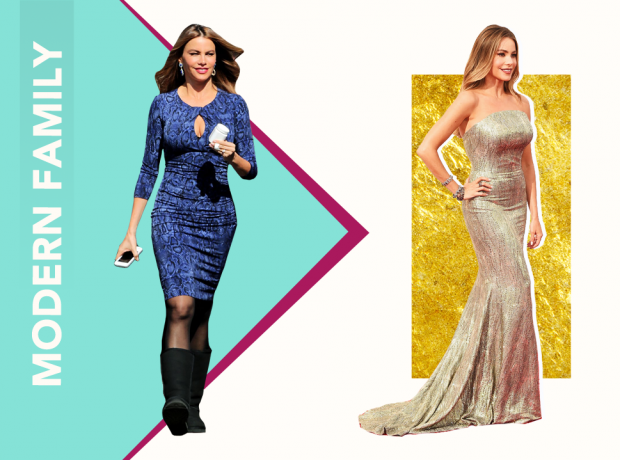 Modern Family hot momma Gloria is your typical, well, MILF. No stranger to flaunting the curves, Sofia Vergara came down the carpet as that hot momma that she really is but this time in a St. John dress with 64,000 hand-applied Swarovski crystals.
Kerry Washington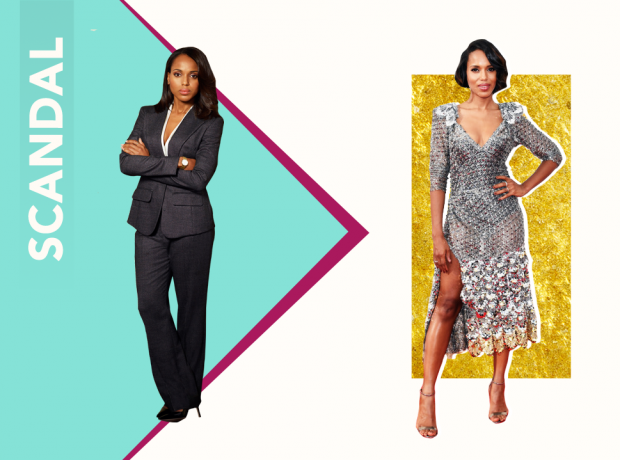 It's been barely a week since Marc Jacobs closed New York Fashion Week, but Kerry Washington already got her hands on a piece from the collection. This silver modern-day flapper dress definitely is paparazzi-friendly—miles away in comparison to her ubiquitous pantsuits in Scandal.
Art by Dorothy Guya