Health buffs are always on the lookout for the next big thing in food and drink, from chia seed pudding to green juice and gluten-free bread.  Now, kombucha is slowly coming into the limelight though it's been around for centuries. Known as the Immortal Health Elixir as early as 250 BC in China, kombucha is a probiotic, living food beverage made by fermenting a bacteria culture in water, black or green tea, and sugar. It is reminiscent of a slightly sour, sparkling iced tea. The resulting potion alkalizes the body, enhances the digestive flora (enabling it to absorb nutrients easily), helps reduce congestion, and expels toxins. It's a great, refreshing, dairy-free alternative to yogurt!
Kombucha is available in some food establishments but you can also make your own. To do so, you will need a SCOBY (symbiotic colony of bacteria and yeast) to culture brewed tea. A SCOBY is a flat, white, jelly disc that converts tannins and sugar in the tea into beneficial bacteria for the gut. If you know someone who brews kombucha, he or she probably is swimming in SCOBYs and may be willing to give you one! Scobies multiply as you continuously brew kombucha.
Here's a simple recipe to get you brewing your own batch of kombucha. Be mindful in keeping all equipment clean because soapy or oily residue can damage the SCOBY and spoil the kombucha. Plain black or green tea is recommended—nothing caffeine-free, with added flavors, dried fruit or flowers, or essential oils as these can also damage your brew. While healthy, white or washed sugar is needed to feed the yeast; any other sweetener such as brown sugar, muscovado sugar, or coconut sugar will also damage your kombucha.
3 ltrs. distilled or mineral water
1 ½ cups white or washed sugar
10 black or green tea bags or ¼ cup loose leaf tea
2 cups brewed unflavored kombucha or cane vinegar
1 SCOBY
Equipment
Soup pot or large saucepan
Whisk
Gallon glass jar
Cheesecloth, thin kitchen cloth, or paper towel
Rubber band
Non-metal ladle
Non-metal funnel
Glass bottles (preferably with air-tight swing caps), glass jars, or Mason jars
Procedure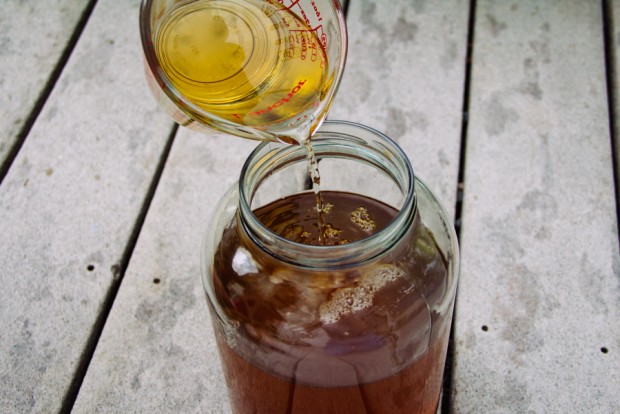 1. Boil the water in a pot or large saucepan over high heat. Add the sugar and whisk until it's dissolved. Remove from heat. Add the tea bags (or loose tea in a tea ball) and brew, covered, for 10 minutes.
2. Remove the tea bags or tea ball and pour the tea into a jar. Let cool to room temperature.
3. Add the brewed kombucha or vinegar. With clean hands, gently place the SCOBY in the jar, smooth, white side up. The SCOBY may float, sink, or lie on its side; either way is fine. At this point, no metal implements must touch the tea!
4. Cover with several layers of cheesecloth, one kitchen cloth, or one paper towel, and fix in place with a rubber band. If you think you'll have a problem with ants and bugs getting into your brew, place the jar on a baking pan with a lip and add water into the pan, essentially creating a moat.
5. Keep the jar in away from direct sunlight and let the tea ferment for 10 to 14 days, undisturbed. It's ready when the tea is slightly sour. Taste it with a non-metal spoon.
6. When you like the taste of your kombucha, it's time to bottle it up! With clean hands, remove the SCOBY (and baby SCOBY, if there is one) and place it in a clean food container. Cover it with some of the kombucha and store it in the refrigerator until you're ready to brew again.
7. Transfer the kombucha into glass bottles or jars, using a non-metal ladle and funnel. Leave an inch of space on the top. This recipe makes 3 ½ liters.
Marie Gonzalez is the chef behind Kitchen Revolution. For more information, visit her website.
Photos by Chissai Bautista