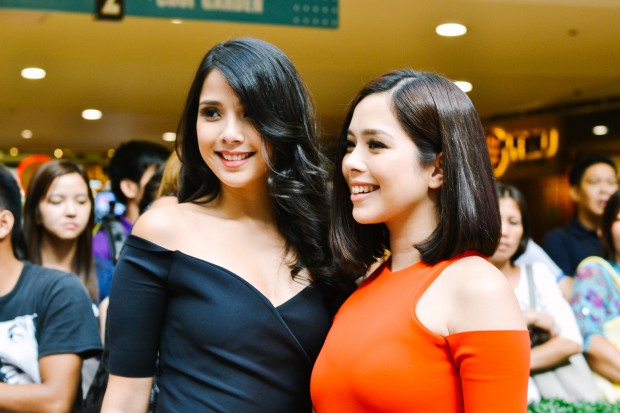 On a Saturday afternoon, Saab Magalona-Baccarro and Maxene Magalona weren't acting, performing, or blogging. Instead, they spent their time getting chatty and taking selfies with their fans at the Matrix "8 Cut for Cancer event. On a small stage, next to host Divine Lee and in front of a huge crowd, they kept their calm, giving everyone a boost, especially to those that have lost their hair to chemotherapy. "Kung kaya nila, kaya ko rin. [This is one way of] extending positive influence beyond the chair into the Filipino community," explains Saab as she shows off her newly cut for her new 'do.
All dolled up in matching red and black numbers, the sister act still had the impish air of children up to no good, constantly whispering and laughing at each other. As I asked them for an interview, they smiled warmly, shook my hand and were genuinely focused on the interview. "I love that I can tell Max about anything. She's like, an extension of me," Saab tells me in a bubbly manner . Soon enough, we got to talk about things that make these sisters best friends. 
What quality do you love about each other the most?
Max (M):
I like how Saab tells me things that I need to hear.
Saab (S):
Keeping it real!
M:
Well, because I know that she wants the best for me. That's all she wants for me. Nothing more, nothing less! She loves me and I know that I have not just a sister but a best friend.
What's something both of you could never agree upon?
S:
When we were younger she really did not understand rock music, especially the ones I listened to, while I wouldn't get her obsession with R&B and slow jams.
What's a hairdo trend you can't follow?
S:
I don't think I could ever rock a pixie cut.
M:
Same. For my face, I can't do the super duper short 'do.
S:
Although when we were kids, our mom would make us wear our hair really short.
S:
No filter, of course! No Filter 2.0! (Saab will be taking the stage once more in The Sandbox Collective's reboot of No Filter, a play for millennials.-ed.)
What's the last album you listened to?
What would you cop from each other's closet?
S:
I always steal Max's clothes!
M:
Her lipstick, because she has so many.