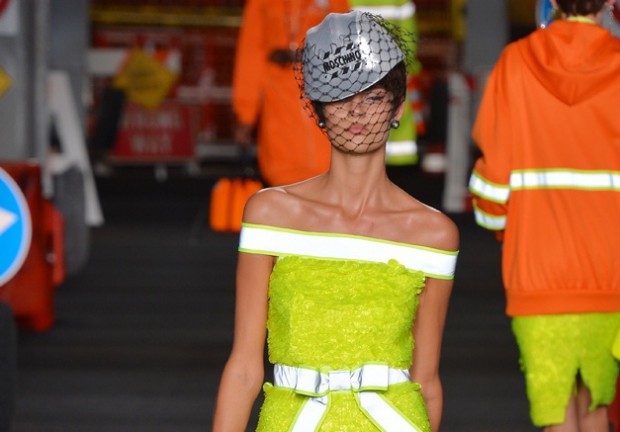 What more could you expect from the man who made McDonald's and Spongebob Squarepants chic, and Barbie-inspired accessories runway-worthy? Jeremy Scott's collection for Moschino spring/summer '16, presented last night at Milan Fashion Week, merged fashion with themes for roadworks and construction.
The designer carried over the '60s silhouettes and cuts from his New York Fashion Week show for his eponymous label and rendered them in neon safety jacket colors. Traffic cones were converted into bags and hard hats were adorned with demure lace trimmings. A yellow coat and skirt number bore the print "Caution: Dangerous Couture Ahead" all over, while an oversized T-shirt read "Slippery When Wet," and a black and red dress had the word "Shop" rendered in the font used for stop signs. Some toned down pieces include a plain rain-gray coat paired with bright yellow heels and a bag designed after the circular "Do Not Enter" sign. This is streetwear taken quite literally.
Labelled as "the people's designer," Jeremy Scott is continuously attracted to aesthetics considered "kitsch" by more traditional standards. His muses are polarizing pop icons Miley Cyrus and Katy Perry. And with this latest collection as creative director of Moschino, it looks like he's not changing up what he's come to be known for just yet.
See the full Moschino spring/summer '16 collection here.
[
WWD
]
Photo courtesy of WWD