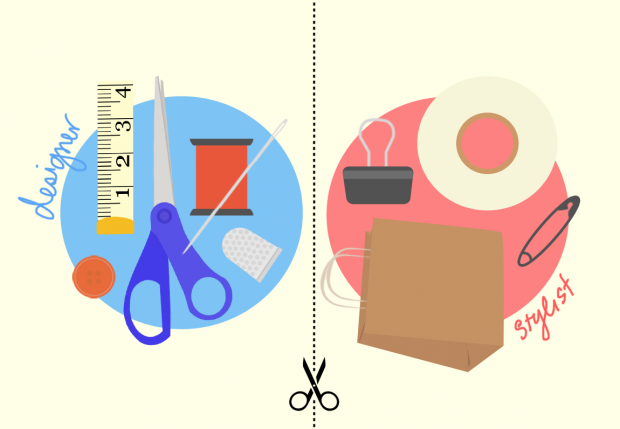 There's a cold war brewing in the local fashion industry. Stories of disrespect, lack of credit and attribution, and absence of professionalism plague what was once a peaceful ecosystem. In an industry where decorum is mostly unspoken and relationships are based on friendship, it's always been so easy to bend and break the rules.
But since when were did designers and stylists become warring alpha packs?
The Fashion and Design Council of the Philippines (FDCP)—represented by FDCP president Anthony "Tonichi" Nocom, designers JC Buendia, Vic Barba, Gerry Sunga, and Tony Evan—talks to Preen, revealing what needs to be said.
Biting the hands that feed you—or dress you
It all starts with deals. Designers usually lend their clothes for free to stylists. But when they return pieces soiled, ripped, missing real stones, or—the worst—return them sans any apologies, the claws come out.
JC Buendia, who has been a fashion designer for 28 years, shares his story, "Before, celebrities were my clients. Then [when] stylists became [trendy], biglang hihiram na lang sila (they'll just borrow, instead). [My] first bad experience was binalik yung damit na madumi (the clothes were returned dirty)." A hotheaded JC then ranted on Twitter about it. The guilty stylist's assistant immediately called and promised to have the clothes dry cleaned. Two weeks after, they still weren't claimed from his shop.
Accessories designer Gerry Sunga has an equally horrific experience. His borrowed neckpieces were returned as if they were "jigsaw puzzles"—dismantled and damaged. When he confronted the stylist—someone he used to lend his pieces to without fail—the stylist answered, "Ay. Wala ako dun sa set. (Oh, I wasn't on set)." He offered no apology.
Designers are artists who don't feel like they are
The thing that irks designers further is how they're being treated—like a designer convenience store, on call 24/7 and as if they're seamstresses that can accommodate any request. "The real stylists, 'di naman sila ganun eh, yung tatawag bigla [in the middle of the night] (they won't just call you, all of a sudden in the middle of the night),"Anthony claims.
Another designer peeve is how they're indirectly asked to copy pegs as if they're mere means to an end. These pegs are most of the time "mood boards" of runway photos for a specific shoot. He adds, "Aren't [they] watching our fashion shows? Like you go to a designer 'cause you know their work," JC says. "When they come and email you pictures, it's like blatant 'modista ka lang' (you're a seamstress)," adds Vic.
"You don't go to Rei Kawakubo saying, 'Rei, here's the peg. We need this for a cover,'" he puts it. "The thing that gets me is that [these stylists] feel this self-entitlement that they are above everyone [else]."
Designers pay up, stylists earn
There are also monetary issues involved. For some projects, a stylist's fee can skyrocket to hundreds of thousand of pesos for campaigns according to JC. So when they hear that their services are not paid—the dreaded "We don't have budget"—cue the sound of fabric ripping apart. "Our main beef with stylists is that when they borrow clothes, they want [to do so] for free," says Anthony, regarding the lucrative advertising shoots.
"The celebrities themselves have budget, the production team has [one], and the show or the concert itself does, [too]," Vic confirms. "And they actually earn more than us." In case people forgot, "this is a business. We're not here to hand out free dresses," he adds.
Stylists, they say, would argue that they're paying them with exposure. Esteemed designers like Gerry find no need to "advertise" as they have their own clientele. Younger designers, however, don't have the same luxury. But young fashion designer Esme Palaganas who has already shown collections in Manila Fashion Festival knows better.
She has learned to discern which opportunities to take and those she shouldn't, and the people who put her best interests in mind. "Stylists are as important as designers. I respect them, and so I think they should respect our choices as well."
In defense of stylists
On the other end of the spectrum are the fashion stylists.
The truth is, there's no perfect stylist. But everyone should at least maintain professionalism. Celebrity stylist Alyanna Martinez believes this too. When it comes to damaged goods and deeds of disrespect, she makes sure to own up to it. "If I can't keep a promise I made, I inform and explain [to the designer] immediately," says celebrity stylist Alyanna Martinez. "[It's] best [be] honest and prompt, not leaving whatever problem to time and hoping no one notices the accident or negligence on your part as a stylist."
Local men's magazine editor Rey Ilagan believes that "there's a method to everything." So whenever he does campaigns and endorsements, he makes sure to provide an honorarium for the designer whom he borrowed clothes from as "a way of giving back since there's no credit." Even Alyanna believes in helping each other out even after pro bono or credit jobs—when well-paying jobs finally come around for stylists.
Stylists-slash-editors also mean no harm when they send these pegs. Eldzs Mejia, fashion editor of a local women's magazine also chimes in to defend glossies: "[One of] my responsibilities is to be able to filter international trends that would best suit the local audience." What they ask of designers is to reinterpret these trends, not necessarily to copy them. These "pegs" are supposed to "show the world that what designers are making here are equally well-designed, well-constructed, and as contemporary as our foreign counterparts, if not better."
Stylists too are requesting to meet halfway. "Transparency and respect are necessary to ensure a healthy working relationship between stylists and designers," says Eldzs. These are what the "good" ones usually do, anyway. For Rey, it all boils down to what kind of stylist one is.
Good stylist, bad stylist
The FDCP isn't all hate as well. "Not all of them are bad eggs," Vic admits. "But there are a lot who smear the name of stylists." And they aren't all just junior stylists.
"I can only name four or five good and 'real' stylists," according to Anthony. A few of these include Noel Manapat, Alyanna Martinez, editors/stylists Rey Ilagan, Myrza Sison, Vince Uy, and the "very first female stylist" Guada Reyes.
It all boils down to which ones are who they're willing to work with. "At the end of the day, it's up to [us] designers to weed them out—who do we trust?"
All they need is to talk it out
These designers just want to put an end to this long and winding hush-hush war.  We hope to have a dialogue—to initiate it," Vic puts it out there to stylists.
In a widely creative world of fashion where the rules are often unwritten, for Esme, "One has to be understanding of protocols." Rey thinks so, too, with the hope to standardize everything from here. As of now, no direct efforts to form an actual organization for stylists have materialized yet.
The FDCP designers are still hopeful. After all, these were hardly issues in the past. "It [used to be] a healthy collaboration [between designers and stylists] and I don't see why it shouldn't be that way now," Vic imagines. And in this very tightknit industry, Alyanna adds, "Its hard to exist or flourish without the other."
So how does one solve a problem like the FDCP's? You've got designers wanting a healthy conversation on one hand and the fashion stylists hoping to coexist on the other.
No one wins or loses. But they all just need to come to terms after it all.
Art by Dorothy Guya