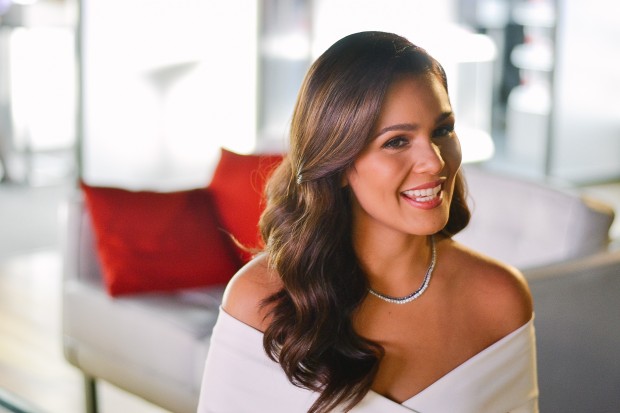 It can't be denied that Iza Calzado is a busy and active woman. Despite the number of roles she has to fulfill, on and offscreen, she remains quite a bubbly and animated character.
At 33 years old, the Pond's Anti-Aging line's newest ambassador laughingly tells me that she's still young and cool. Maybe she doesn't need to say it as a joke, I tell her, because for someone to have all that energy despite the demands of her job, is quite an accomplishment.
And yet, how does someone like her wind down? I asked what she does when she needs to recharge and how she treats herself after a long day's work. For all you know, that's where the secret lies as she keeps on going.
What kind of music do you listen to when you chill?
I have a very eclectic taste in music. I love Spotify because I am so tamad to download music. I used to have [a full library of songs] in my iPod, back in the day when the iPod was still "in."  Nowadays, I listen to playlists [from the app.]
I am really obsessed with Dj Snake, AlunaGeorge, and Major Lazer. And then I've been obsessed with Justin Bieber. I woke up one day and I realized that I was a Belieber. At 33, I became a Belieber because his sound has evolved, and [I really love] his collaboration with Skrillex.
But then that's one side of me. I also love R&B because I also really love to dance. I like Janet Jackson. I also listen to rock like Muse, U2, and Coldplay.
I also play my records for jazz music. I love Carole King, Frank Sinatra, and Stevie Wonder, especially since I invested in a vinyl player, it's nice to listen to those acts. All of these artists help me relax, it really just depends on my level of stress.
When you get your nails done, what are you favorite polish shades?
My top nail colors are nude, gray, white and a very deep red that's almost black.
What kind of massages do you get often?
As long as it's hard. (Laughs) I do love to get a good shiatsu massage. I also go to a myotherapist, [they practice a form of] muscle treatment. Masakit siya, but it really gets rid of the knots.
What kind of food brings you to your happy place?
Chocolate! Some chips here and there like cassava chips. I also go for those baked cheese curls from Healthy Options. I swore off Cheetos almost five years ago. I also like [to eat] Pop Corners [sometimes].
What is a quick fix you do to make you feel relaxed?
I love lighting the Baies candle from Diptyque. It fills the room with a scent that just helps you feel calm.
What TV shows do you binge-watch?
I love Friends. Right now, I am excited also to start on Scandal. Game of Thrones is also something I love watching, like everyone does. It's so addicting. And Homeland is now back so I am excited to watch that again.
What are your top three vacations spots?
If I don't have much time, I go to The Farm at San Benito . It's my happy place. Any beach setting, I like. I also like to go to Thailand because Ben (Iza's boyfriend—ed.) and I like Thai food. I don't go so much for the shopping there. Hong Kong is a good place for shopping and food. (Laughs)
What are the three essential items you bring while on vacation?
I bring a jacket or a scarf because I'm lamigin and then a face mask for the plane. Lately, I have been bringing moisturizers which I never used to do.
Whenever I can, I bring my own food. I am picky because they will serve me chips like Doritos which I can't have, so I bring my own stuff. Napagalitan nga ako dati on one flight because they said I can't bring food. But then my friend Lala Flores said I was an actress and I was on a diet.


Photo by Acushla Obusan