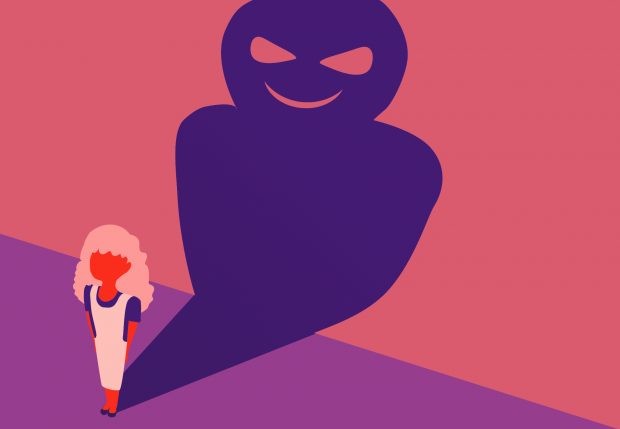 This October, we don't mean to scare. Our #PreenSupernaturalSeries will be crossing over to topics of the supernatural, the occult, horror, and fear. It's okay, we're with you on this. 
I grew up in a lower middle-class family, but since my mom grew up wealthy, she insisted

that our home would be run like 
o
ld-fashioned households that had one helper to do one task. So we had nursemaids, a laundry woman, a cook, and so on, even though our house was so tiny, you realistically only needed one helper.
Everyone who's had to hire helpers always seems to have some kind of complaint—after all, nobody's perfect, and if perfection is what you want, you should get a robot, not a per
so
n. But
growin
g up, it seemed that my family had extra bad luck when it came to hiring cooks.
Start of the cook curse
There's the story of the second best cook we ever had, a cheerful, rotund woman named Delia who made excellent, almost restaurant-quality di
she
s. She let
m
e snoop around the kitchen; and, best of all, didn't talk down to me, even though I was a child. And then one day, she was gone.
I remember coming home from school, eager to have what I was sure wou
ld be
good
 d
inner.
"We had to send Delia home," my mom said.
I asked why. I couldn't see anything wrong with her.
"She had a miscarriage."
Apparently, Delia wasn't fat. She was pregnant. She hid this from everyone until it couldn't be hidden anymore, and she ended up bleeding all over the kitchen floor.
I'm not sure what arrangements were made; I'm sure my parents saw to her medical needs before they sent her home, but I never saw her again.
Which brings us to the best cook we've ever had.
Mysterious Manang
Manang was an old lady who was smart and articulate. She liked that I asked questions about food and cooking, and introduced me to then-newfangled dishes like beef stroganoff. She could even make Caesar salad dressing from scratch, a fact that only I seemed to find delightful.
When I wasn't asking her about cooking, I was asking her about ghosts. I used to quiz our helpers on their supernatural experiences and what the beliefs were in their provinces. Manang seemed to know an awful lot about the supernatural.
About this time, Jean Garcia starred as an
aswang
in
Impaktita
, which led to the tabloids speculating about whether she was really human. I remember asking Manang about it, and her replying without a doubt that no, Jean Garcia was not an
aswang.
I remember wondering how she could be so sure. 
The family had just come home from an overseas trip. This was a time before cellphones, so we had no idea of what was going on in Manila while we enjoyed our vacation. Al
l I know
was
 t
hat as soon as we reached Manila, my siblings and I were made to stay at our aunt's house for a week. We couldn't even go home to get our clothes. My parents were mysteriously gone, and no one would tell us why.
We weren't allowed to call home, but were promised that we would be told what was going on as soon as everything was straightened out. After a week, my mom and dad picked us up and told us this story.
A trip to the albularyo
While we were gone, one of our helpers had gone into a fit. Our neighbor, a doctor, couldn't find anything wrong with her, nor could any of the doctors he sent her to. Finally, my aunt took her to an albularyo. When the albularyo tried to find out what was causing the helper's mysterious illness, it was Manang's voice that emerged from her lips.
Manang, speaking through the sick helper, said that she cast a spell on her because the two never got along. The albularyo removed the spell, and the helper went back to normal.
Back at home, the other helpers could see Manang feeling faint, then lying on the sofa, speaking softly to herself. They had no idea what was going on, until my aunt and the bewitched helper returned home and everything began to make sense.
My mother was freaked
ou
t. Rightfully so, she wouldn't let
 h
elper politics ruining her household, especially if it involved the supernatural. So, in a stroke of managerial genius, she fired everyone, then rehired the ones who didn't cause trouble.
After Manang had gone, that's when the stories about her started surfacing.
These were stories about how she kep
t
asking my baby brother to take off the
anting-anting
and cross necklace he always wore, about how our doctor neighbor—a skeptic who didn't believe in these things—once went into the garage to find all our dogs staring silently at a brown and yellow cat the same color as Manag's favorite
dast
er
, about an unknown shape that demanded his yaya to leave my baby brother alone while he napped 
(w
hich she refused to do.)
It also dawned on us that, despite Manang's delicious cooking and inventive recipes, her dishes were always kind of bland. She didn't like using onions, garlic, and ginger.
Now that I think about it, perhaps that's why she was so sure that Jean Garcia wasn't an aswang in real life—because she herself was one.
Yvette Tan is a multi-awarded author of horror fiction and a lifestyle writer for major local titles.