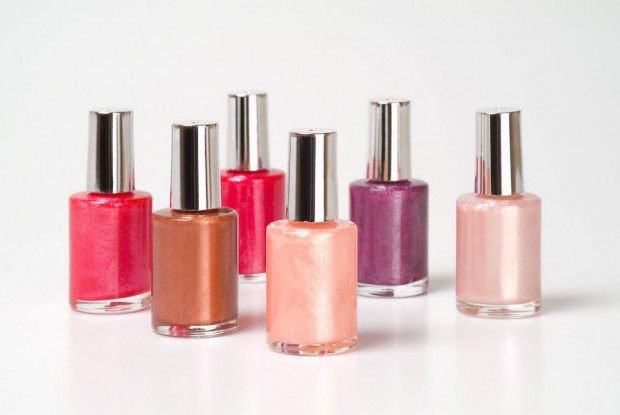 When it came to choosing safe nail polish brands, a guide that most women used was the "five-free" rule: As long as chemicals formaldehyde, dibutyl phthalate, toluene, formaldehyde resin, and camphor weren't in the ingredients list, they could paint away with the sound knowledge that they weren't exposing carcinogens to their bodies.
However, it looks like there's another harmful chemical to watch out for. Researchers at Duke University and the Environmental Working Group (EWG) have found that an ingredient called Triphenyl phosphate (TPHP) could be linked to weight gain.
A known endocrine disruptor, TPHP is frequently used in plastics manufacturing and as a fire retardant in foam furniture. When it enters the bloodstream through nail polish application (via cuticles or through skin surrounding nails), it can disrupt normal hormone functioning. In animals, they cause reproductive and developmental irregularities, which could lead to fluctuations in weight.
Kate Hoffman, a researcher at Duke University who co-authored the study tells Yahoo, "People get really upset about phthalates in plastics, but they don't think about what's in the cosmetics they're applying directly to their skin," she says. "The skin is an organ that takes it all in."
Some of the nail polish brands tested include beauty editor favorites, like Sally Hansen, Essie, OPI, Revlon, Wet N Wild, Maybelline, and Beauty Without Cruelty. (The EWG offers a more comprehensive list here.) According to the EWG, some companies list the chemical as TPP instead of TPHP, making it more difficult to spot the offending ingredient. A helpful rule of thumb is to remember that clear polishes usually contain more TPHP than their colored counterparts.
If you must paint your nails, Mind Body Green has a list of safer practices, such as skipping nail salons to avoid inhaling the fumes from nail polish, which can be concentrated in poorly ventilated areas. Incidental digestion through hand-to-mouth contact is also a possibility that should be considered.
[
Yahoo
]
Photo courtesy of The Safe Deals