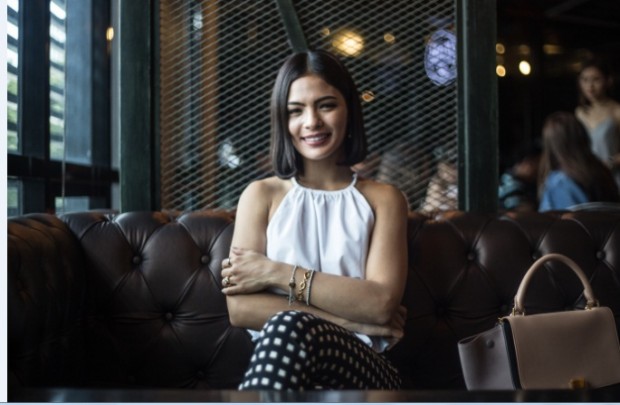 You would think that Lovi Poe would be more confident about putting on her own makeup given how she's a known beauty in the industry. However, she humbly tells me that she can't rely on her makeup skills just yet. "I do have a lot of products and I really love makeup, but, I am still unsure about [how to apply them]. And really, it's the time factor that gets me," she shares.
It's not surprising that Lovi doesn't have enough time. On Wednesday afternoon I spoke with her at the event for her newest project as one of the faces of Imono Steel Jewelry. Not to mention, being on tapings for her soap opera, Beautiful Strangers. Still, she was very excited and patient enough to pull out her makeup bag and talk about the products she likes, like a good friend sharing secrets over lunch.
What are your favorite lipstick shades?
I always have two kinds of lipstick in my makeup kit. One is Anita, from the Nars Audacious Lipstick line. It's a neutral shade for every day. I also always make sure that I have a red lipstick so when I have to go somewhere all of a sudden and I don't have makeup, I'll just put on red lipstick. My favorite one is [from] Anastasia Beverly Hills. It's in the shade Sad Girl.
What do you use for your eyebrows?
I don't know how to really shape my eyebrows so I reach for the the Bobbi Brown Brow Shaper and Touch-Up. It's just an easy product to use because with one swipe, you've filled in your brows, shaped them, and brushed them in place.
If you had only 10 minutes to prepare, what will you always reach for?
I always have a Smashbox O-Glow, I use it for my lips and cheeks. Sometimes, I will use the NARS Blush in Orgasm. I'm really a fan of NARS. It's also my pressed powder.  When I want a quick contour, I go for the MAC Foundation in NC 45. Of course, I put on some eyeliner. I use K-Palette. I also have some spicy drops, anghang sa mata, for bigger eyes. (Laughs)
Smokey eye or dark lip?
I only go for a dark lip because it's what I can do but I really love smokey eyes. I am not yet confident to put on my own makeup but there are days when I can do it.
What is one beauty item you can't live without?
La Mer Eye Cream. I have really dark circles, I was born with them. Everyone in my family has them. It helps.
What's your favorite nail polish color?
I really like dark red but sometimes, I need neutral [shades] especially [given my role] in my current show. When I go to the salon, I like to have my nails filed into an almond shape. It makes my fingers look longer.
What's one makeup splurge you recently made?
RMK products because we don't have them here. I went to Japan and bought a lot, pang buong taon na. (Laughs) I use it for taping din kasi.
What is one product you often recommend to your friends?
Tinted moisturizer. I don't like matte skin. I am a fan of dewy skin and tinted moisturizer makes it easy to have that effect.
What are the important skincare tips you've learned from your mom?
It's a classic but it's really important to remove your makeup before going to bed. I remember when I was young and I would go home so tired from taping, she'd be the one to take off my makeup even while I was sleeping.
Also, when you take care of your skin, it's not just about products that you use. It's important that you workout and sweat out all the toxins. I try to workout often, despite my current schedule.
Photo by Paolo Tabuena