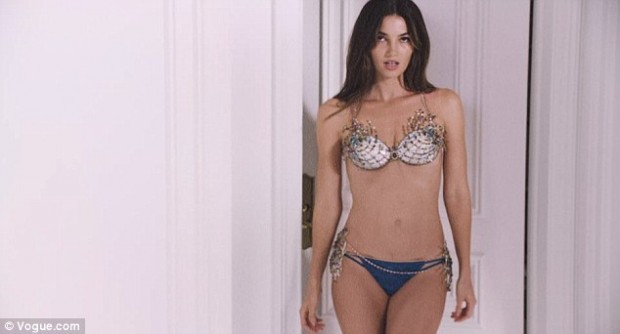 Just like good ol' Christmas traditions, the Victoria's Secret Fashion Show every December is one event almost everybody inexplicably still looks forward to. For some reason, watching ridiculously gorgeous walking down the runway in their underwear never gets old. This year, VS Angel Lily Aldridge will have the honor of wearing the coveted $2M Fireworks Fantasy Bra. In a video for Vogue, the model manages to shimmy shake in what must be an unwieldy brassiere to the sound of a drum roll.
The said piece is fully adorned with more than 6,500 precious stones of 14 different kinds, some of which include red garnet, blue topaz, pink quartz, and yellow sapphire, all set in 18 karat gold. Though the 29-year-old model's dancing made it seem like it's just any other bra (we suspect it's a test all Angels must pass first before getting their wings), the gemstones actually weigh 1,354 carats in total with the diamonds adding up to more than 375 carats. The Fantasy Bra also comes with matching cobalt blue Fantasy Panties covered in 126 diamonds and 400 precious gems.
Lily posted the announcement on her Instagram account.
Every year, Victoria's Secret chooses an Angel who gets to wear the bejeweled bra. While the qualifications appear arbitrary at best, we hear it's supposedly the biggest model of a particular year. ("Biggest," in terms of popularity, but it could also apply to cup size, we suppose?) In the last 20 years, the past lineup included Claudia Schiffer, Heidi Klum, Tyra Banks, and Gisele Bündchen. Last year, however, Adriana Lima and Alessandra Ambrosio both got to wear different versions of the Dream Angels Fantasy Bra.
Expensive as the bra is, Kim Kardashian still has the last laugh. Husband Kanye West was reported to have gifted her with a Victoria's Secret bra twice the price of this year's Fantasy Bra.
The show happening this Dec. 8 is slated to have Rihanna, Selena Gomez, and The Weeknd as performers.
[
Vogue
]
Photo courtesy of The Daily Mail