Maggie Wilson-Consunji is the type of woman you think you can only admire from afar. With a stance mastered from years of beauty queen training, sun-kissed skin hinting her endless trips to the beach, and features that put our genes to shame, you'd think she's almost untouchable—only to find out that she isn't. In fact, she'd rather tell her stories about her trips and her fashion choices up close and personal.
"The clothes I picked out for today's shoot kind of showcases the different styles I have," she explains while wearing a Saint Laurent boho dress in nude, a color palette she usually subscribes to. Hanging behind her, though, and what seemed like an apt antithesis of Maggie's two varying tastes in home décor and style, was an elaborate hand-woven carpet from Chiang Mai. "I grew up in the Middle East so as you can see, the house is very Arab-esque. In terms of décor for the house, I like pieces [I pick up from my] travels, pieces with history," she explains. And when asked about why her penchant for boldly designed décor didn't follow through in her wardrobe, she says laughing: "That's a good question. I don't know. I guess in terms of, like, outfits, I consider myself very traditional and classic. I like to go for pieces I can wear over and over again."
So behind the Afghan pillows and richly hued Persian carpets that greeted us in her home, Maggie opened up her closet to us, which to our surprise, is just as well-curated and carefully selected.
What's keeping you busy these days?
Well, aside from finishing the contraction and designing the interiors of our new house, I'm also in interior design school.​
Describe your approach to style.
​Classic, easy, and comfortable.​ I like to mix a bit of femininity with edge. Old and new, expensive and affordable finds.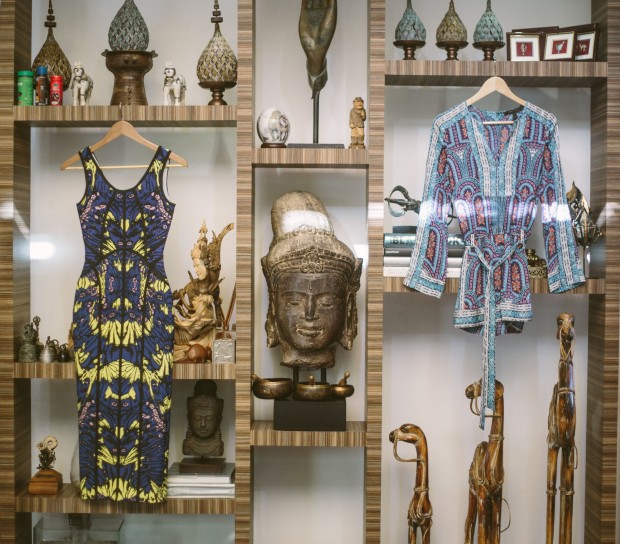 Do you have a go-to style uniform you subscribe to every day? 
​Yes, if I can't figure what to wear, you'll catch me in a white shirt/polo, denim shorts or jeans, and nude shoes. ​
As a mother, did you ever have to build a separate maternity wardrobe? What did it consist of?
​Actually, when I was pregnant, I refused to shop in the maternity department! I opted to buy clothes in bigger sizes instead, which I then ended up giving away to my mom. ​
What are your shopping habits?
I have this bad habit of buying two or three of the same items and even in all colors if I like the fit. I do it out of fear that I won't find another [piece that has the same fit.]
What was the last best thing you bought? The worst—something you regretted buying?
​While on my last trip to New York, I scored two Saint Laurent Paris gowns for under $600, a dress for under $500, a leather jacket with pony hair for around $700, and four dresses from Diane Von Furstenburg for a $100 each! That's a MAJOR steal! I'm a bargain hunter. I love designer digs,but I want value for money. As for regretting something I've bought, I haven't yet. I consider myself a sure buyer. I don't buy out of impulse. I think about every purchase, whether it's worth it or not. I even think about the resell value of an item before I splurge.
Which brand is your latest discovery?
​One of my new favorite brands is Mansur Gavriel. I love the simplicity of their designs. [It's] so classic and so elegant. I find that there is beauty in restraint, and Mansur Gavriel has done just that.​
What item of clothing do you invest in? How about clothes you scrimp on?
​I invest in shoes and bags, of course, and jewelry. I rarely wear accessories anymore these days. I normally scrimp on clothes because, you can only wear the same outfit so many times.
Who are your favorite local and international designers? Any go-to labels?
​Locally, my favorites are Mark Bumgarner, Martin Bautista, and Vania Romoff.​ For international high street brands, I love Zara. I can never go wrong with the fit and style. Mango and Topshop are the other brands I also like to shop at. For international designers, Chanel, Dior, and Saint Laurent Paris.
What is one fashion faux pas you're guilty of?
​Good question! I used to think platforms were cool, but sleek stilettos look so much sexier.​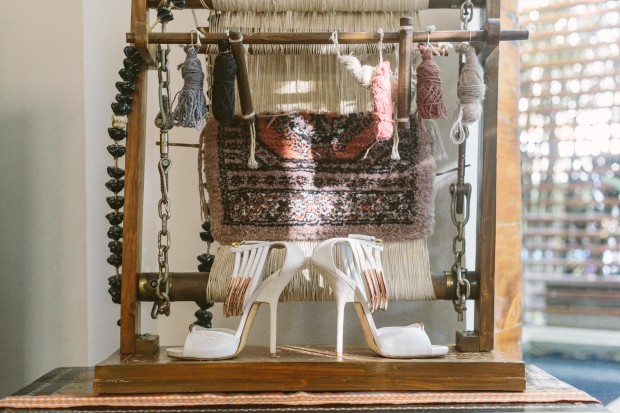 Who is in your fashion black book?
​For makeup, I love Robbie Piñera (he did my makeup for my very first cover shoot and my wedding) and Jigs Mayuga. For hair, Raymond Santiago (he also did my hair for my wedding) and Raymund Defeo​. For hair dyeing and cutting, I only trust Shiela Ranera of Emphasis Salon in Joya Tower, Rockwell to do it right! For fashion styling, I adore Pam Quiñones. I remember she used to style most of my cover shoots while I was still an actress. Her team also helped style my very first international fashion show for my swimwear brand Wanderlust—for Kuala Lumpur Fashion Week.
Who are your style inspirations?
​My favorites are Olivia Palermo, Amanda Shadforth, Margaret Zhang, Nicole Warne, and Shea Marie.
Where do you get inspiration, in general?
​From everywhere—when I travel, the beach, interiors, art, social media, basically anything and everything can give me inspiration.​
What's the best style advice you've ever received from your mother?
​Always wear heels! Now, I don't really follow that advice sometimes, but I do get where she is coming from. A woman's stance, walk, and confidence are different when wearing heels. It almost feels like a super power when I'm wearing them, so I try my best wear heels, appropriately, as much as I can.
What's your guilty pleasure?
Massages and treatments! I will splurge for relaxation. Heck, if I can fly out to Mandala Spa in Boracay every week, I would!
If you had a signature styling trick, what would it be?
​A perfectly fit jacket can take any outfit from day to night. From simple to chic!​ Nude pumps go with literally everything! It's always good to have a pair on stand by!​
Favorite vacation spot:
​Amanpulo
Favorite dish and restaurant
​Foie Gras Terrine and fresh oysters. Mecha Uma in BGC.
Favorite people on Instagram:
Nicole Warne and Jay Alvarrez#feedgoals
Favorite person, period: 
​My son Connor
Favorite thing about Christmas:
​Presents! Lots of presents!
Click through the slideshow above to see what's inside Maggie's closet!
Photos by Paolo Tabuena
Makeup by Gia Lalu of MAC
Hair by Jobelle Mendi of Bench Fix Salon