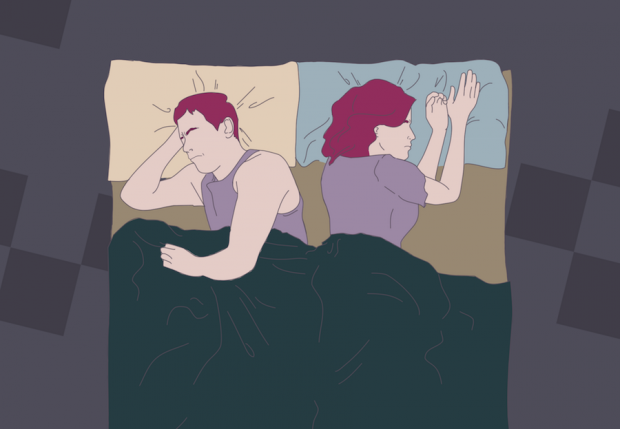 As a simile, likening the ride along the smoothly flowing APEC-designated lane on Roxas Boulevard to sex might have initially seemed clever to AirAsia head honcho Tony Fernandes, who was among the most highly anticipated speakers at two key summits in Manila this past week.
However, the flippant remark apparently had many commuters up in arms. Stuck in the traffic-clogged lanes marked "Everyone Else," where not even a general's calling card would grant you a get-out-of-hell pass, the experience of being immobile and powerless—literally—against government-imposed segregation, was, many angrily declared, more akin to rape.
While the week-long carmaggedon was indeed horrific punishment for the sins of our government (and by extension, I suppose, our own, seeing as we elect, stupidly or not, the people who run our country), it got me thinking about the sex lives of commuters, the majority of our population, the long-suffering swarms of people who are forced to rely on the decrepit public transport system to get to and from work every day, for whom calling an Uber is an unimaginable luxury and owning a decent car that doesn't spew out black smoke is a fantasy.
That they have sex lives is not in doubt; the number of children born every day in the country can attest to the fact that people are still fucking and procreating, no matter their social class—although perhaps one could argue that the more educated, empowered and less burdened by the dictates of religion among us would be more likely to use birth control.
Rather, it's the quality of the coupling I'm concerned about. After all, doesn't the right of every citizen to a decent quality of life include the right to a healthy and fulfilling sex life?
While "quality of life" in itself is a subjective and complex concept that encompasses many variables, experts seem to be in agreement about certain markers that help define it.
According to Forbes, these markers might include "multidimensional factors that include everything from physical health, psychological state, level of independence, family, education, wealth, religious beliefs, a sense of optimism, local services and transport, employment, social relationships, housing and the environment."
For the more fortunate among us, being stuck in traffic on the way home in our own often chauffeur-driven cars is infuriating, yes, but once we reach our destination we can put on some relaxing music, pour ourselves a glass or more of wine before sitting down to a leisurely dinner.
If we're with someone we have an amorous connection to, we could take off each other's clothes slowly and tantalizingly, or hastily and impatiently, depending on the ferocity of our desire, plant mouths and hands and genitals all over each other's bodies, and tumble into soft, inviting beds with silky sheets and fluffy pillows and mount each other, moaning, groaning, bodies rising and falling until we climax. We might reach for a cigarette afterwards, or watch the latest episode of Scandal, read a few pages of a book, check messages on our smartphones and eventually spoon against each other until sleep takes over, sated and relaxed, the stress of the day's traffic forgotten.
And now imagine what it might be like for commuters, who return home on a daily basis after enduring the hell of bodies pressed against them in overloaded buses or MRT carriages, who still have to wearily hail a taxi or jeepney or tricycle from the station to their own homes. Once past their front doors, they may not have the luxury of flopping down on their sofas, or mixing themselves a cocktail.
They may have to cook dinner for the rest of their family and then wash and dry the dishes, check their children's homework, do the laundry, and perhaps watch some TV or read a book, but nothing that will keep them up late into the night, as they have barely four hours of sleep to take advantage of before the entire numbing cycle of commuting begins again. They may be sharing a bedroom with their children, even a bed. The rest of their extended family may be in the next room, separated by a thin wall if they're lucky, and a sheet—of cotton or corrugated iron—if they're not.
If they have any energy for sex after all that, I wonder if it goes beyond a few cursory thrusts. I wonder if they reach for their vibrators to spice up the foreplay. I wonder if they have no option but to copulate in silence so that the whole household doesn't hear. I wonder if those who have tablets or smartphones can manage to watch some porn to get themselves horny, considering the pathetic state of Internet connectivity in this country.
I wonder if they actually get to enjoy the immediate physiological and psychological benefits of sex, if oxytocins are actually released, making their skin glow, their pulses race, their anxieties soothed, their stress levels lowered. I wonder if they feel more connected to their partners.
I wonder if the women actually experience satisfying orgasms. Because they should. It's an inalienable right.
If only traffic weren't such a bitch.
B. Wiser is the author of Making Love in Spanish, a novel published earlier this year by Anvil Publishing and available in National Bookstore and Powerbooks, as well as online. When not assuming her Sasha Fierce alter-ego, she takes on the role of serious journalist and media consultant.
For comments and questions, e-mail [email protected].
Art by Dorothy Guya