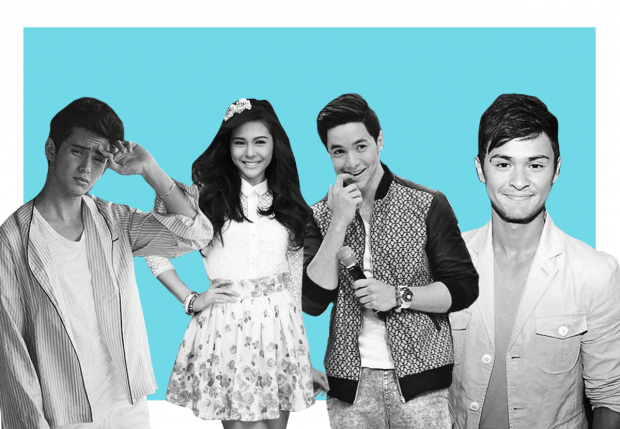 And just like that, the landscape of Philippine music has truly changed. Just a few blinks ago, it was bands like Bamboo, Sponge Cola, and Sugarfree that ruled the airwaves. But as the speed of pop music goes, that's all so 2010.
Boo! Welcome to 2015! The early '90s (pre-Nirvana) has come back with a vengeance. Gone are the everymen in T-shirts and jeans strumming their Stratocasters—they're all probably working in ad agencies right now.
The pretty boys and pretty girls are back, folks. And aside from gracing soaps, billboards, and viral videos it looks like they're invading our eardrums as well. Bring out the hair gel. Put your heart on your sleeve. Listen to what your favorite pimple-free, perfumed idols have to offer in the music department.
Just a tip (and I kid you not): Just swallow the kitsch fast.
Alden Richards' "Wish I May" (GMA Records)
Needless to say, the other half of the kalyeserye love team is breaking records left and right. If 2015 had a face, nobody would punch it, because it'll be Alden Richards'.
His Wish I May EP is the fastest-selling album on iTunes in the Philippines that entered Billboard.com's Top 10 World Albums.  On the day of its release, just after 12 hours upon upload, the EP reached gold status. Push pa more, bae?
While the John Lloyd carbon copy is definitely no Martin Nievera, at least Alden can carry a tune without the benefit of auto-tune. And yes, the slick production of the early '90s, by way of past masters Louie Ocampo and Jose Mari Chan, is truly back—like Dracula after a long coma.
With sparse acoustic plucking and a nursery rhyme of a chorus, is it any wonder this one will be a staple among office Christmas parties? Hey, bring out the Magic Sing and call in the employee with the whitest of teeth and pinkest of gums.
Sadly though, this one reeks of the factory, clearly lacking the imagination of its better contemporaries below.
James Reid's "Bonfire Lovesong" (Viva Music Group)

This Aussie import is one who can not only carry a tune, mind you, but also be a future music icon. Like a teenage Gary V with a Mad Max accent.
With a style that recalls Justin Timberlake's falsetto rap-sing  James Reid can straddle both worlds of acting and singing—a real two-trick workhorse.
With his single "Bonfire Lovesong," Taglish cycles between a rather formalistic "Para paawitin ang pusong pumipintig" to millennial-speak "Baby we can make s'mores by the shoreline/ Grab a bottle of Coors and it's all fine." Nifty, huh? Who would've thought the word s'mores would make it to an OPM song?
The lyrics are picturesque—almost cinematic—evoking a tryst on the sandbars of, say, Batangas or Punta Fuego. The chorus reaches anthemic heights thanks to glossy production and easy-to-follow chord changes.
Matteo Guidicelli's "Ipapadama Na Lang" (Star Records)
Who would've thought this racecar driver had pipes? Hey, other weirder things have happened in the history of Pinoy pop music.
When opening lines such as "Nagamit na rin lahat sa love songs / Puwede na rin i-Google ang lahat," I couldn't help but crack a smirk knowing that this one at least makes an effort to wiggle away from the generic.
Hey, this one's an earworm all right. With reggae-infused arrangements and pick-up line comedy, it's like a member of Brownman Revival ghostwrote it.
Once again, written in Taglish (which seems to be the order of the day), "Ipapadama Na Lang" is good pop as good pop goes, like a reliable ice-cold bottle of Coke.
And who knew Matteo could belt out like Wings-era Paul McCartney? Perhaps there was a trick or two to be had from Sarah Geronimo? Go, Speed Racer, go.
Janella Salvador's "Ganyan Talaga" (Star Records)

"Sa status pa lang ay nasa heaven ka na…"
So this is where OPM is headed? The Wattpad novel in song form? I like it.
With a melody that throws you back to Donna Cruz, Janella Salvador's twee-meets-tween "Ganyan Talaga" is lush—so lush it's perfect for a shampoo commercial.
Recording studio tricks, such as sound effects and dialogue snippets, would surely perk up millennials in search of a girl-meets-boy narrative—just as the lines between Star Cinema rom-coms and Pinoy pop music are blurring.
Nice, harmless and for general patronage, and with heaps of girly kitsch, could this be the closest thing to a latter-day Sharon Cuneta song? Let's see.
Art by Dorothy Guya