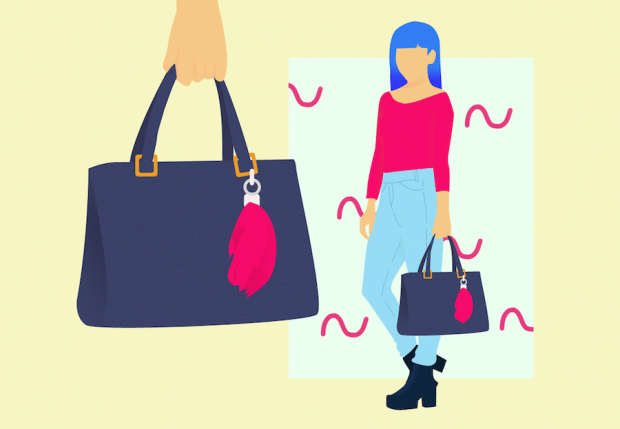 Welcome to Ask Poppy! I'm Poppy, your go-to girl for all of life's woes. And when I say ALL, I MEAN IT. I'm not an expert on anything except maybe for being me, which makes me totally qualified to do this.
Dear Poppy,
My best friend has a really…let's say "quirky" sense of fashion. Some people like it, other's don't. But she really likes to make a statement.
One night, while we here hanging out over dinner, she brought a handbag that had this cute little rabbit's foot keychain attached to it. This one was a definite hit: When we went out after, several people went up to her to comment on how cute her keychain was.
Eventually, she started hooking the keychain to the belt loop over her jeans. Same thing: People would compliment her on this. She must have really liked the attention because a month later, she bought an EVEN BIGGER RABBIT'S FOOT KEYCHAIN and started wearing it everywhere in public!!!
It's not always a hit, but let's just say it gets her a lot of attention. Some people compliment it, yes, but most of the time, she just gets stares, which she seems to think are looks of admiration. Personally, I think people are a little freaked out by it.
It's been two weeks and every time we see each other (which is quite frequent!), she is wearing the damn thing.
Now, I know what you're thinking: JUST LET HER LIVE HER LIFE. I know, I know. That has crossed my mind already. But…it's starting to get really embarrassing. People look at that stupid keychain wherever we go. And it doesn't seem like she's ever going to retire it soon. I mean, a good friend would tell her how dumb that damn thing looks, right?
Tell me what to do. Please.
—Lia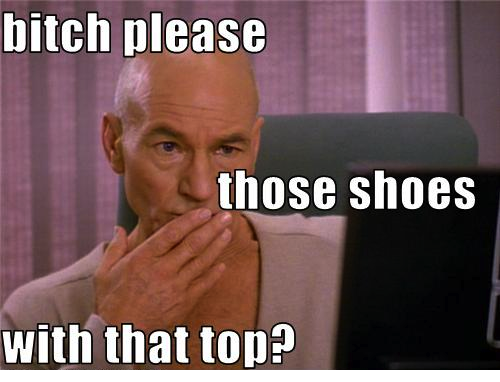 Dearest Lia,
Ugh, I hate having to deal with friends, which is exactly why I have no friends at all. Just frequent dudes who creep into my bedroom to make whoopee with every now and then. Totally kidding, I'm really outgoing. From what I've read, you're finding it hard to instill change in your friend. You want her to change and to lose that damn rabbit's foot that is equally disturbing and repulsive.
However, asking people to change is such a drag. Change is probably the hardest thing to achieve in humans. If only we could wake up tomorrow and instantly feel brand new, with, like, new special features like the ability to fly and wave your middle finger as you hover above the sad, miserable creatures of EDSA. But that would take millions and millions of years of evolution and probably a lot of mating and/or genetic splicing.
Change doesn't occur overnight. In movies, the main character would have someone paint him/her a pretty picture of the events that could unfold. It's that little nugget of information that lies there within the first 15 minutes. Only towards the end does the protagonist realize how important that nugget is to enact change in his/her life. You can't just teleport to good parts and skip past the nonsense, Justin Bieber. You have to work for it.
So, let's get working.
The first thing that you have to acknowledge is that the rabbit's foot is not just a rabbit's foot. To her, it's a fashion statement. An accessory to make her unique among the droves of all you basic bitches. The rabbit's foot symbolizes her individuality, but it also rears the ugly side of it all, which is the fact that she loves to have the attention.
Dude, I really do not get fashion to comment enough about it. I would go out wearing a T-shirt and jeans, with matching disheveled hair from weeks of doing the No 'Poo regimen. Still, I would get catcalled, because I'm kind of a fucking hottie, but also because I am a woman, making me such a magnet for manongs and mga manyakis. Yes, the rabbit's foot is weird, but I've seen weirder.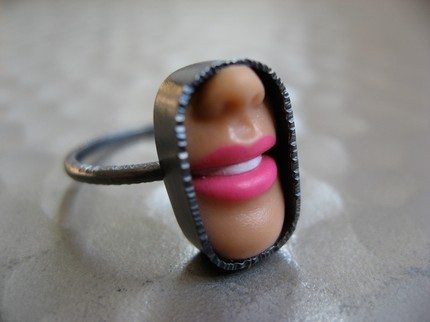 While walking around Taipei, I stumbled upon a pop-up store selling jewelry made from severed Barbie heads. The booth was all pink and filled with confetti and I just stood there, taking all the horrifying sights in. I was mouthing "Who the fuck would wear this?" as I ran my eyes through My Little Pony necklaces and earrings made from Barbie's limbs. People would wear them, Lia. Because people are weird.
One thing that I really cannot stand about the world right now (particularly here, in the Philippines) is the need to be acknowledged for something that you have done. They want to trend. To be noticed. On Twitter, you want to be RT-ed and you want your fave celebs to tweet you back. On Facebook, you love getting all those reactions. On Instagram, you have to rack up the likes. And that's pretty much how you make yourself feel good these days. As if I give a shit about your life.
Often I would question a person's entire being just because I notice them acting up online. Like, do you really care and understand that political issue or are you just commenting because you want the attention? Do I really give a shit that you hung out with this dude before he got 50k followers on Twitter? Are you really delivering your honest opinion or are you just paraphrasing someone else's work? Ano na naman 'yang pinaglalaban mo today?
To bring about change, you can go a few ways. The first way is to be honest about it. Tell her that you hate that rabbit's foot. Tell her that if you see her wearing it again, you are going to take that foot and shove it up her vajayjay. A bit extreme, but voicing out your opinion is what a good friend would do.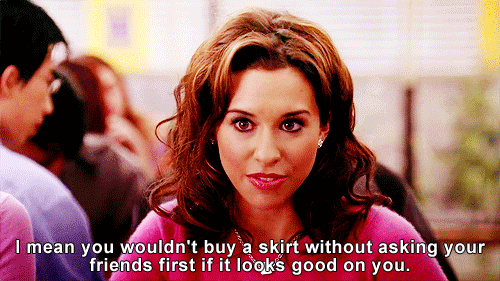 Of course, you have to deliver it kindly. You're still her friend, so try to not be too harsh. You can start by joking around. Let me recommend you a few lines:
"I really love your rabbit's foot. I really love to throw it sa impyerno (to hell)."
"If you wear that rabbit's foot tomorrow, I'm calling PETA."
"Mas gusto ko pang may athlete's foot ka kaysa araw-araw mong suot 'yan (I'd rather you had athlete's foot instead of you wearing that rabbit's foot every day)."
"Crush ka daw ni [Insert Name Here] kaso daw may patay na hayop ka sa katawan (Insert name) has a crush on you but he said you're wearing a dead animal's foot on your body)."
Avoid threatening her and don't be such a huge cunt when dealing with her precious rabbit's foot. You're friends, play it to your strengths and make sure you don't hit her too hard. You want to pave the way for change, not to end this friendship.
However, if I were you, I would totally not give a shit. You might not notice it, but people do get tired of their own shit sometimes. It's the 24-hour news cycle, it's the collective fads that come and go. Change occurs in people even when you don't want it to happen. During the first few months of the #AlDub brouhaha, I would often hear my neighbors laugh and cheer as they watch the television. Now that Yaya Dub is speaking and that Alden is getting married off to that AFAM, I just hear them commenting how terrible it has become.
And if she doesn't stop wearing that rabbit's foot, what should you do? You pretend that it doesn't exist. Like right now, I'm really pretending that A Second Chance never existed. I'm still living in a world where Popoy and Basha's story ended in One More Chance. Whatever bitter, dreadful thing that I have witnessed last Wednesday, I don't need that in my life.
No matter what path you choose, never forget that rabbit's foot or no rabbit's foot, you should be more accepting, forgiving, and understanding. That's how it's done, Lia.
Love,
Poppy
Got a question for Poppy? From love and relationships to weird questions you dare not ask even your psychologist, Poppy is ready to answer them all. Send in your questions to [email protected] or post your question over Twitter or Instagram with the hashtag #AskPoppy, and you just might get the answer you are looking for.
Art by Dorothy Guya