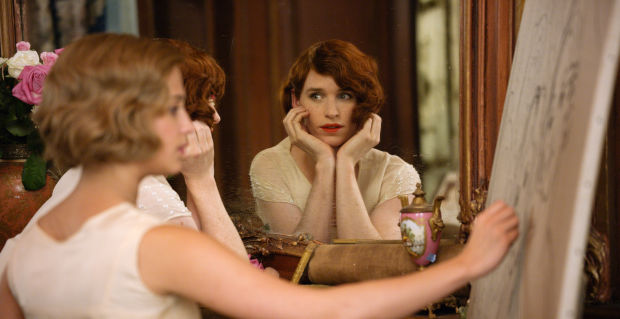 There are so many seemingly perfect things in Eddie Redmayne's new film The Danish Girl
. 
Timely topic? Check. Amazing cinematography? Check. Film-friendly makeup base made from beeswax? Hell ye—wait, what?
We owe the latter to hair and makeup design
er Jan Sewell,
who cleverly devised

this
appr
oach to Eddie's flawless façade. The Oscar award-winning actor plays a Danish painter named Einar Elbe, who later on assumes his real person Lili Elbe. Set in the 1920s, the film allows a creative yet truthful execution of the cast's period makeup. With Eddie, Jan made sure his physical transition to femininity is clear.
After shading and highlighting to achieve Eddie's masculine Einar look, she took a beeswax makeup base that sinks into Eddie's skin. This creates a natural, smoother finish in front of the high-definition camera when Eddie becomes Lili in her more dramatic scenes. Jan also worked directly with a makeup company to
create
p
eriod-appropriate palettes.
Now we've yet to watch the film and see just how good this base is. But judging from the trailers, it's look
ing like the stuff of
good
 no-makeup
selfies. We might not be starring in our own period films, but hey, it won't hurt to try and make something new once in a while.
Photo courtesy of Focus Features