Before we begin, let us get this out of the way: Yes, sugar is bad for you. Yes, there are times when we choose to ignore that fact, especially since Christmas is nearly upon us. Besides, let's be real: We don't need to give you an excuse to indulge this season; you're doing that anyway. So why not be generous while you're at it?
Below are 10 of our favorite desserts to give away for the holidays. While we enjoy each one equally, you can choose to give these as presents based on the recipient's personality.
Just make sure to keep a box or two for yourself.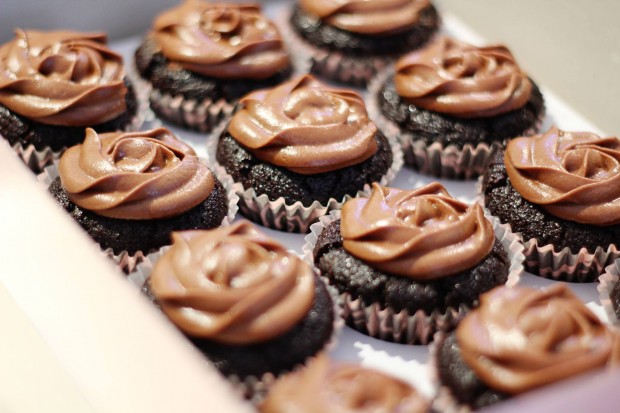 #1 For the conscientious health buffs: Amores Gluten-Free Super Moist Chocolate Cupcakes
We all have that one friend who's super difficult to eat out with. While you may love her for it (hey, she keeps you thin!), it also makes it really difficult to pick out a dessert for her. These cupcakes by Amores (P65/pc) are gluten-free and dairy-free, but you'll never taste the difference, which is why they're the brand's best-sellers. If cupcakes aren't your friend's thing, they've also got an assortment of gluten-free cakes, cookies, muffins, even donuts.
Amores. (0947) 991-8375. For more information, visit their official website.
#2: For the liquor lovers: Brownie Bar's Don Papa Rum Tablea Bar
Brownie Bar is the first commercially available liquor brownie bar in the Philippines. Like most brownies, it has everything you would come to expect: a crisp outer shell, an intense chocolate flavor, a dense and fudgy center—now throw in notes of liquor in every bite. Getting a kick yet? Their Don Papa Rum Tablea Bar (P495) is everything its name suggests: a blend of local tablea, Malagos Chocolate, and Don Papa Rum. You may want to throw in a bottle of bitters (additional P100), which can be added a few drops at a time to each slice to intensify the liquor flavor.
Brownie Bar. (0908) 899-5667. For more information, visit their Facebook page.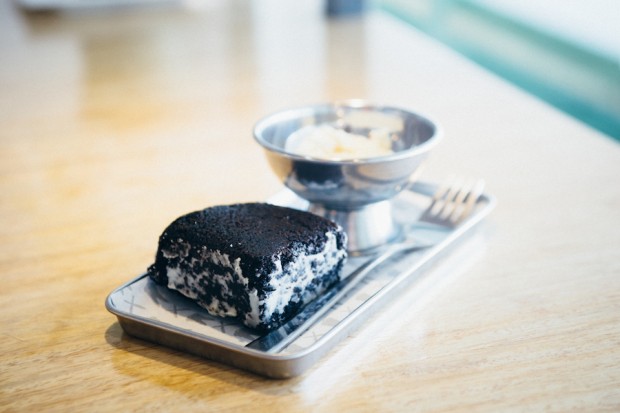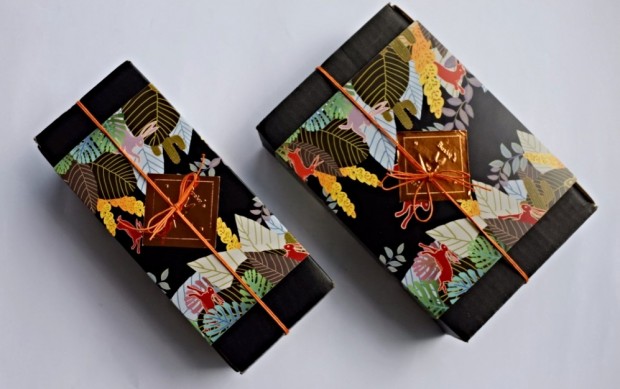 #3 For the dessert hipsters: Bucky's Buckies 'n' Cream
Let me put it this way: There isn't one person that we gifted a bar of Bucky's to who didn't enjoy every slice. So if you know someone who's tired of mainstream desserts, this brownie-meets-fudge hybrid is an offbeat choice, but a winning one. While we've featured their newer flavors this year, we'll always keep coming back to their classic Buckies 'n' Cream (P400/whole box with Christmas packaging), which is their version of an Oreo. They've also got two gluten-free options for the even pickier eaters: Super Buckies (P620/whole box) and Coco Loco Goji (P650/whole box).
Bucky's. (0917) 844-5104. For more information, visit their Facebook page.
#4 For the Insta-foodies: Cupcakes by Sonja's Crupcakes
We gather that no other dessert this year trended more on Instagram than Cupcakes by Sonja's newest offering: crupcakes (P95/pc). A cross between a croissant and a cupcake, the airy pastry tastes as sweet as it looks. Get a box of six and include every single available flavor: Green Tea, Hazelnut, Pecan Pie, Banana Nutella, Peanut Butter Speculoos, and Lemon Meringue.
Cupcakes by Sonja. For a complete list of branches, visit their Facebook page.
#5 For the ladies who lunch: Ladurée Chrismas Theme Hat Box
If you've got a friend who's too posh for your life, then the odds of her loving this Christmas Theme Hat Box by Ladurée are high. While you could always get her a box of macarons, you may want to sample the other treats the French luxury pastry shop offers: fruit cake (P3,500), caramel softs (P850), niniche (P890/10 pcs), and cocoa powder (P1,080).
Ladurée. Unit I03, 8 Rockwell, Hidalgo Drive, Rockwell Center, Makati City. (0917) 579-5447. Open from 10:00 a.m. to 7:00 p.m. For more information, e-mail [email protected].
#6 For the children at heart: Cookies by Love, Agnessi
Everybody loves a good cookie, and Love, Agnessi makes the best chocolate chip cookie (P350/box of 14) I've ever had. She also carries other flavors like Chocolate Walnut, Double Chocolate, Peanut Butter & Chocolate, White Chocolate & Macadamia, Triple Chunk, and Chocolate Chip & Macadamia (P500/assorted box of 16). Moist, chunky, and chewy, every bite takes us back to our childhoods. Now if only there was a way to get our pre-adolescent metabolism back. 
Love, Agnessi. For more information, visit their Facebook page.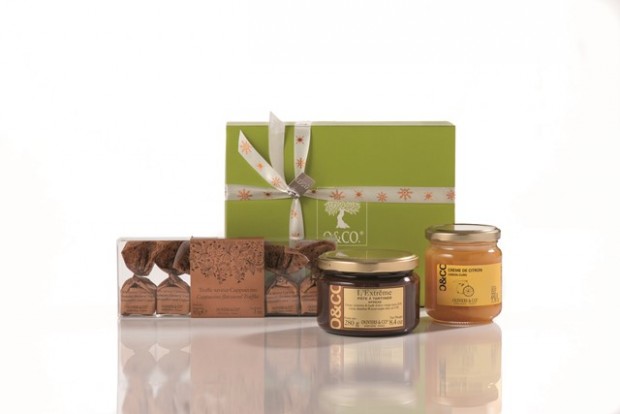 #7 For the master bakers: Oliviers & Co. Gourmet Treasures
What if your friend already bakes? Simple: Get her something she can enjoy alone or with some of her best recipes. Oliviers & Co. offers a fully customizable gift set where you can include their Lemon Curd (P695/7.76 oz), which can be used in preparation for cheesecakes, fruit tarts, or macarons; Cappuccino Flavored Truffles (P595/6 pcs), which can be used in preparation for cookies or chocolate mousse; and L'Extrême Chocolate Hazelnut Spread (P1,000/6.3 oz), which will trump all other chocolate spreads and can even be used to make hot chocolate.
Oliviers & Co. 2/F Central Square, Bonifacio High Street, Taguig City. 2/F Greenbelt 5, Ayala Center. G/F Alabang Town Center, Muntinlupa City. For more information, visit their official website.
#8 For the tea-totalers: TWG Christmas Jewel Tea Macarons
You know you've reached a certain age when you'd rather catch up with friends over a cuppa tea than a few beers. Celebrate this newfound maturity by bringing with you a box of TWG's Christmas Jewel Tea Macarons (P330/6 pcs, P605/12 pcs, P1,210/24 pcs), which include the famed Singaporean tea brand's limited-edition Christmas Jewel Tea-infused macaron with spiced mandarin orange and orange marmalade filling. Feeling that holiday spirit yet?
TWG. For a complete list of locations, visit their official website.
#9 For the Titas of Manila: Butter Cake by Ginger Paras
Every Tita of Manila has a mental directory of home bakers that are on-call for every special occasion. Like all of the best secrets, the news of this Butter Cake by Ginger Paras (P400/9×6, P530/7×11, P760/8×12, P900/9×13) has been passed on from one tita to another. Another selling point? Pope Francis took an entire cake with him to Italy after his visit to the Philippines last January. Let's see your titas fan themselves with excitement over hearing that little factoid.
Ginger Paras. (0917) 811-8100. For pick-up in Magallanes Village, Makati City. For more information, visit her Instagram page.

#10 For the curious expats: Theo & Philo Artisan Chocolates
What better way to introduce a foreigner to the exciting palate of Filipino flavors than through a bar of chocolate? These artisanal chocolate bars by local chocolatier Theo & Philo offer an interesting mash-up of local flavors. Labuyo (P95) is a best-selling blend of dark chocolate and chili, while the Barako (P95) mixes milk chocolate with organic Barako coffee. Green Mango & Salt (P95) find a surprising ally in dark chocolate, and Pili & Pinipig (P95) provides an interesting crunch with native ingredients. There's also the Turon (P95), which is a winning interpretation on a merienda classic with milk chocolate, banana, crispy caramel, and sesame seeds. But the Adobo (P95) makes the best case for combining soy sauce toffee, black pepper, and milk chocolate.
Theo & Philo. (02) 631-1362. For more information, visit their official website.