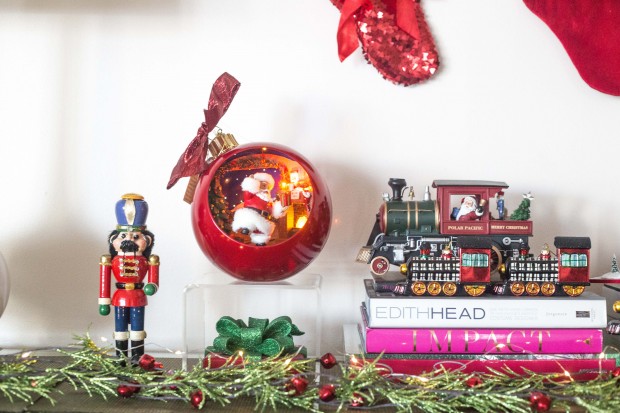 Even if you're a total Scrooge, there's no escaping Christmas. It's coming, so you might as well let the season's spirit get you to start decorating your humble abode. For Debbie Lupango, buyer and visual merchandiser of Shelter and co-owner of fashion label Sune, there is no better way to put you in that loving, Christmas mood than going home to a space that's brimming with happy, lit-up ornaments. She lets us in on the easiest way to do so: Find any tabletop—a dining table, a foyer table, or even your bedside table—and simply collate a vignette that you can put on and off in a jiff!
"[Decorating] your home for Christmas is more of a personal thing. Every home should have it," Debbie says. "It gives you that feeling of familiarity, reminds you of your childhood and what you love."
So if you're hosting a last-minute celebration, it pays to decorate your home without sweating it. Simply gather old Christmas ornaments, or maybe purchase a few items to make it new. The trick is in putting them together. Debbie's biggest tip is to zone in on a specific theme and color scheme and take it off from there. When decorating, she suggests "keeping things more personal and having fun—like expressing your fantasy."
Here are some suggestions on which tables you can decorate by yourself just in time for the yuletide season ahead!
Dining table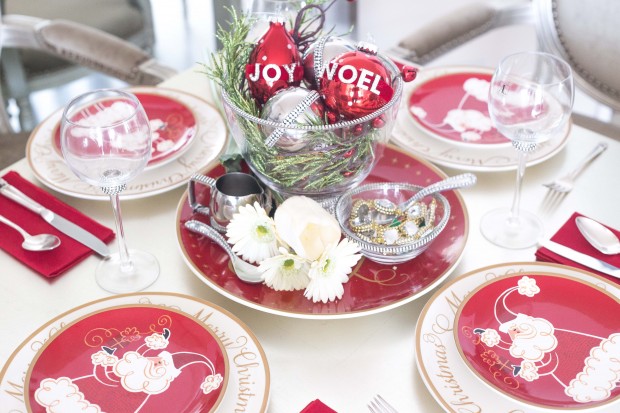 Arguably the most important part in a Filipino Christmas celebration is the food. Debbie suggests making the Noche Buena (Christmas Eve feast) table extra special by decorating a simple centerpiece with pieces you can find in the kitchen and a few seasonal ornaments. Simply get a punch bowl and fill it with garlands and Christmas balls. You can opt to put dinnerware like a small gravy boat or spoons to decorate around the bowl to "create layers on your centerpiece and to give it dimension." You can make the it as elaborate as you want so long as "when you sit, you [can still] see one another and to talk to each other," Debbie says. If you want to be a little cheeky with it, too, plates with "Merry Christmas" on them won't hurt.
Living room center table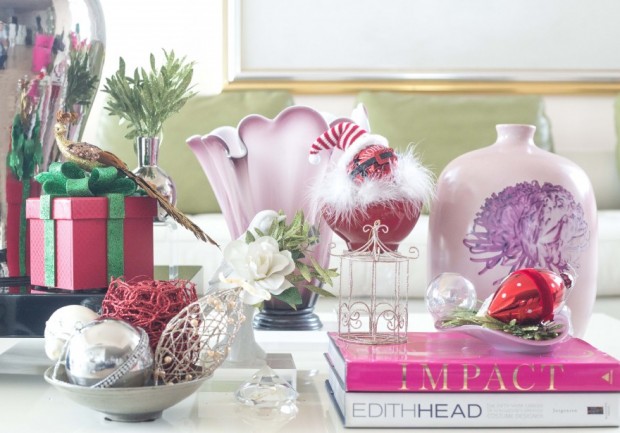 This room's centerpiece, for Debbie, is "something that speaks about who you are and what you love as a homeowner. It's the focal point of your space." It's about making it more personal. Debbie made hers nature-themed with birds, leaves, flowers, and cages to spice up the decorating—"but more glamorous with all the glitters and the rhinestones," she says.
One thing about living room centerpieces is that they have to look functional so as not to look like a random addition. She suggests adding books, which are perfect for creating height and dividers in your centerpiece but are also useful for guests lounging in the room to read. Also, consider adding a contrasting color for texture. "We used red and silver so we added pink and purple to contrast [and] complement [the centerpiece]."
Foyer table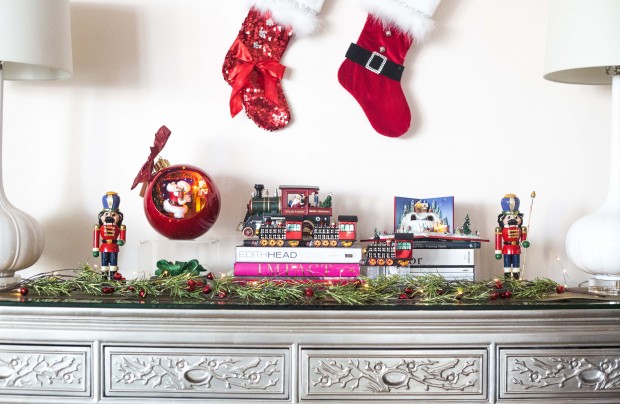 The entryway is the first thing guests see when they enter your space. So if you want to make a strong statement with your décor—yeah, you mean business—take this part seriously. Bring out your old Christmas toys; it's the easiest way to adorn your foyer table. "Adults love buying Christmas toys," Debbie says. "For them, it's like playing—making their own fantasy world at home."
Adults can be a little playful by putting together dancing Santas, Little Drummer Boys, and Christmas socks together (just in case Santa comes in at night, right?). Just make sure to take note of the items' leveling or variation of height relative to one another. "Leveling is important [to create balance for the eyes]. So that when someone looks at [the table], he can look at it longer 'cause the eyes go up and down."
Bedside table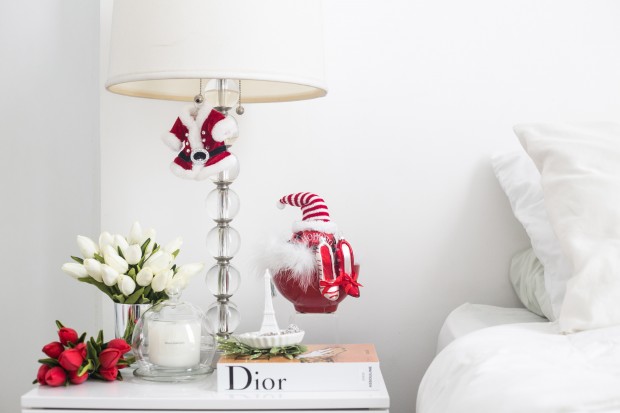 Probably the most personal of all tables in your space, the bedside table can also use a little brightening up. Debbie suggests two things. First, keep it clean and minimal: "It's important that when you wake up, it's easy on the eyes." Second, keep it as a personal space: "It's nice to put candles, books, and photo frames. It's a more personal thing so you think of the things you use before sleeping." Adding just hints of red and a few Christmas-themed décor here and there is key—say, red flowers or a red bowl filled with mini-ornaments.
Vanity table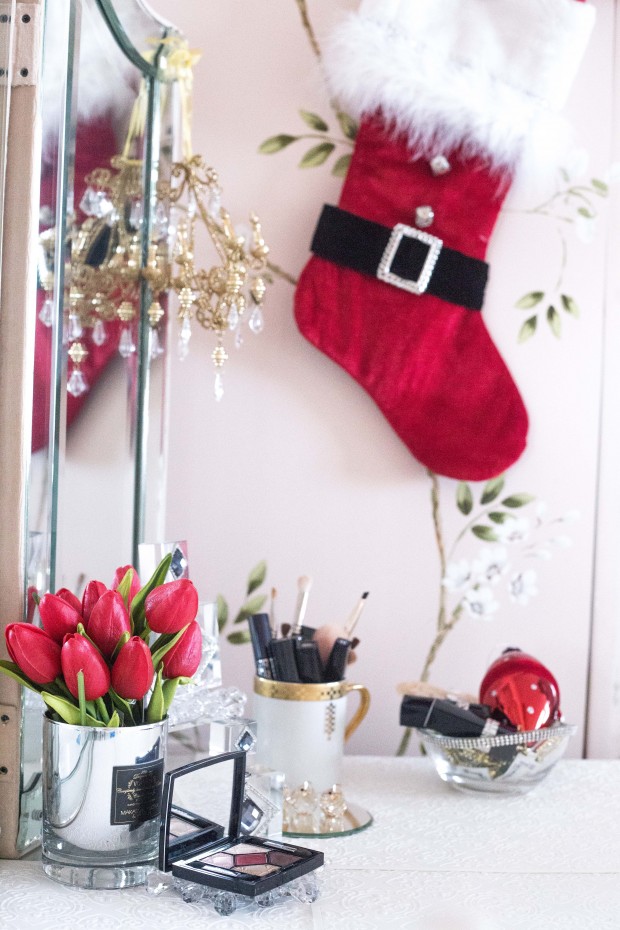 This is more like an add-on to your "Things to decorate" list.  It's just an area to help lift up your spirits when prepping up for a Christmas party. "It puts you in that festive, happy mood when there are Christmas [things on] your vanity table," says Debbie. So as not to add to the season's frenzy—and not allow it to live up to its reputation as a woman's messiest space—keep vanity mirrors clean and organized. She suggests "grouping your mascara, brushes, eyeshadows, and [whatnot] based on their [use]" and to simply add "sparkle to remind you of jewels—of just being girly." "There are no rules—it's going to be fun for the owner," Debbie adds. And the same goes for decorating anything you want in your space this Christmas.
Shelter is available at 6/F Shangri-La Plaza Mall East Wing, EDSA corner Shaw Boulevard, Mandaluyong City. For more information, visit their Facebook Page.
Photos by Paolo Tabuena