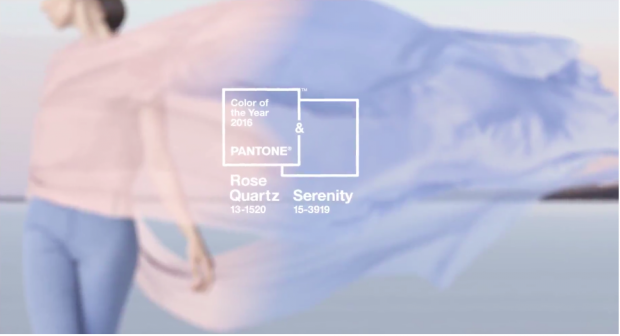 The Pantone Color Institute has spoken. For the year 2016—and for the first time ever—two colors will dictate fashion and design: Rose Quartz and Serenity.
The colors are subdued hues of pink and blue respectively, a welcome change from last year's bold Marsala. But apart from what's seen on the surface, the two shades are representative of its cultural context.
"As consumers seek mindfulness and well-being as an antidote to modern-day stress, welcoming colors that psychologically fulfill our yearning for reassurance and security are becoming more prominent," Pantone states in website.
"Joined together, Rose Quartz and Serenity demonstrate an inherent balance between a warmer embracing rose tone and the cooler tranquil blue, reflecting connection and wellness as well as a soothing sense of order and peace."
Pantone also dropped a video to accompany the announcement. A montage of people on their phones, natural catastrophes, LGBT campaigns, and fluffy clouds, the short clip depicts the chaotic yet dynamic landscape the colors are inspired by.
This year's Pantone colors also take a turn toward making a political statement, one that stresses support toward gender equality and fluidity. (No wonder these two colors remind us of our old nurseries.) Though catering to the traditional heteronormative colors of blue and pink, we appreciate the insight, Pantone.
Now outside the design world, the colors of the year might not usually matter. To some, it's simply a snobbish, authoritative way of making colors trend. However, Pantone defends the tradition and reminds people that the color of the year is "a symbolic color selection; a color snapshot of what we see taking place in our culture that serves as an expression of a mood and an attitude."
So if you were busying yourself with Justin Bieber's new album to know what's happening around you, try checking out Pantone's yearly colors. It'll only take a few seconds to get a grasp of the world around you, and get a quick respite from all its troubles.
[
Nylon
]
Photo courtesy of Pantone