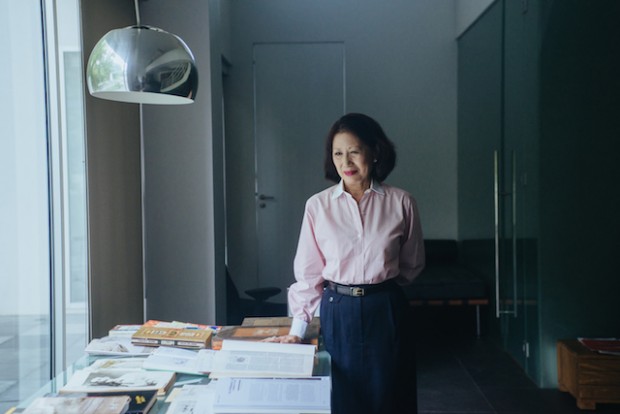 Felice Prudente Sta. Maria has been writing about Filipino food before all of us did. Years before the Internet and massive food blog spam, she's labored over her work as a food historian—a chronicler of the stuff we put into our mouths, and how it got there in the first place.
"I've always enjoyed cooking from the time I was seven years old. I think that was because I enjoyed the company of my grandmothers and my grandaunts, and everybody baked or cooked or enjoyed holding dinners and family gatherings [then]. That opened up an entire dimension of satisfaction and creativity," Felice says of her beginnings.
And we're glad that happened. Back in the '60s, Felice recalls a time when food literature was scarce in number, but hardly scant in quality. These books are an inspiration, if not the force that moved her to write.
"I was lucky enough to stumble into the new types of food books that were coming mostly [from] Europe then. They not only had recipes but also the stories behind the recipes: How an author, for instance, in Italy or France, or somebody's husband was assigned overseas and the wife goes along and discovers the cuisine and the culture at the same time."
The thing with retelling food nowadays is that the manner of doing it gets lazier by the day. Immortalizing a morning meal may mean snapping a quick VSCO shot and adding a short caption with either the hashtag #foodporn (if you're lucky) or heart-eyed emojis.
For Felice, writing about food means meticulous research, endless hours of poring over old documents, and patience to sift through records just to get a few curious readers to know that hey, we once made curry with only turmeric juice and coconut milk.
"If you want to understand how a certain thing develops, how a certain edible plant arrived in the Philippines and became no longer wild but cultivated and [widely] eaten, and how it was cooked, for instance, you kind of have to go all the way back," she says.
She cites how we once used rice flour as thickener before switching to wheat flour or cornstarch. We also once cooked with leaves like alusina and tugabang (jute) so seldom used now that they hardly ring a bell.
But apart from piquing the interest of gastronomic geeks, who else would care to know about this? "First of all, we're trying to promote by writing [the notion of] the forever changing, dynamic Philippine food that is anchored in some sort of heritage," Felice suggests.
"At the same time, we're trying to promote that to people overseas… If people like our food the way they have overseas, then maybe they'll come here for the real thing," she continues. "If they like our food, they'll want to use only Philippine ingredients. We have some of the best fish sauces, and there is no reason for us to use non-Philippine fish sauce in Philippine cooking."
Tracing our food history benefits us in both a social and economic sense, and Felice already knows that. The next step is for us to read what she's already written—and later, maybe write them ourselves as well.
Source: Yvette Tan for Northern Living, "Writing the Edible," November 2015. 
Photo by Patrick Segovia