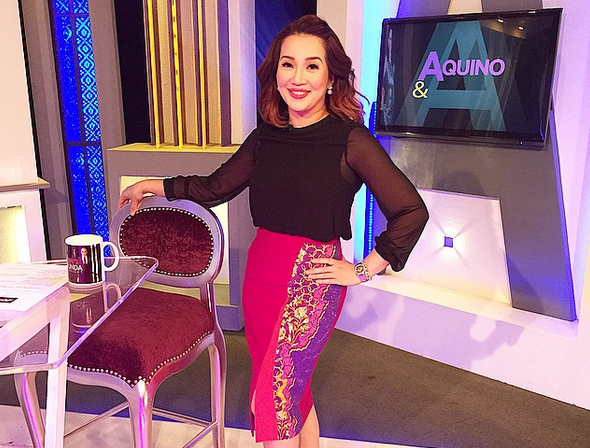 As one of the most powerful men and most eligible bachelor in the Philippines, you'd think President Benigno "Noynoy" Aquino III couldsweep any woman off her feet—probably even newly crowned Miss Universe 2015 winner Pia Alonzo Wurtzbach. But in the very words of Kris Aquino, "I don't think [Pia] liked Noy."
So, yes. Surprise, surprise. What are the chances that once in this universe, the two were actually flirting before?
The big reveal happened in March at Kris Aquino and Boy Abunda's talk show Aquino & Abunda Tonight. Pia, newly crowned as the Binibing Pilipinas 2015 winner then, went on what could be a harder question and answer portion than what her pageants could give—courtesy of Kris, herself.
When she asked Pia if they were dating, the 26-year-old beauty queen simply answered, "I know him. I talk to him, yes. He's very fun to talk to."
And Kris isn't one to hold her horses and said "Please make him (President Aquino) happy, he needs it." And yes, it turns out, Kris really did like Pia for her brother.
The 'Queen of All Media' told interviewers that all four First Sisters—including Ballsy, Viel, Pinky—of their approval of the beauty queen. Hey, that's one tough panel of judges to impress.
"All of us, kaming mga sisters, from before pa, we liked her, noong naru-rumor (when it was rumored) that they were dating. She could have denied [that they were dating]," Kris said in an interview. But equally as revealing as one of the biggest plot twists in pageant history, Kris spoke her mind. "I don't think she liked Noy." Ouch.
"I think she entertained him but the thing is, you can tell from her character [that she's] single-minded. Kinailangan na [Miss Universe] angfocus ko muna (It was needed that the Miss Universe pageant was what she should focus on)," she said.
Well, now that Pia has won, will the universe's stars finally align for the two? Or maybe PNoy needs more dating tips from Manila Mayor Joseph Estrada, first.
[
Inquirer Entertainment
]
Photo courtesy of Canadian Inquirer