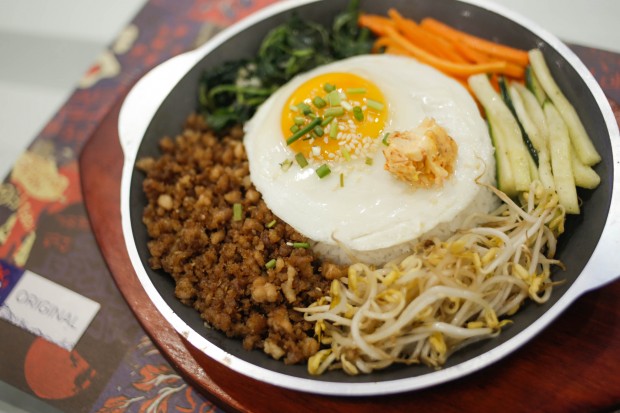 In the Philippines, any dish with rice in it is surely going to be a hit. When the Korean craze hit its high here, it brought along with it the bibimbap—a rice dish served with meat and vegetables—and everyone started putting in their orders for it.
The concept might be pretty straightforward but a good bowl of bibimbap still has novel elements that allow for a unique way to experience your usual fare. Louie Ngo, managing partner of Relish Group that recently opened Rock & Seoul Bibimbap Bar, told us more about how the dish can be used as a canvas to mix traditional flavors and fusion cuisine.
Here four things you should know about your bibimbap and how you can make it a dish catered to your own unique preference.

#1 The secret is in the sauce
A bibimbap maybe a simple dish but it can never be without one key ingredient. Louie tells Preen, "Basically, it's a Korean rice topping dish that has protein, rice, and vegetables served in a stone bowl. You can combine any ingredients available to you but there always has to be the Gochujang sauce." Gochujang is traditional Korean sauce made of red beans and gives that sweet-spicy kick distinct to Korean cuisine. "Mixing Gochujang sauce brings about a different taste because it gives a different flavor every time it's mixed with different dishes," he further explains.
#2 You can customize your own bibimbap
In Korea, bibimbap is considered one of the most common dishes, where every family has their own specialty. This makes it subject to thousands of variations. Hence, Rock & Seoul introduced novelty combinations like the American Bibimbap, rice served with bacon as the main protein and potatoes for the vegetables, along with Mexican Taco that has corn, nacho shells, and ground beef. "It's all about knowing what you're craving for the day and seeing bibimbap as way to combine all your favorites in one plate," says Louie.
#3 Having banchan is part of the experience
Part of a good bibimbap experience is the appetizers served or banchan. "In Korea, I observe that they always serve some vegetables like kimchi and rice noodles before the bibimbap," shares Louie. "It helps you determine what you are really craving for so you can pick a good mix of ingredients for your bibimbap."
#4 Mix your bibimbap right
Once served, mix your bibimbap well. "This helps in the cooking of the ingredients as the stone bowl or plate where it's served has just the right enough of heat. Traditionally, bibimbap is served with a raw egg on top so the mixing helps it cook," explains Louie. But even though most bibimbap restaurants already serve the egg cooked, you still have to toss up your rice and toppings together. Louie emphasizes, "The whole point of bibimbap is to enjoy the different flavors [all at once] to form that distinct taste that makes it your own, that makes it something you'll keep looking for."
Rock & Seoul Bibimbap Bar. Ground Floor, The Block, SM City North EDSA, EDSA cor. West Avenue, Quezon City. (02) 552 7536. Open from 10 a.m. to 10 p.m. For more information, visit their Facebook page.

Photo by Adi Bontuyan