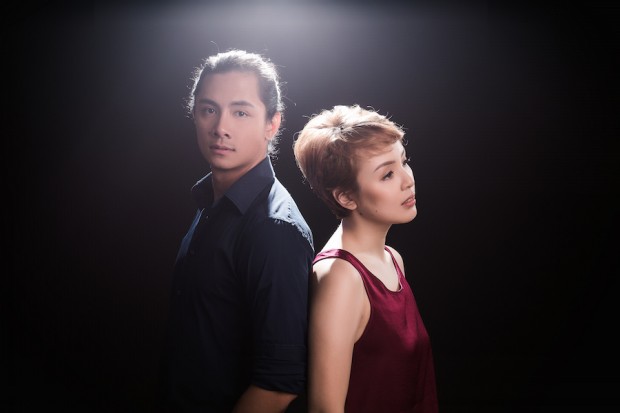 Your correspondent no longer has any expectations about how a Red Turnip play will go. It's almost a certainty that it would go well, every time. But what makes their productions good is a combination of many things. Good acting, yes, and lately, very interesting explorations in sound and production design have been hallmarks of the company. (My favorite from this season, surprisingly, was slipping a favorite Ciudad song into a play set in New York in the 1980s.) But it is their choice of material that makes their productions different.
Constellations, which won the 2012 Evening Standard Theater Awards for best play and whose Broadway run received one Tony nomination for actress Ruth Wilson, is Nick Payne's take on an idea which has, admittedly, been the stuff of other works of art in the last few decades. Alan Lightman's best-selling 1992 novel Einstein's Dreams is one of these, and the 1998 film Sliding Doors is another more popular example. However, what Payne's play aims to do is to take the idea of how time is viewed against the backdrop of contemporary quantum physical theory and explore how we choose, how we love, and how we come to terms with the consequences of both.
While there are things in the script that set the story in a particular milieu, the great "thought experiment" of this play can still provoke audiences who are unfamiliar with, say, Tower Hamlets (a London borough where Roland, the male protagonist, once lived). But it is a challenge figuring out how to translate the structure of this production into performance, given that its conceit is that we see all the different possible strands of the story of Marianne (Cris Villonco) and Roland (JC Santos), and how one of these strands leads to a very difficult (and recursive) moment in the couple's lives.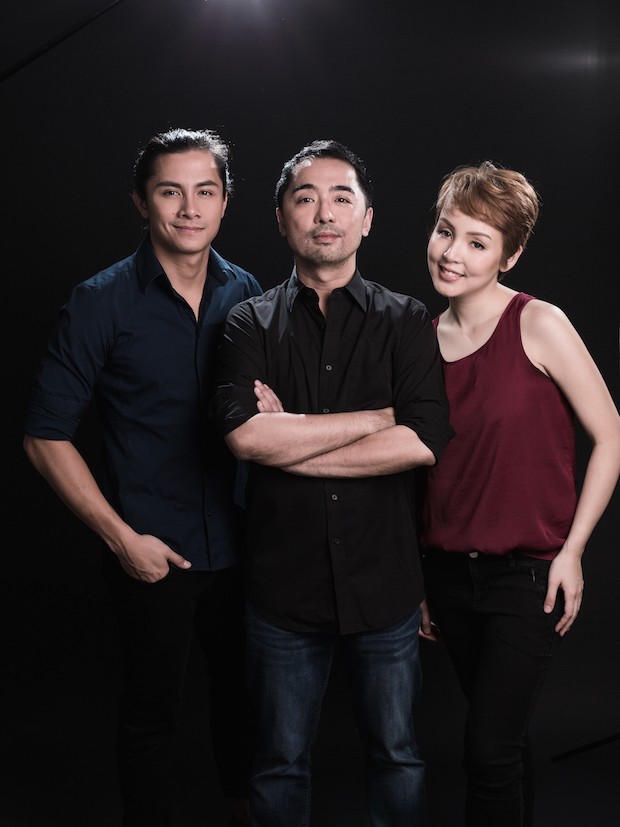 This is why I found this production captivating enough to overlook the play's ambitiousness. Yes, the inexorable emotional and dramatic buildup was there, and yes, I found the play's protagonists' discussions of their respective passions to be well-crafted, and delivered either with drunken aplomb (as Marianne does) or with some nervousness (as Roland). It all boils down, though, to how the actors playing Marianne and Roland carry out some very challenging scenes where emotions change literally within seconds. Cris and JC succeed in doing this, and for this I am glad.
This ambitiousness, though, is why I have to say it works well on stage. The form Nick takes to draw us to the inexorable inevitability of the play's ending reveals what I see as Constellations' sole fault, if it could be called that. Many of the variations, the strands the play pursues, are inconsequential though often entertaining. Some of these, at key moments, only genuinely require a direct "yes" or "no" answer. A "maybe" would have killed the whole process. Perhaps, Payne argues, it would be fun to imagine what it would be like if, in some alternate universe, we chose to be someone else, or to be with someone else. But the reality we are given is, for those of us living with the consequences of past choices, the one we must work with.
On a less serious note, I saw that this run of Constellations will have two shows on March 5 (in addition to running on all remaining Fridays and weekends this February until March 6), which happens to be the date for the Wanderland Music & Arts Festival, happening just near the Power Mac Spotlight Theater at the Circuit Mall at the Globe Circuit Grounds. If your folks would like to see a very thought-provoking hour of theater, or you'd like to take a break or a prelude to a very interesting musical evening, shows are at 4 p.m. and 8 p.m
For more information on Constellations and Red Turnip Theater, visit their Facebook page.