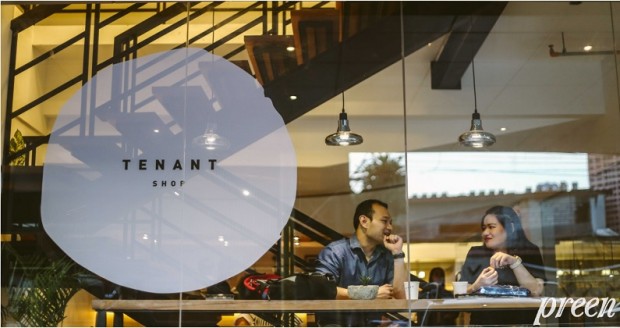 As a borderline caffeine addict, I've been to a lot of cafés and tea hubs where I would either work or just hang out, drink some coffee, and listen to what their playlist has to offer. That being said, I don't think I can tell the difference among these gentrified coffee shops anymore. That's why yesterday, at the opening of Tenant Manila's boutique, I didn't expect to see an actual café set up inside it.
For almost the whole night, Carla Sison, one of Tenant's managers, and her team made sure that everything was perfect and in order for their guests, especially the surfwear shop they were housing on the second floor. "The café kind of comes second to the shop. It'll definitely attract a lot of people in the surrounding area, and hopefully they'll check out the clothes and accessories when they come by here," she says.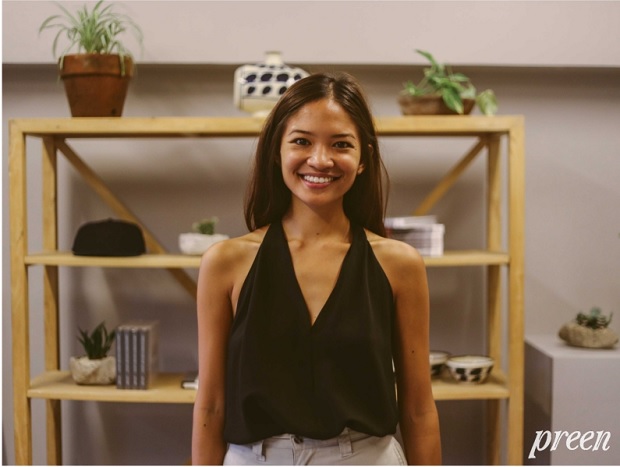 The space, which is located on the ground floor of a relatively small hotel in Makati, was still having minor renovations done when we got there, but the simplistic motif of the interiors had a calm feel to it—white walls, light wooden floors, and a touch of small greenery on the café's table—with a contrasting R&B and hip-hop playlist softly playing in the background.
Upstairs, the small concept store also has the same clean and simplistic quality that it almost felt like the beach was brought indoors, especially with customized Mandala Surfboards found in certain corners of the space.
There is an assortment of men's apparel and accessories from US brands Saturdays Surf, Hill-Side, Kapital, Engineered, Mollusk, and Quality Peoples. There is also a variety of lightweight shirts, as well as heavy-set sweaters which sell for P2,000 each, at least, which Carla notes as "can be used seasonally—during the summer or the cold seasons here."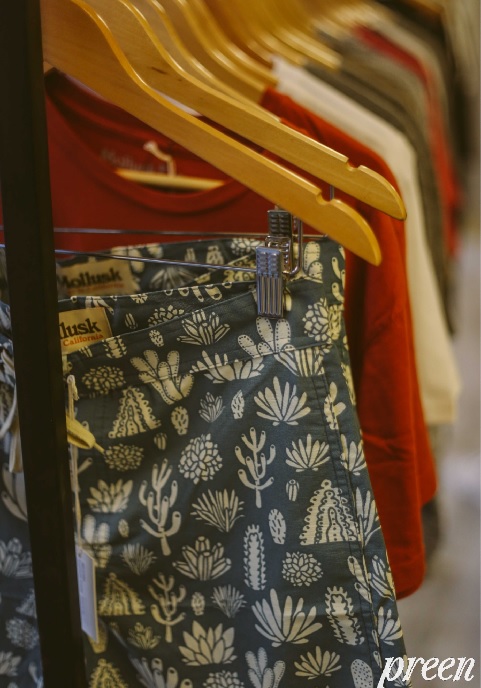 There are also surfing photography books shot from the '70s by Jeff Divine that were provided by Quality Peoples' co-owner, Filipino designer John Esguerra.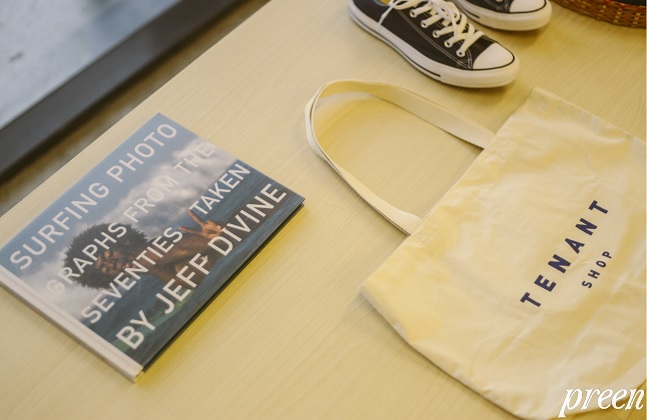 "We're launching all of this exclusively [here in Tenant.] You can't find this anywhere else in Manila," Carla tells us. "It just makes sense that we have this kind of surf store, minus the gear, in the Philippines [because of the climate and the beaches.]"
When asked if they will be selling women's clothing as well, Carla tells us, "We really want to establish ourselves as a menswear store because I don't really think there are so many here. But hopefully, if it were up to me, I would do some buying for the women, too."
As for their coffee, it was mostly served in paper cups, reminiscent of the on-the-go cups that businessmen in New York might have in hand when they're rushing to work. Aside from your usual cup of joe to kick off your day, you can also get a bottle of beer or a glass of wine.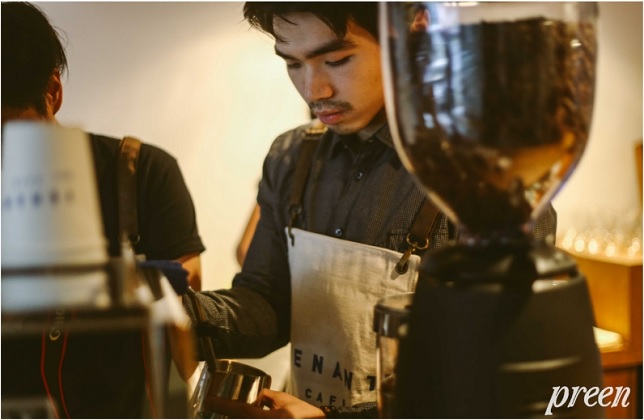 There wasn't any food available yet last night, but Carla said that they plan to "set up a deli with sandwiches and salads made with fresh ingredients, as well as cakes. Just very simple food that's clean and has a distinctive quality."
As of writing, they've opened the deli earlier today. Too bad we didn't get to sample their BLT Sandwich.
So, another quiet place where you can work and have good coffee, and also an excuse to browse and shop for the men in your life, or yourself (if you dig through some of the merchandise) in the middle of this busy city? Consider us instant fans.
Tenant Manila. G/F, Solace Hotel, 9369 Kamagong Street, Makati City. Open from 11 a.m. to 8 p.m. For more information, visit their Facebook page or email them at [email protected].
Photos by Paolo Tabuena