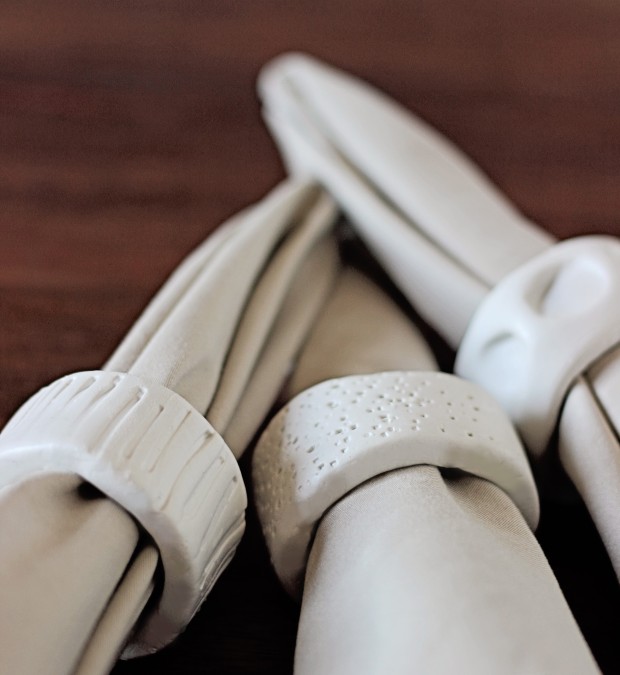 Small details are the start of great things.Small napkin holders create order especially when you just don't know what to do with your napkins for that special dinner.They can be talking points for you and your guests or that DIY touch that adds variety to your set-up. Best of all, it's the lazy way out of folding your napkins into those complicated shapes and swans.
Napkin Rings
Materials
White polymer or air-dry clay
Ruler
Toothpick
Small rolling pin
Wax paper
Procedure
1. Knead the clay and form into a ball.
2. Using a rolling pin flatten clay out on wax paper to form a smooth shape about 1/2 inch thick, 1 inch wide, and about 6 inches long. Don't worry if the edges are not straight, but try to get a smooth surface and an even thickness.
3. Form the shape into a ring about 1 1/2 inches in diameter and press one end to the other to close the ring.
4. Using the toothpick, create texture on the surface with dots or lines. You can use your thumb to make indentations.
5. Bake the rings by following the package instructions or allow them to air dry.
Note: Do not use modeling clay, which is non-hardening and might be a fire hazard when baked. You can purchase polymer clay at selected arts and crafts stores like Deovir Art Supplies.
Source: Ina Amor Mejia for Northern Living, "Put a Ring on It," January 2016.
Photo by Ina Amor Mejia