"Bags or Shoes?" is something we'd hear often as a common question towards trendy ladies and upon being asked, you'd see them searching the depths of their thoughts trying hard to choose between the two. Are you a self-confessed shoe addict or a bagaholic? Hush now and calm down you don't have to settle for only one. You can have both as I present to you the next season's It accessories straight from Milan, "It"aly's runway.
Bottega Veneta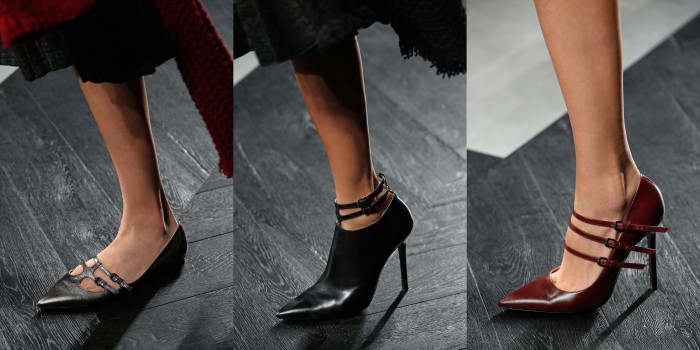 The classic Mary Jane is revamped as pointed-toe flats, boots, and stilettos take the famous strappy style to elevated sophisticated footwear. Classic colors of burgundy and black, with the exception of delightfully unusual gun metal, stand out in the collection.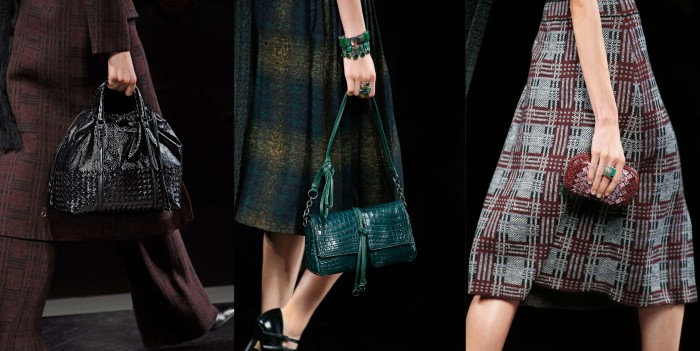 Bags come in the trademark woven texture but are made of new fabrics like shiny calf leather and exotic snake skin, with exciting colors such as emerald green and electric blue. Bottega Veneta's creative director Tomas Maier takes pride in craftsmanship as seen in their iconic Knot clutch with 3D leatherette pieces. Moreover, bright green gems are introduced in jewelry as seen in rings and bracelets.
Salvatore Ferragamo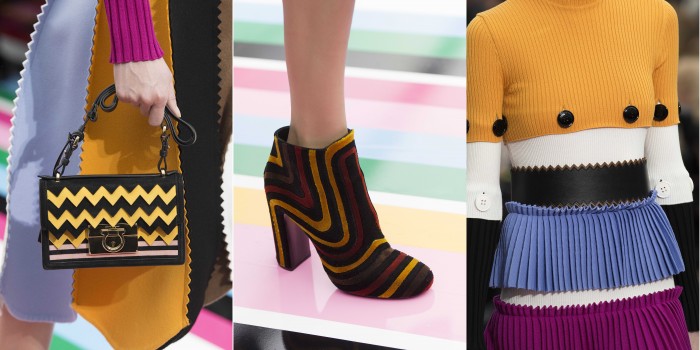 In cohesion with the clothes presented this season, accessories from Salvatore Ferragamo carry the same linear playfulness—colorful and fun, striped, and zigzagged suede panels can be seen both in flap-closure handbags, boots, and even in belts.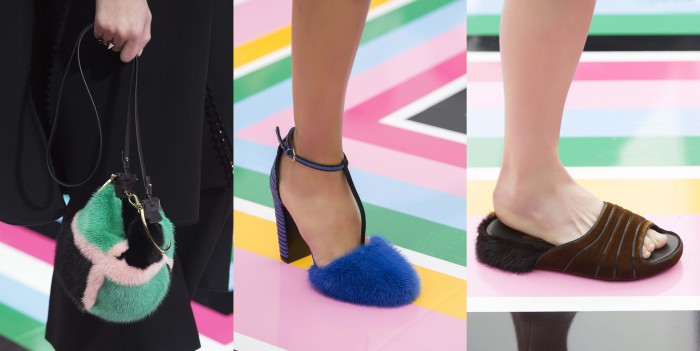 Fur has been big the past seasons and will continue to be so as creative director Massimiliano Giornetti sent round bags of multi-colored fur down the runway. Mink front T-strap shoes with Kilim covered heels and relaxed sandals covered in rich suede and back fur trimming were also explored in the collection.
Bally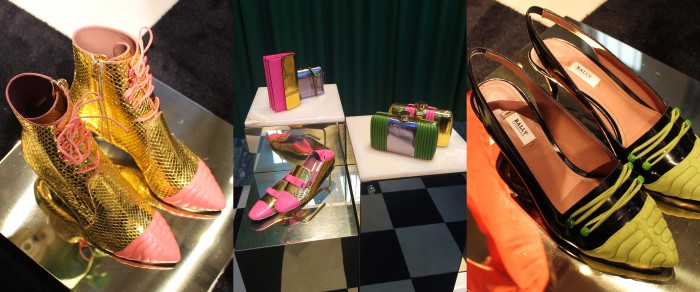 "What would the mean girl wear in school?" Bally's creative director Pablo Coppola delivers a sweet concoction of leather accessories in bubblegum pink, lime green, and cherry red. Metallic inserts of gold and silver make the pieces more impeccable and lust-worthy.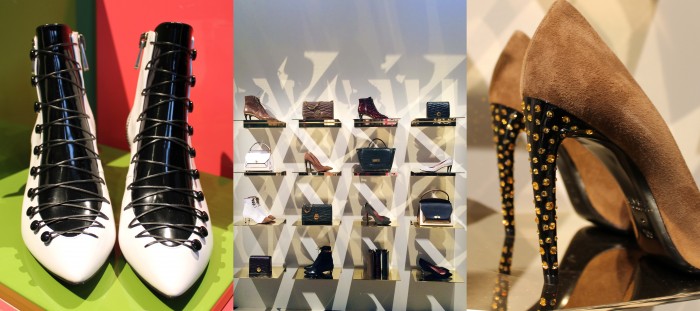 Black and white, with occasional inserts of brown serve as a neutral ground for more classical pieces. Shoes possess that retro flair with lace–up kitten heels while flap shoulder bags carry a round metallic closure clasp contrasted with acute leather stitching.
Jimmy Choo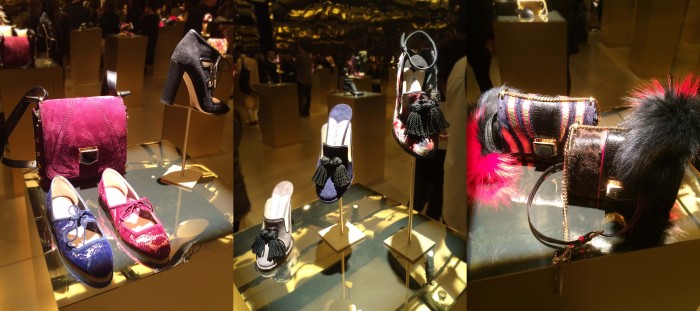 Inspired by the World War I era, Jimmy Choo chose to take historical military influences and modify them to a fresh contemporary take on accessories. Lace, corsetry, tassels, and metallic beading appear in their shoes and bags.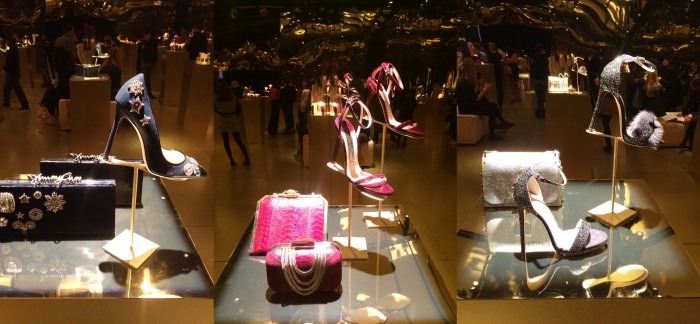 For formal wear, colors of Bordeaux and navy blue dominate the pieces. Thick gold chains and sparkly brooches as found in military coats add glam to the accessories. Precious sting ray leather and fur trimmings are used in some of their elegant pieces.
Fendi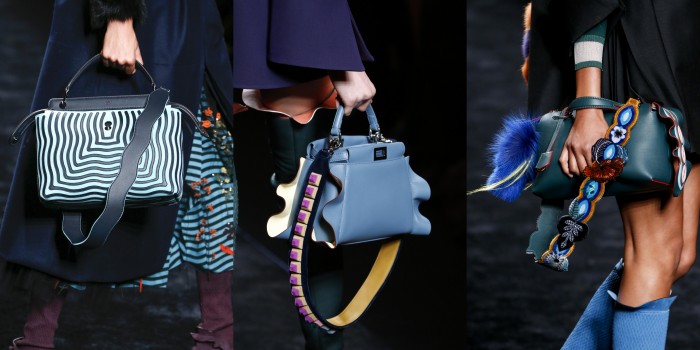 Karl Lagerfeld plays with organic ruffles to take his accessories into a whole new different level. The result: His cult-bags look so unearthly with the right juxtaposition of playful waves and baguette-studded straps. Fendi's highly coveted furry charms, of course, shared the spotlight with the bags too.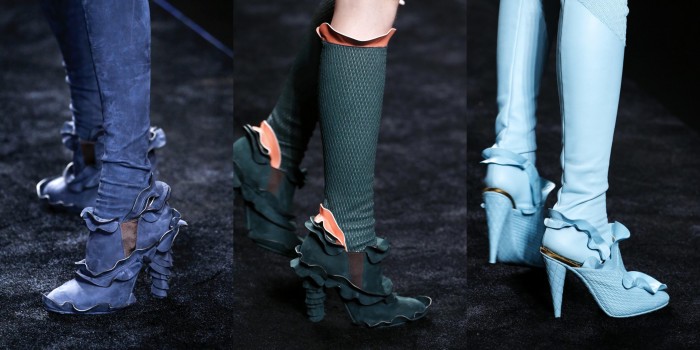 For footwear, it's all about showing off legs for days. Leather and suede boots are made knee-high for an elongated shape, all trimmed with the same flirtatious ruffles in aquatic shades of blue. Micro-quilting and metallic lining make detailing on fleek.
Gucci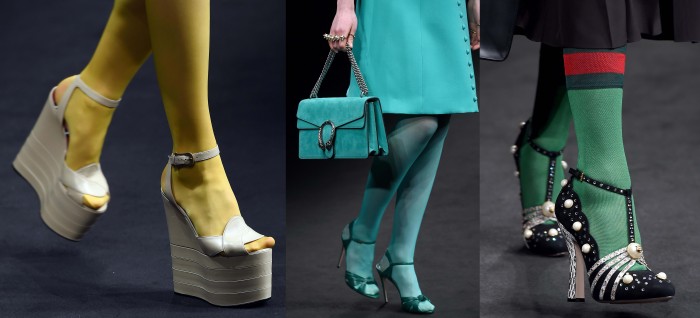 With Alessandro Michele's long history in the accessories department of Gucci, it is not a surprise that the brand is finding its way back to the limelight. Bohemian eccentric style continues to characterize the footwear, highlighting '70s vintage strap heels and exaggerated platform sandals paired with geeky football socks.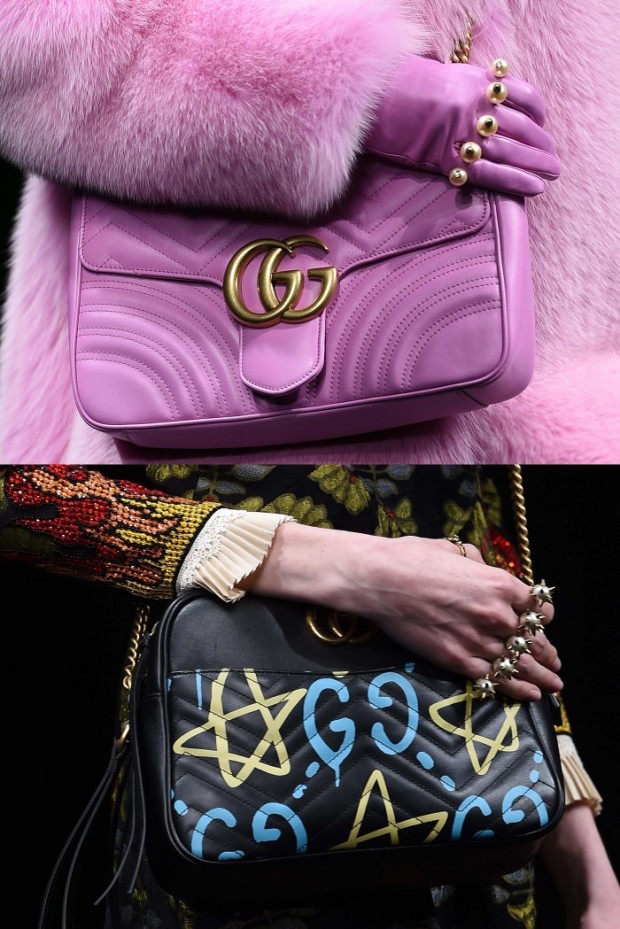 Bags are decorated with the brand's iconic logo, some of which are set in GG monogram with oriental motifs and street style graffiti prints; while others are in vibrant ton-sur-ton hues of aqua and purple. And how can we miss the pearl-studded multi-finger rings?
Prada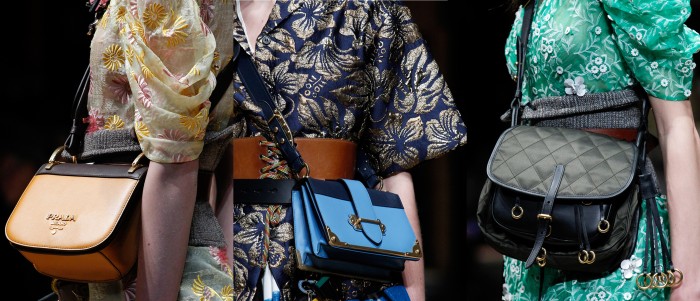 For fall/winter 2016, Miuccia Prada launches two bags that are ready for online purchase right after the runway show—the Pionnière and the Cahier bags. The first one is a hunting-inspired bag, soft and rounded with a strap that references army uniforms, while the second one is reminiscent of ancient times with bronze metal and leather details that bring to mind book bindings. The show also prominently featured a new, simple east-west tote with accordion gussets.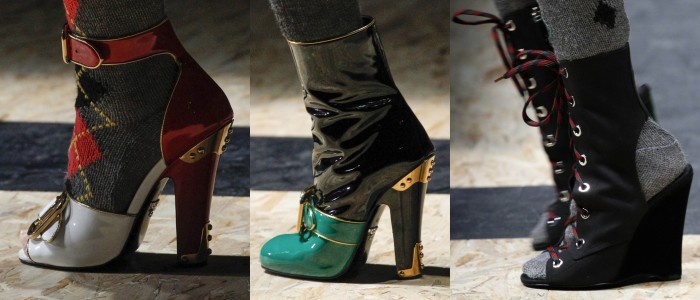 Ankle strapped high heels and boots come in patent leather, with notions of jewel tones and finished off with the same bronze intricate hardware. Lace-up suede boots with heel cut-outs make a variation to the collection's footwear, all worn with preppy argyle socks for that Prada-esque touch.
Photos courtesy of Melo Albert and Label PR Offices