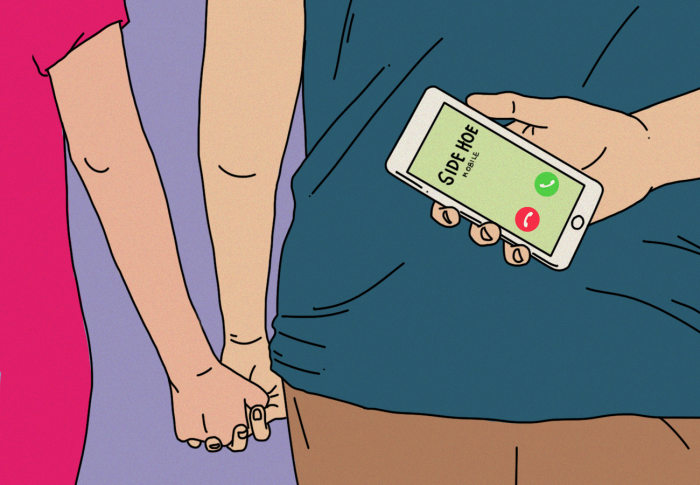 Welcome to Ask Poppy! I'm Poppy, your go-to girl for all of life's woes. And when I say ALL, I MEAN IT. I'm not an expert on anything except maybe for being me, which makes me totally qualified to do this.
Hi, Poppy!
I am currently dealing with a dilemma that involves a few people I know. First of all, I'm not the type of person who meddles with other people's lives, but if someone could be saved from getting into deeper trouble then why not, right?
Just a year ago, two of my college friends got married to each other, when we found out we were all happy for them because, finally, amid all the rumors that their relationship was on the rocks, they decided to tie the knot. You see, the guy has a reputation for cheating, he did it to my other friend when they briefly dated in college, so I know it really goes on.
We all thought the cheating finally ended, but after a few months into married life, he decided to contact my other friend again (yes, the girl he briefly dated in college) to see if she was still willing to date around. He started with simply dropping messages on Facebook until it progressed to text messages and sometimes, he even calls her. Rest assured, my other friend wants nothing to do with him, but we're worried for his wife. Is this something she should know? Should I be the one to tell her?
I hope you can help me out. Thank you!
 —Paola
¡Hola, Paola!
I'm going to give it to you straight up, no bullshit: Don't meddle. I know this is not the answer that you want from me but trust me, I think it's for the best. Short answer: It will be such a relief to live a life knowing that you did not contribute anything to the god-awful mess that your meddling may have caused to the lives of these married dudes.
The thing is, Paola, it's their life. You may have a role in their lives, but it's not for you to decide how their story should be. I know you want to save your friend from living the rest of her life with this cheating douchebag, but really, the moment that she blurted out the words "I do" to this guy who's had a reputation for cheating, wala na eh. Your friend knew what she was getting into. Okay, sige, maybe there was a part of her that thought, "Hey, this guy is going to change once I tie him down," and maybe she's still living in that fantasy, but is it really your job to pull her out of that?
Nope.
The thing about cheaters is that they're well-equipped to cheat again. At the beginning of the short, but highly-informative video The Science of Cheating, they dropped the bomb from Mother Nature: only three percent of mammals are known to be monogamous. HA! In the video, they explained how the longer the allele in the gene receptor, the more likely will a person cheat and engage in pleasure-seeking activities.
Dr. Phil posted a shit-ton of sign posts backed by The Power of Science saying that you can tell if a person is a cheater just by looking at some dude's body parts. Men with longer ring fingers than the pointer fingers indicate higher testosterone levels. Same principle applies to a man's penis: big dicks want more chicks. But really, at its core, cheating is a behavioral thing: "The best predictor of future behavior is relevant past behavior," Dr. Phil writes.
I guess what I'm trying to say is this: Your friend is not stupid. She knows. And you know. And your friends know. So what else is there to say? Meddling is akin to pouring salt in her wounds. Masakit na nga, pinasakit mo pa.
Nothing happened with the douchebag and your friend, no? I think this information is crucial because it gives credence to the fact na wala kayong pake sa life ni ate. Men, especially married men, have a tendency to wuss out and slip sometimes. You may not know this, but the first few months of marriage (or living together) can really mess up a couple. It's going to be blissful and beautiful at first, but then you start discovering crap about each other and it's possible that this guy's just looking to slip into something more comfortable, preferably not with the person you're living with who is just batshit crazy at this point in time. It's like when former alcoholics are invited to parties with open bars. Booze is free, so why not? They slip and it's up to them if they want to spiral down, down, down.
I know this is too big of a problem. I know that you're really itching to tell your friend the truth about her husband's shenanigans, but she really has to figure this out on her own. Once she does, that's the optimum time to spill the beans. Keep those beans in the can muna, Paola.
My favorite film from last year, Andrew Haigh's impeccable masterpiece 45 Years is probably the best kabit movie ever. Except in this movie, you don't really see the mistress because she's been frozen in the Swiss Alps for five decades. I loved Brie Larson and that Best Actress Oscar had her name on it, but for me, Charlotte Rampling's performance in this film is just LIT AF. The film basically follows her as she starts to discover that the man she married still has a strong bond with his first love who got frozen.
As a human being, I want to live my life how I want it. I don't know, it just feels like a cop out if you tell your friend about his philandering husband just because it will just really ruin her instantly. I'd much rather live my life, learn things being hidden from me on my own, and make up my decisions based on how to react on something really major.
Some people, they just have the capacity to deal with things in their own way. Do you think Kris Jenner knew nothing about Caitlyn's wanting to fully become a woman after so many years of marriage? Same thing happens in Transparent, in which Jeffrey Tambor's character Morty decides to come out and finally live her life as Maura. You have a dad coming out to his son after his wife passed in Mike Mills' Beginners; there's Alison Bechdel finding out that her dad is gay after his presumed suicide in the graphic novel-turned-Broadway hit Fun House. These are stories where people are given the chance to discover things on their own pace. They have characters (some real-life) that find enlightenment from life's sinister ways.
It may take years before your friend discovers that her husband is a cheater, but I really think that you have no right to be the catalyst in the eventual destruction of her life. Unless you TRULY care about your friend and unless you have SUPER STRONG EVIDENCE that he's cheating real hard, I think steady ka na lang muna, Paola. You have a life of your own naman, diba? Why don't you live it na lang?
I love you and remember to not F up the lives of married people. Let them F up each other na lang, gurl. Meanwhile, you stay beautiful.
Always,
Poppy
Got a question for Poppy? From love and relationships to weird questions you dare not ask even your psychologist, Poppy is ready to answer them all. Send in your questions to [email protected] or post your question over Twitter or Instagram with the hashtag #AskPoppy, and you just might get the answer you are looking for.
Disclaimer: The views expressed here are solely those of the author in her private capacity and do not in any way represent the views of Preen.ph, or any other entity of the Inquirer Group of Companies.
Art by Dorothy Guya