We often have this notion that Holy Week is basically a no-meat occasion. While this is difficult for some considering that majority of restaurant out there serve meat, it doesn't mean that you're going to give up on eating clean for just a little while. If you're feeling a little skeptical about it, know that eating seafood and vegetables doesn't always have to be bland. Some restaurants get creative with meat substitutes like tofu, which hold similar meat qualities like flavor and texture, and have innumerable preparations.
To give you more ideas on how to get creative with clean eats, you can head over to one of these restaurants we've listed that are serving Holy Week-friendly dishes. Not a lot of establishments are open for the weekend, but while they are, make sure to check them out and maybe you can try making some of the dishes in the comfort of your own home.
#1 Le Petit Soufflé's Vegetarian Soba Pasta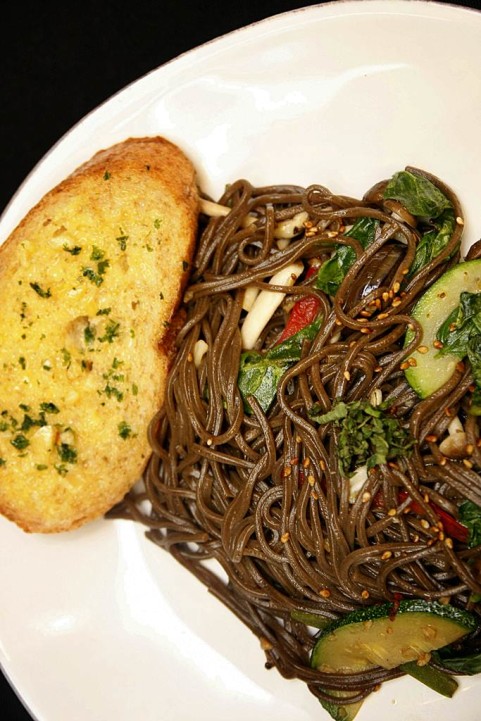 Relish the union of French and Japanese cultures in Le Petit Soufflé. Its interior bears a resemblance to a whimsical French café but with Japanese accents like their ceiling fixtures. Apparent in its namesake, soufflé―a French egg-based baked dish, is its bestseller. As for the main courses, they mostly vary from seafood to meat, and there are also vegetarian options, too such as the Vegetarian Soba Pasta (P325.) Soba is a Japanese type of thin noodle made from buckwheat flour. This version is tossed in shoyu sauce and topped with vegetables.
Le Petit Soufflé. 3/F Century City Mall, Kalayaan Avenue, Barangay Poblacion, Makati City. (02) 886-3056. Open from 10 a.m. to 10 p.m. from Sundays to Thursdays, and 10 a.m. to 11 p.m. on Fridays and Saturdays. For more information, visit their Facebook page.
#2 Taco Vengo's Tofu Taco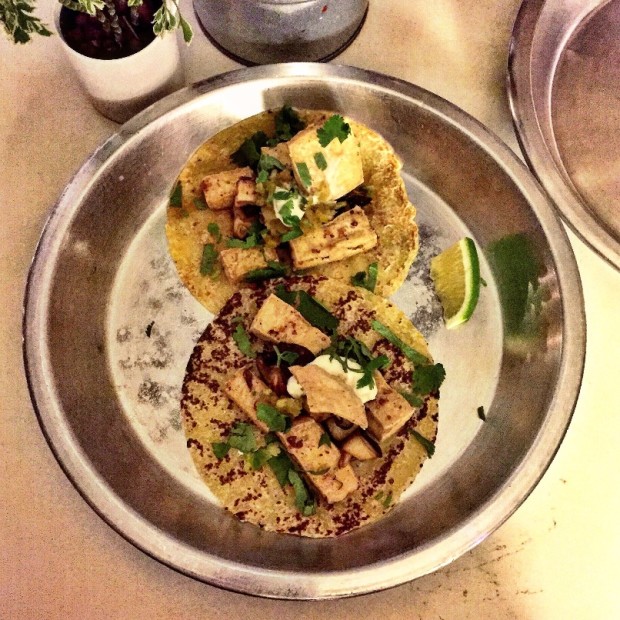 Taco Vengo is a no-frills Mexican taqueria, serving straightforward classics such as tacos, burritos, quesadillas, and nachos. It has an industrial and minimalist setting as the restaurant is literally converted from container vans, and welcomes plenty of natural light that's perfect for those curated-Instagram shots. Its tacos come in succulent pork, chicken, and steak selections, however, conscious ones can opt for shrimp, salmon, and even tofu (P100). The tofu is fried until crunchy and drizzled with savory, mushroom sauce for that burst of flavor. Taco Vengo also takes prides in its special blend of tortilla made from corn and flour.
Taco Vengo. 16 United Street, Kapitolyo, Pasig City. (0917) 327-8989. Open from 12 n.n. to 11 p.m. on Sundays, 12 n.n. to 12 m.n. from Mondays to Thursdays, and 12 n.n. to 1 a.m. on Fridays and Saturdays. For more information, visit their Facebook page.
#3 12/10's Salmon Kushiyaki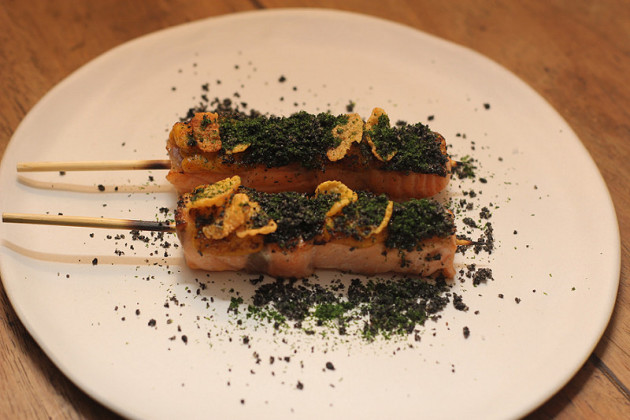 12/10 has an ambience like that of an art gallery but with an overall minimalist design. This izakaya set-up can be appealing to those who are fond of Japanese food as it has a flat-out, customizable menu. As the night progresses, the place turns into a hip, drinking hub with its impressive array of cocktails to choose from. There are also a handful of seafood items on the menu, and for a light yet flavorful treat, try the Salmon Kushiyaki (P270). These salmon skewers are basted with truffle oil and dusted with aonori, black sesame, wasabi, curry, and corn flakes.
12/10. 7635 Guijo Street, San Antonio, Makati City. (0915) 663-2823. Open from 5 p.m. to 11 p.m. from Mondays to Fridays, 6 p.m. to 11 p.m. on Saturdays, and closed on Sundays. For more information, visit their Facebook page.
#4 Artsy Café's Bangus En Papillote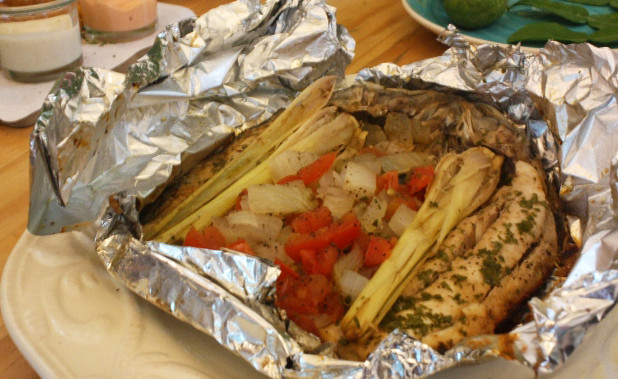 Amid the umpteen restaurants to choose from in the gastronomic neighborhood of Maginhawa, Artsy Cafe sets itself apart by providing a snug atmosphere and diverse home-style cooking. It has a porch-like ambiance and inside, rustic trinkets are displayed along with artworks and calligraphy etched on its walls. The menu is a mixture of both western and Filipino palette. For Holy Week, you can try any of their fish dishes like the Bangus En Papillote (P300.) En Papillote is a French cooking method where food is placed inside a parchment (such as aluminum foil) then baked. This particular one is served with onions and tomatoes.
Artsy Cafe. 36 Maginhawa Street, UP Village, Diliman, Quezon City. (02) 434-9487. Open from 11 a.m. to 10 p.m. For more information, visit their Facebook page.
#5 Bait's by Chef Joseph Margate's Spicy Tuna Burger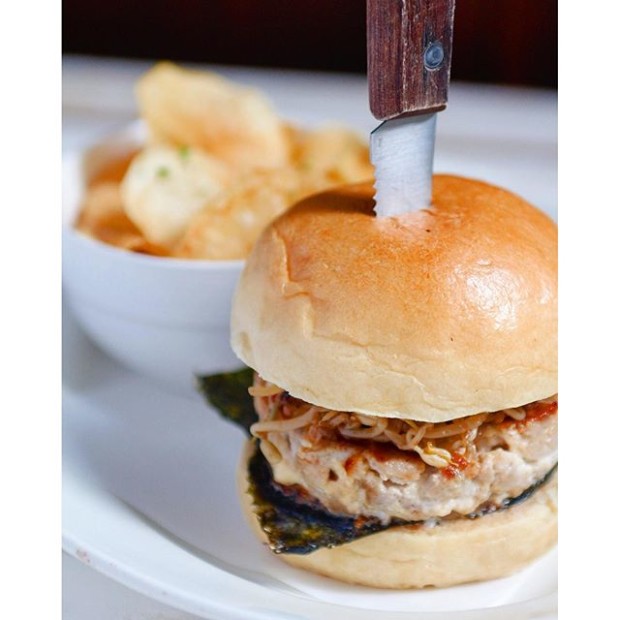 It's always exciting to find restaurants that get creative with seafood, and Bait's by Chef Joseph Margate takes it a notch higher by serving high-end and gourmet seafood entrées, even elevating some usual favorites. Meat can still be enjoyed with their few beef, pork, and chicken choice,,s but seafood is the main element of the bistro. If you're looking for something with a twist, try the Spicy Tuna Burger (P367) with fried sweet potatoes on the side. Bean sprout and seaweed is also fused inside the burger for that dose of green and additional flavor.
Bait by Chef Joseph Margate. Signa Eat Street, G/F, Signa Designer Residences, Valero Corner V. A. Rufino Street, Salcedo Village, Makati City. (0917) 860-4764. Open from 10 a.m. to 11 p.m. from Mondays to Saturdays, and 12 n.n. to 9 p.m. on Sundays. For more information, visit their Facebook page.
#6 Tomahawk Chops and Grill's Smoky Shrimp Creole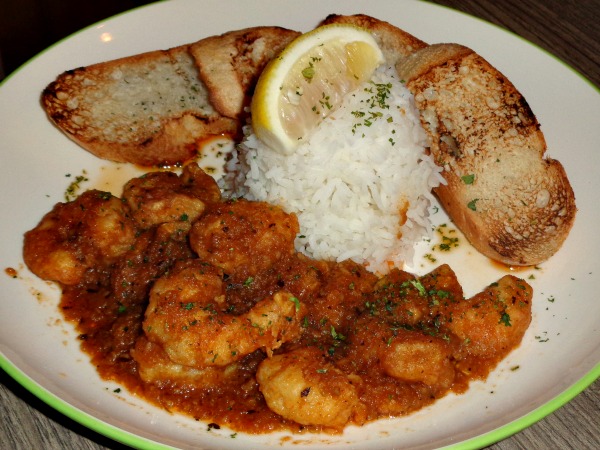 Tomahawk Chops and Grill may primarily be a carnivore's haven as they are famous for their unlimited wings promo for only P375. But apart from this, they also have seafood selections in their roster. You don't need to compromise the taste and flavor that you get from meat dishes because these seafood meals also bask in that same distinct piquancy. Carbo-load with the Smoky Shrimp Creole (P375) drenched in sweet, spicy, and tangy sauce, served with rice and bread. Creole is a cuisine which originated from Louisiana, United States, blending multi-racial influences of cooking.
Tomahawk Chops and Grills. 56-A East Capitol Drive, Kapitolyo, Pasig City. (0915) 513-5908. Open from 11 a.m. to 2 p.m., 6 p.m. to 11 p.m. For more information, visit their Facebook page.